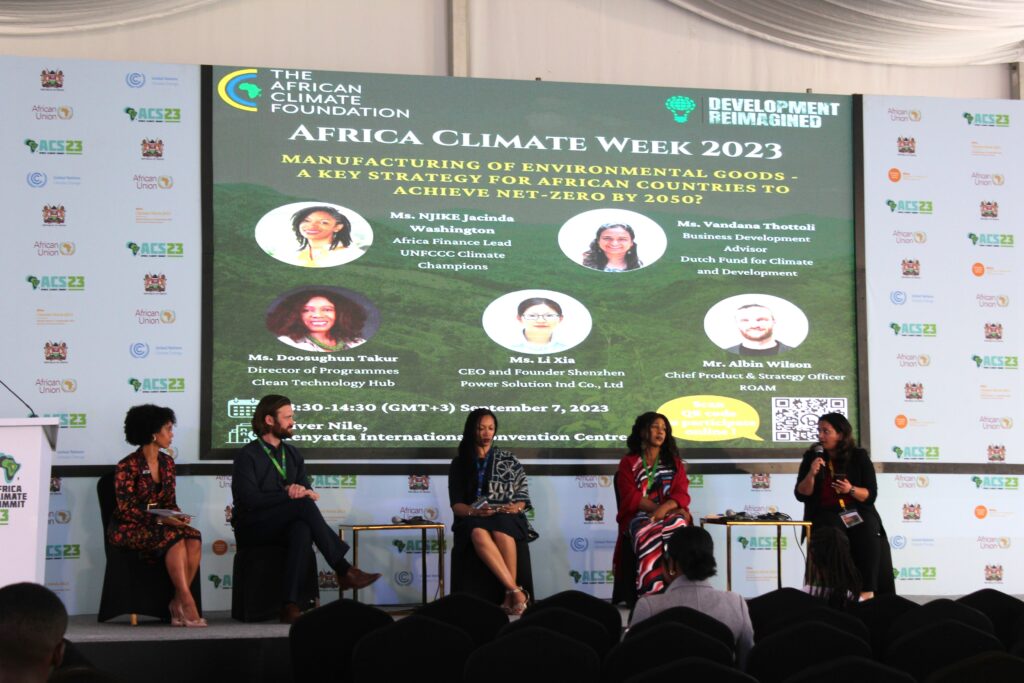 September 2023– Development Reimagined, in collaboration with the African Climate Foundation (ACF), recently co-hosted a pivotal webinar titled 'Manufacturing of Environmental Goods – A Key Strategy for African Countries to Achieve Net-Zero by 2050?'. This event brought together key stakeholders in Africa's manufacturing sector to delve into case studies of green businesses, focusing on manufacturing environmental goods. Notably, Chinese stakeholders, given their leading role in the trade of environmental products, shared their experience boosting green manufacturing capacity. The aim of the event was to explore opportunities for green manufacturing in Africa and leverage its manufacturing capacity for environmental goods, identifying actionable steps for accelerated investment in green business aligned with Africa's development goals, including Agenda 2063.
After a very fruitful discussion, there were several key themes that emerged from the side event with our distinguished panelists.
Upcoming Report Preview: Unleashing Africa's Untapped Potential for EG Manufacturing
Before the panel discussion, Ms. Yike Fu, Climate Programme Manager of Development Reimagined, previewed key findings from Development Reimagined's upcoming report, "Unleashing Africa's Untapped Potential for Environmental Goods Manufacturing." The report seeks to guide African governments beyond renewable energy or critical minerals strategies, emphasising a long-term vision to stimulate sustainable development. It identifies 10 regional hubs for local production of environmental goods (EGs) in Africa, providing a comprehensive country analysis. Recommendations include collaborating with China and other development partners, investment in green infrastructure, skills development, robust supply chains, and trade and regulatory alignment.
Panel Disucssion: Scoping the Current State of Environmental Goods Manufacturing in Africa
Moderator: Ms. Hannah Ryder, CEO of Development Reimagined
Panelists:
Ms. Njike Jacinda Washington, Africa Finance Lead, UNFCCC Climate Champions
Mr. Albin Wilson, Chief Product & Strategy Officer, ROAM
Ms. Li Xia, CEO and founder, Shenzhen Power Solution Ind Co., Ltd (online)
Ms. Vandana Thottoli, Business Development Advisor, Dutch Fund for Climate and Development
Ms. Doosughun Takur, Director of Programmes, Clean Technology Hub 
Panelists discussed the current state of environmental goods manufacturing in Africa. Vandana Thottoli emphasised the infancy of Africa's  environmental manufacturing activities and also stressed the need for more sustainable practices. Doosughun Takur, drawing from her experience in Nigeria, highlighted the nascent stage of environmental goods manufacturing in Africa while also expressing excitement about the start of such conversations.
Njike Jacinda emphasised the economic importance of the manufacturing sector in Sub-Saharan Francophone Africa, suggesting a focus on indigenous properties and localising manufacturing processes. Albin Wilson, Chief Product and Strategy Officer for a Kenyan electric vehicle manufacturer, Roam, stressed the need to localise design and development processes. Li Xia proposed a three-stage approach for manufacturers: assembling locally, manufacturing spare parts in Africa, and technology transfer.
Identifying the Ideal Environmental Goods Manufacturing Ecosystem
The discussion shifted to the ideal ecosystem for environmental goods manufacturing. Based on the development stages and ecosystem Lixia suggested, Hannah also asked Albin and other panellists their opinions about supply chain development: the potential for leapfrogging in this field. Albin shared Roam's experience highligting his experience working with EV manufacturers in Kenya. He agreed that there is potential in bringing robotic welding systems as well as plastic injection moulding machines that already exist in Nairobi. The potential for leapfrogging development is therefore high which is quite promising.
Doosughun endorsed starting small, progressing from community to community, citing Nigeria's experience after the removal of subsidies. Vandana cautioned against hasty full-scale manufacturing, citing budget, regulation, and capacity constraints.
The economic case for African countries manufacturing environmental goods should be better identified by data-driven analysis.
Njike stressed the need for comprehensive data to identify economic benefits and opportunity costs associated with environmental goods manufacturing. She highlighted the importance of exploring data related to policies like carbon emission reduction and carbon tax incentives. More specifically, she pointed out that the opportunity cost for not investing in green development is quite high and thus the decision to invest is a critical one for governments and other relevant stakeholders.
Transparent, stable and innovative policies are crucial for foreign investors to invest in Africa
Li Xia is about to launch her local manufacturing factory in Ethiopia soon. She emphasized the critical role of transparent and stable government policies in investment decisions. She proposed import tax adjustments to encourage local manufacturing. Li Xia also noted the potential of carbon credits for EGs manufacturers.
Scale is crucial to develp manufacturing capacity; This necessity limits many African nations' ability to develop their industries. 
Albin gave a new perspective that though panellists agreed with Africa starting from simple and small-scale manufacturing, the reality is that manufacturing inherently needs "scale". He estimated that there might not be more than three hubs for manufacturing EG goods in Sub-Saharan Africa based on this requirement. He said, "Whichever government can combine resources, get the players in place, and scale those players with subsidies will succeed." He, however, pointed out that East African countries like Kenya and Rwanda are on the right path, with great potential to take a lead across the continent, while some nations rely too much on fossil fuel resources, which is both a blessing and a curse.
Indiginous African solutions for recycling to develp a circular economy
Njike also added that the circular economy is significant for green development and ingdigenous African recycling techniques, which are often  forgotten in major discussions, could actually provide innovative and profitable solutions that should be leveraged to impact the long-term manufacturing capacity.
The role of development partners in supporting Africa's environmental goods manufacturing potential
Vandana and Doosughun shared initiatives by their organizations, advocating a combination of grants, technical assistance, and investment equity to support the private sector. Njike emphasized the need for African-led, innovative financial instruments and bridging information gaps between investors and entrepreneurs.
The Approach for Manufacturers Working with Development Partners
Albin shared ROAM's working capital partnership which is crucial for timely procurement. Moreover, he also highlighted that development partners are significant, especially in supporting innovation and high-risk business decisions. Li Xia highlighted that Chinese manufacturers face many information gaps when entering the African market. These are areas where development partners could play a supportive role
Closing Remarks: Unlocking Green Development Opportunities in Africa Through Manufacturing
Ms. Fikayo Akeredolu, China Africa Programme Officer at the African Climate Foundation, closed the panel, emphasising the timeliness of the   discussions around localising environmental goods manufacturing in Africa. She urged partners to unlock the estimated US$800 million potential in environmental goods manufacturing capacity which aligns with ACF's Renewable Energy Manufacturing Initiatives.
We sincerely thank all of our distinguished panellists and attendees for their invaluable contributions to this important conversation during Africa Climate Week 2023!
Development Reimagined will soon be launching the "Unleashing Africa's Untapped Potential for Environmental Goods Manufacturing". You can find key insights from the report in our publicly available infographic. Stay tuned for the report release very soon! You can also watch the full event in the video below.