December 2019
During the last quarter of 2019, the Foreign and Economic Cooperation Office (FECO) of the Ministry of Ecology and Environment (MEE) held a series of two-week intensive training Courses on "Climate Change and Green & Low-Carbon Development" in Beijing, China. Development Reimagined was commissioned to develop a number of bespoke training sessions, a mapping survey and subsequent report on "South-South Cooperation on Climate Change and Environment."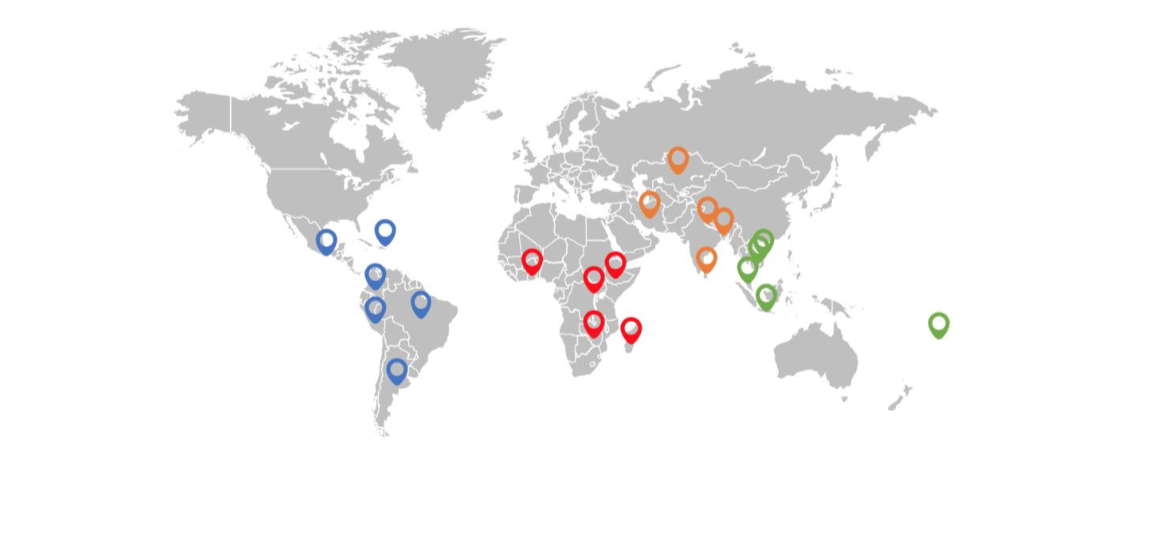 Countries participating in the training 
The training courses introduced the participants (drawn from countries from regions all over the world –– Africa, Asia (Central, South and South East), Middle East, Pacific Islands and Latin America and the Caribbean) to China's progress and challenges experienced in managing economic development, poverty reduction and environmental management, and at the same time provided a space for the diverse participants to learn from one another after discussing their own progress and continued challenges.
Development Reimagined created a number of bespoke sessions how to simultaneously tackle climate change and poverty reduction through green and low carbon development solutions. By using design thinking and collaborative workshops, the sessions deep dived into development challenges and explored the important role of development partners, such as China.
Training sessions
Alongside the training session, all participants were invited to respond to a detailed survey designed by Development Reimagined, requesting their inputs and insights into their country's climate change and environmental policies, priorities, challenges and future funding preferences. The majority of the participants – some of whom were generalists and others who were specialists in particular areas – responded as well as they could, although some were unable to fully complete the survey due to time limitations and knowledge.
As a follow up Development Reimagined developed a report that summarizes the outputs of the survey and other insights the participants provided during the sessions, and is bolstered with research and information from other sources (referenced where relevant). The overall aim of the report was to share in a concise manner these inputs and insights, and provide some suggestions for how China might be able to assist in matters of climate change and environment along the "Belt and Road".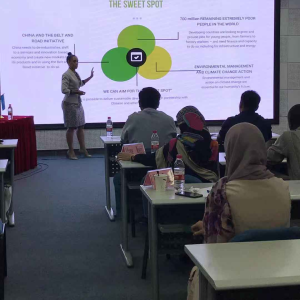 DR CEO-Hannah Ryder presenting to the participants
This report showed that overall, the surveyed participants included some of the poorest and smallest countries in the world, as well as some of the largest in GDP and population terms. It included islands and landlocked countries, and countries that have provided access to energy and water to over 90% of their populations, as well as those that have not, and in both camps there are countries that have large percentages of the energy provided by renewables and a great deal of climate change policies and support in place, as well as those that need to switch away from coal or oil dependency and/or have taken little action to date in some key areas.
Based on excellent feedback received from the participants as well as the Chinese Government partners, the report will be used by the Chinese Government for a dedicated South- South Cooperation Belt and Road website and for sharing with partners, as well as in future design of training programmes and funds for BRI countries.
The report will be available on the website soon.
To find out how Development Reimagined can support you with designing dynamic training and/or impactful research, contact the team at clients@developmentreimagined.com