It's an often-cited fact that the African continent is particularly vulnerable to the direct and indirect effects of climate change – a vulnerability that has been exacerbated by the ongoing Covid-19 pandemic – while being responsible for just a tiny percentage, under 4%, of global greenhouse gas emissions.
While these narratives are important to recognize, they underplay Africa's growth and climate change ambitions and overlook potent opportunities from Africa's global partnerships.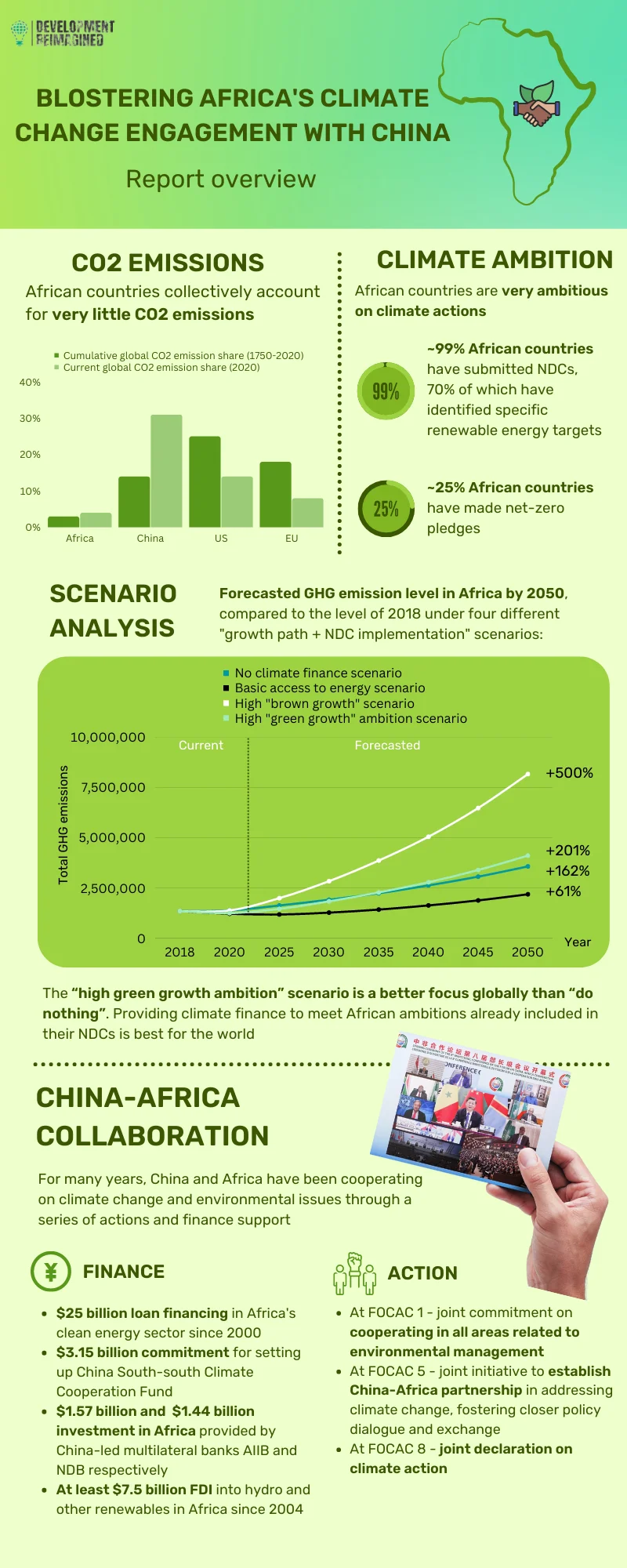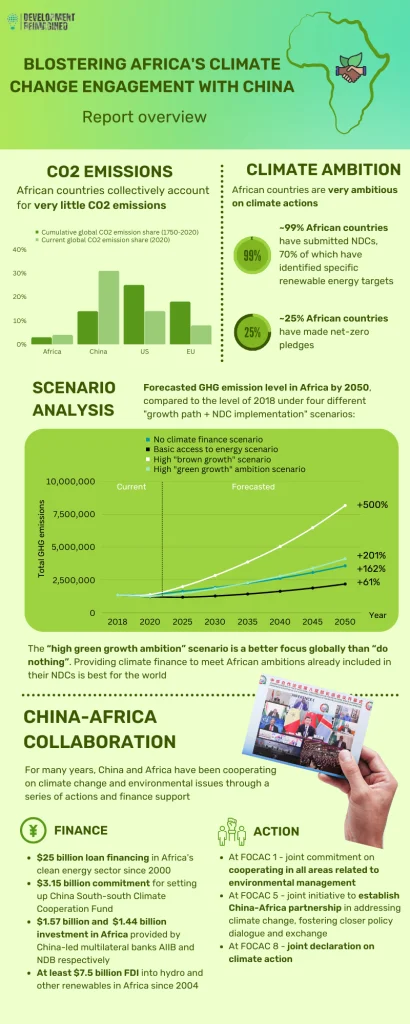 A new report published by Development Reimagined today, supported by the Africa Climate Foundation, provides a first step in challenging this narrative with a view to supporting Africans to build supportive strategic partnerships – in particular with China – and thereby elaborating on African countries as 'contributor(s) to the solutions' in the run up to COP 27 and beyond.
The data-driven report provides some crucial key new findings:
African countries are very ambitious on climate action: 99% of African countries have submitted Nationally Determined Commitments (NDCs), 70% of which have identified specific renewable energy targets; and 25% of African countries have made net-zero pledges.
African countries are also ambitious in terms of their growth. Africa's development blueprint Agenda 2063 sees the continent delivering on SDGs, moving from 8th largest economy to 3rd largest in the world, and replacing China as the world's manufacturing hub.
A "high green growth scenario" that would see both Africa's climate and growth ambitions met – including through sufficient climate finance – would lead to a modest increase of emissions by 35% by 2030 and by 201% by 2050 compared to 2018 levels, (i.e. emissions would increase by three times over the next three decades). This would take Africa's emissions to around the EU's emissions levels today.
A lack of climate finance does not save the planet. If African countries do not get sufficient finance to transform their economies towards both growth and climate action, emissions would nevertheless increase by 2.6 times by 2050, and could even rise by 6 times by 2050 if there is high "brown" growth, making the African continent a larger emitter than the US is currently, and approaching China's levels. Hence, China should support African countries to access climate finance.
At the same time, a "just transition" is crucial. If African countries are unable to industrialize but do "go green", i.e. if the focus is only on basic access to energy, emissions will be lower, simply doubling, but will still not peak, and poverty could rise. China should work with African countries to avoid this scenario, especially given interactions with adaptation needs.
For many years, China and Africa have been cooperating on climate change and environmental issues through a series of actions and finance support.
For instance, on finance:

US$25bn loan financing in Africa's clean energy sector since 2000
US$7.5bn FDI into hydro and alternative investment in Africa since 2005
US$3.2bn commitment for setting up China South-south Climate Cooperation Fund
US$1.6bn and US$1.4bn investment in Africa provided by China-led multilateral banks AIIB and NDB respectively.

And on action this has gradually ramped up:

At FOCAC 1 – joint commitment on cooperating in all areas related to environmental management
At FOCAC 5 – joint initiative to establish China-Africa partnership in climate change, fostering closer policy dialogue and exchange
At FOCAC 8 – first ever joint declaration on climate action
Most climate-related loans and investment are delivered by Chinese firms.
Still, the report argues that more can be done. The report highlights several key areas where challenges are being faced, for example on questions around fossil-fuel financing, ESG performance, as well as the nature of project contracts between African and Chinese stakeholders, including Public Private Partnerships (PPPs).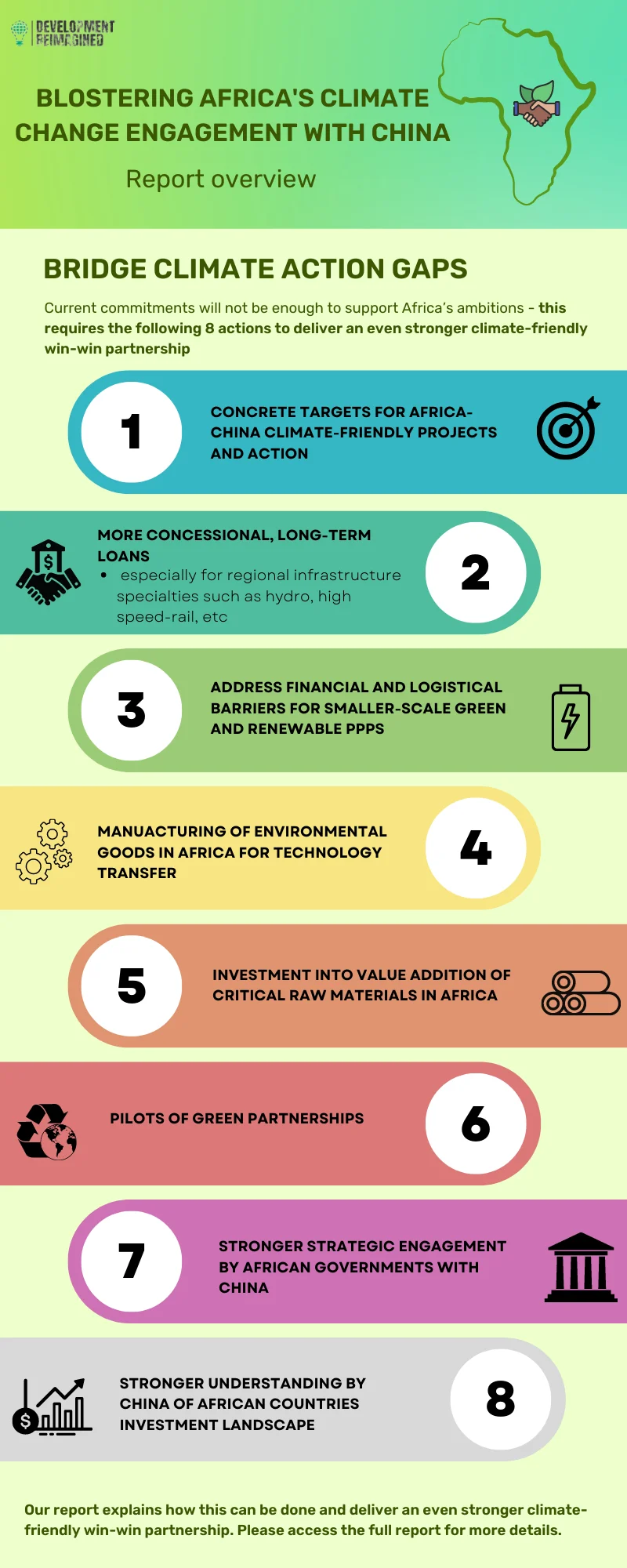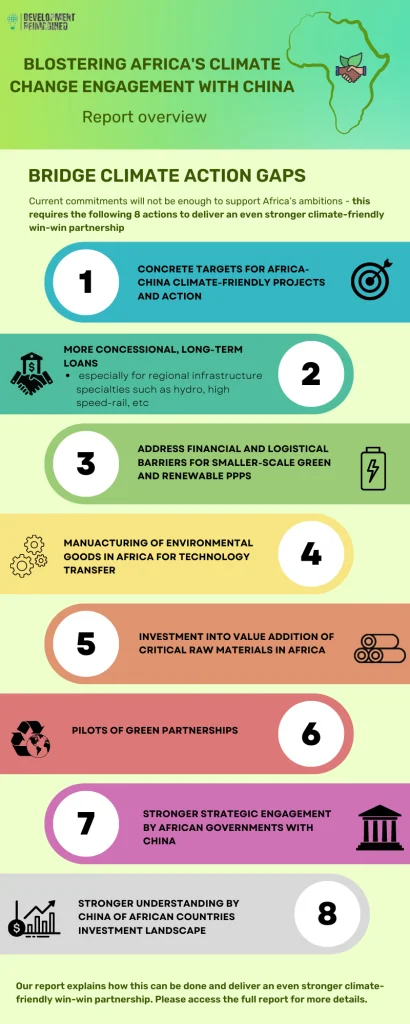 The report ends by providing direction for Africa's future engagement with China and vice versa, including how Africa should aim to work with China in the run up to COP27. Some are applicable to other development partners. Specifically, the report recommends 8 actions:
Concrete targets for Africa-China climate-friendly projects and action
More concessional, long-term loans – especially for regional infrastructure specialties such as hydro, high speed-rail, etc
Address financial and logistical barriers for smaller-scale green and renewable PPPs
Manufacturing of environmental goods in Africa for technology transfer
Investment into value addition of critical raw materials in Africa
Pilots of Green Partnerships
Stronger strategic engagement by African governments with China
Stronger understanding by China of African countries' investment landscapes.
The repot is available to download in English and Chinese here.