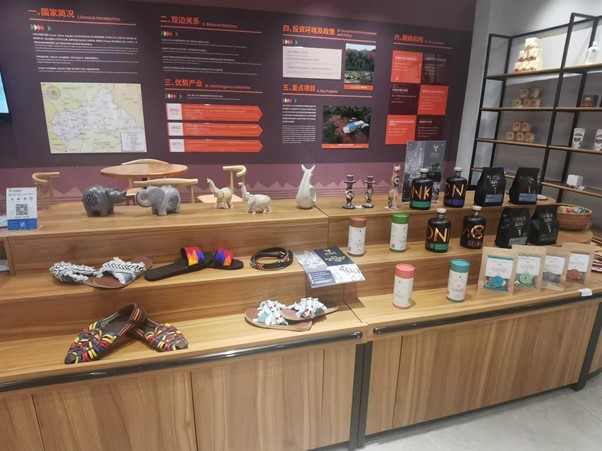 Africa Reimagined is supporting a promotional shopping festival for African products in China that is taking place from April 28 till May 12.
More than 100,000 African brands will be showcased on over 300 e-commerce platforms during the: "4th Brand and Quality Online Shopping Festival and Quality African Products Online Shopping Festival."
The event is being hosted by the Chinese Ministry of Commerce (MOFCOM), jointly with the Ministry of Foreign Affairs, the National Development and Reform Commission, and the Ministry of Industry and Information Technology, among others.
As well as online, there will also be offline events held in exhibition centres in 4 Africa-China free trade zones in the provinces of Hunan, Hubei, Henan and Zhejiang. Here, premium African products and brands including Monks Gin (premium gin from South Africa), Oye (handmade footwear and accessories from Kenya), tea from Tanzania (Kazi Yetu), Rwanda bean (roasted coffee from Rwanda) and Kazi Yetu (tea from Tanzania) will be on display and introduced to buyers and distributors. The events will be livestreamed across China and East Africa and feature speeches from Chinese government officials and African ambassadors.
Africa Reimagined is supporting premium African brands with showcasing their products at these events and submitting these brands' promotional videos to be featured in the offline events and online broadcastings, as well as supporting these brands with entry onto these Chinese e-commerce platforms.
Africa Reimagined is a Beijing-based China market entry service platform and consultancy for premium African brands. It is the flagship programme of Development Reimagined, a Beijing-based, wholly Kenyan-owned international development consultancy.
For more information on how Africa Reimagined can support your brand with entering into the Chinese market, please check our services or book a free consultation here.
Watch the live stream of the event from here.
活力非洲公司正在支持将于 4 月 28 日至 5 月 12 日在中国举办的非洲产品促销购物节。
在"第四届品牌与精品网购节暨非洲精品网购节"期间,超过100,000个非洲品牌将在300多个电子商务平台上展示。
该活动由中国商务部(MOFCOM)主办,外交部、国家发展和改革委员会、工业和信息化部等部门联合主办。
除了线上,线下活动还将在湖南、湖北、河南、浙江等4个非中自贸区的展览中心举办。在这里,优质的非洲产品和品牌包括 Monks Gin(来自南非的优质杜松子酒)、Oye(来自肯尼亚的手工鞋履和配饰)、来自坦桑尼亚的茶(Kazi Yetu)、卢旺达豆(来自卢旺达的烤咖啡)和 Kazi Yetu(来自坦桑尼亚)将展出并介绍给买家和经销商。这些活动将在中国和东非进行现场直播,并有中国政府官员和非洲大使发表演讲。
活力非洲公司正在支持非洲优质品牌在这些活动中展示他们的产品,并将这些品牌的宣传视频提交到线下活动和在线广播中,并支持这些品牌进入这些中国电子商务平台。
活力非洲公司是一家位于北京的中国市场准入服务平台和非洲优质品牌咨询服务平台。这是总部位于北京、肯尼亚全资拥有的国际发展咨询公司睿纳新国际咨询服务的旗舰项目。
如需了解更多关于活力非洲公司如何支持您的品牌进入中国市场的信息,请查看我们的服务或在此处预约免费咨询。
从这里观看活动的现场直播。