There have been three key instances in the United Nations where African countries have had the opportunity to express their views on the Russia-Ukraine war and how it relates to international law. This post provides relevant infographics which can help in summarising and illustrating these views.
First, on March 2nd 2022, member states of the United Nations General Assembly (UNGA), in its 11th emergency session on the Ukraine crisis, overwhelmingly voted on Resolution A/RES/ES-11/1, titled "Aggression against Ukraine." This resolution, although not legally binding, expressed the moral authority that the international community has in its arsenal to pressure the Russian Federation to halt its invasion of Ukraine.
Although the resolution was supported by 141 member states across all regions, as shown by the infographic below, African countries were split in their voting, with 28 countries voting in favor, 1 voting against, 17 countries abstaining, and 8 not participating at all.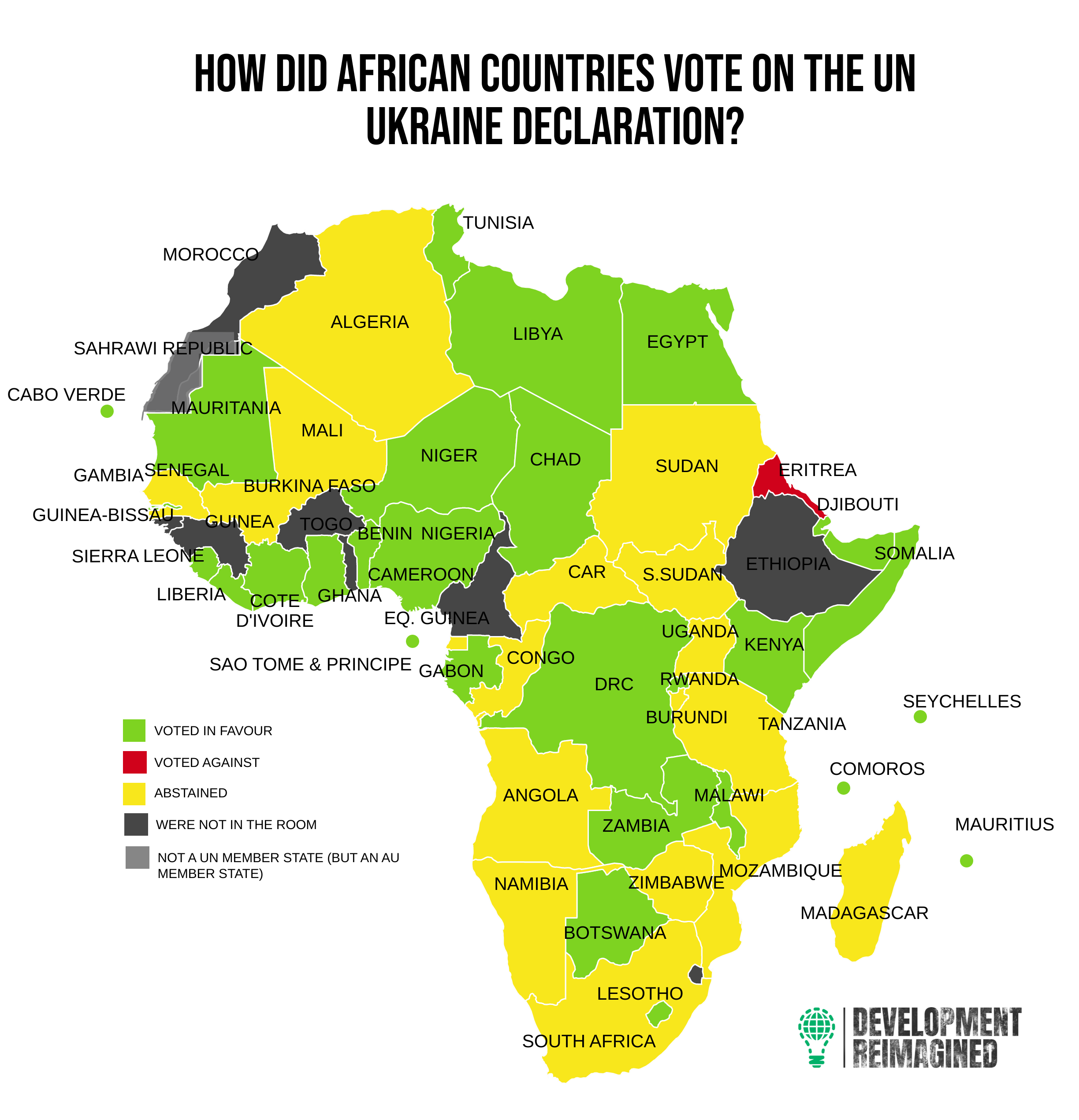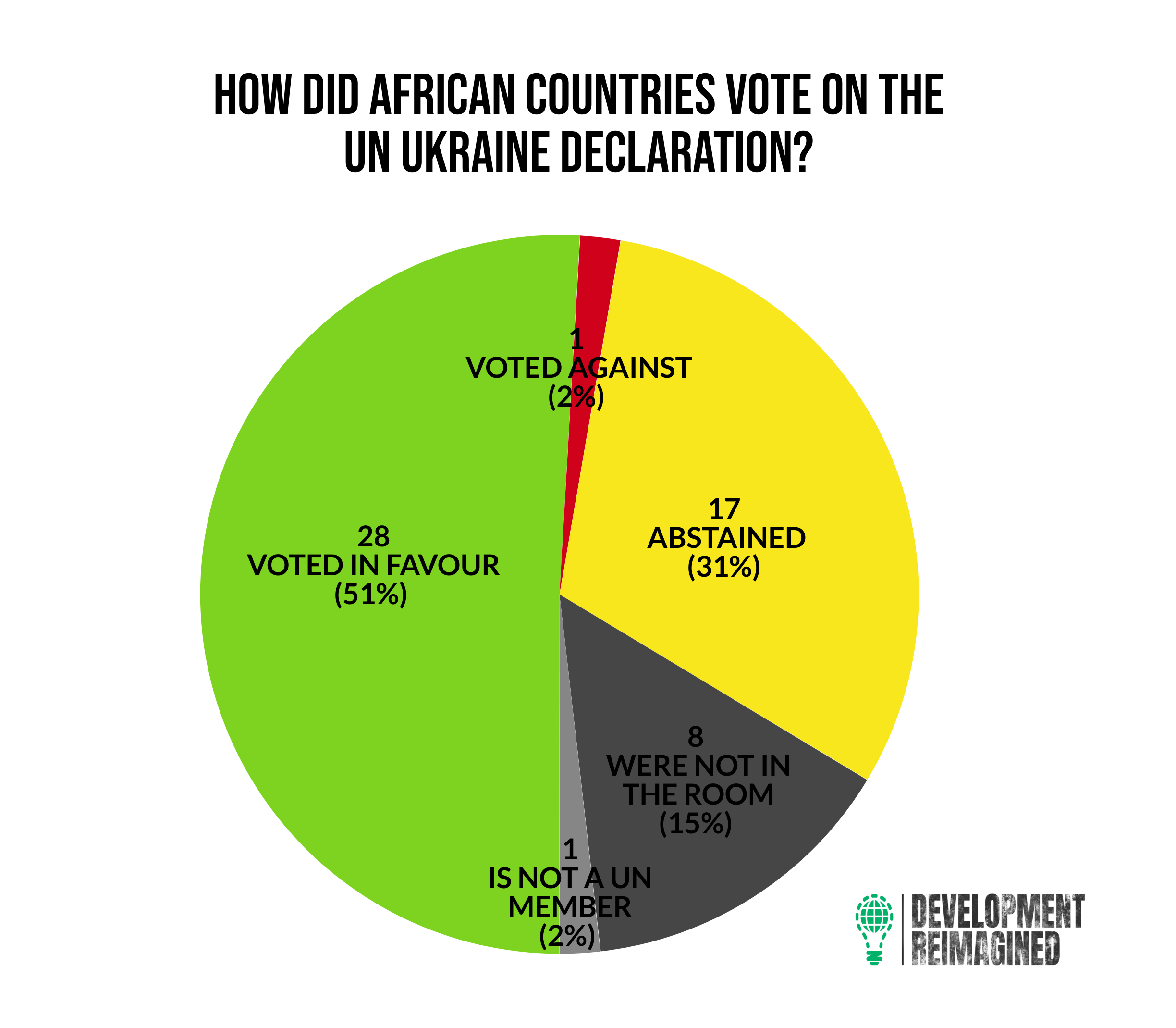 Second, on April 7th 2022, member states of UNGA, still in its 11th emergency session on the Ukraine crisis adopted Resolution ES‑11/3 entitled "Suspension of the rights of membership of the Russian Federation in the Human Rights Council". Taking place on the same day as the 28th commemoration of the 1994 Genocide against Tutsi in Rwanda, the only precedent for such a suspension in the HRC was an African member state, Libya, in 2011.
This resolution was supported by less member states across all regions than the vote prior – 93 member states, and as shown by the infographic below, many African countries shifted their votes, with only 10 African countries voting for the suspension, 24 African countries abstaining, and 11 not participating at all. That meant, 18 previously "yes" African countries abstained (10), voted against (1) or did not participate (7).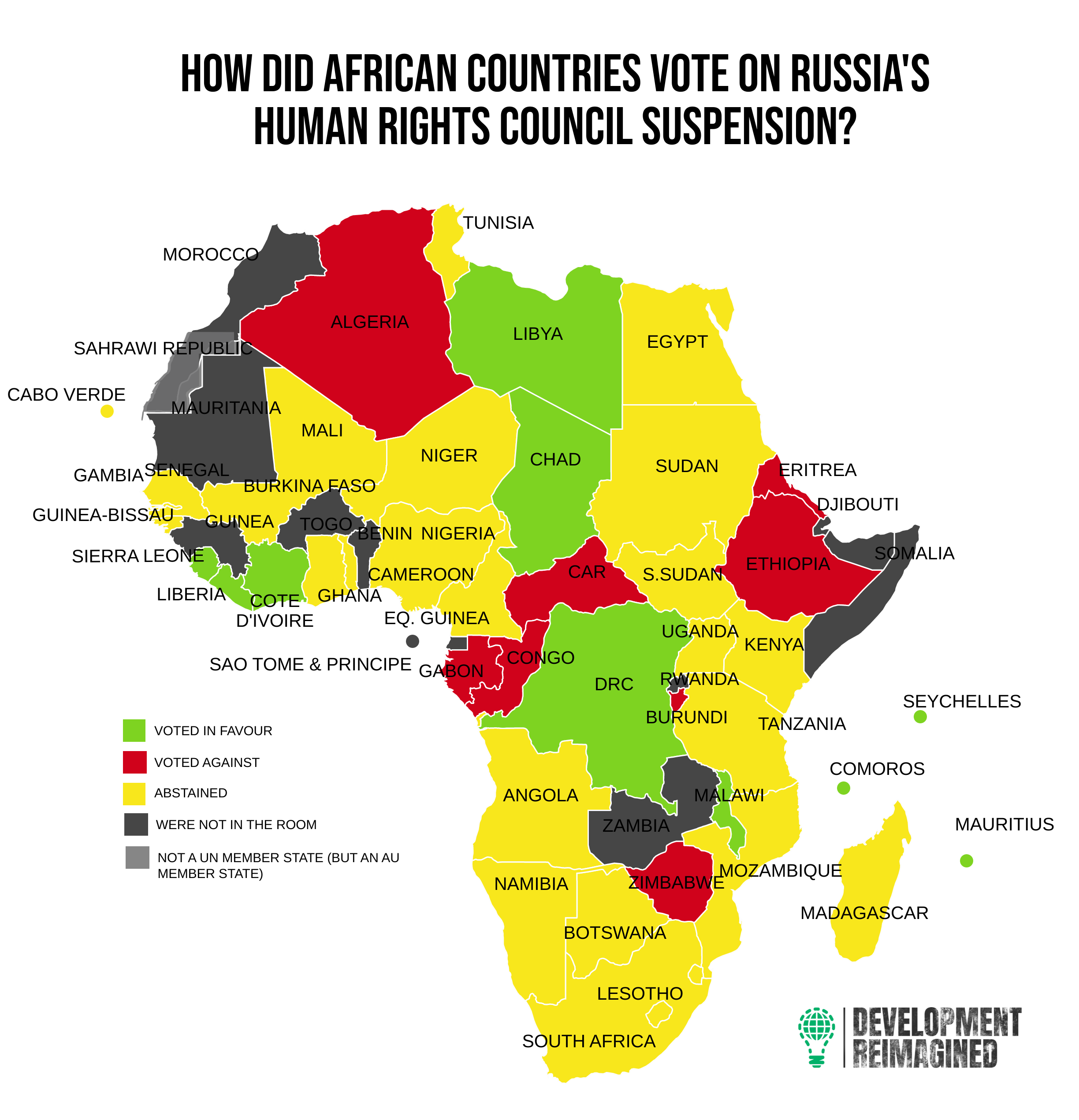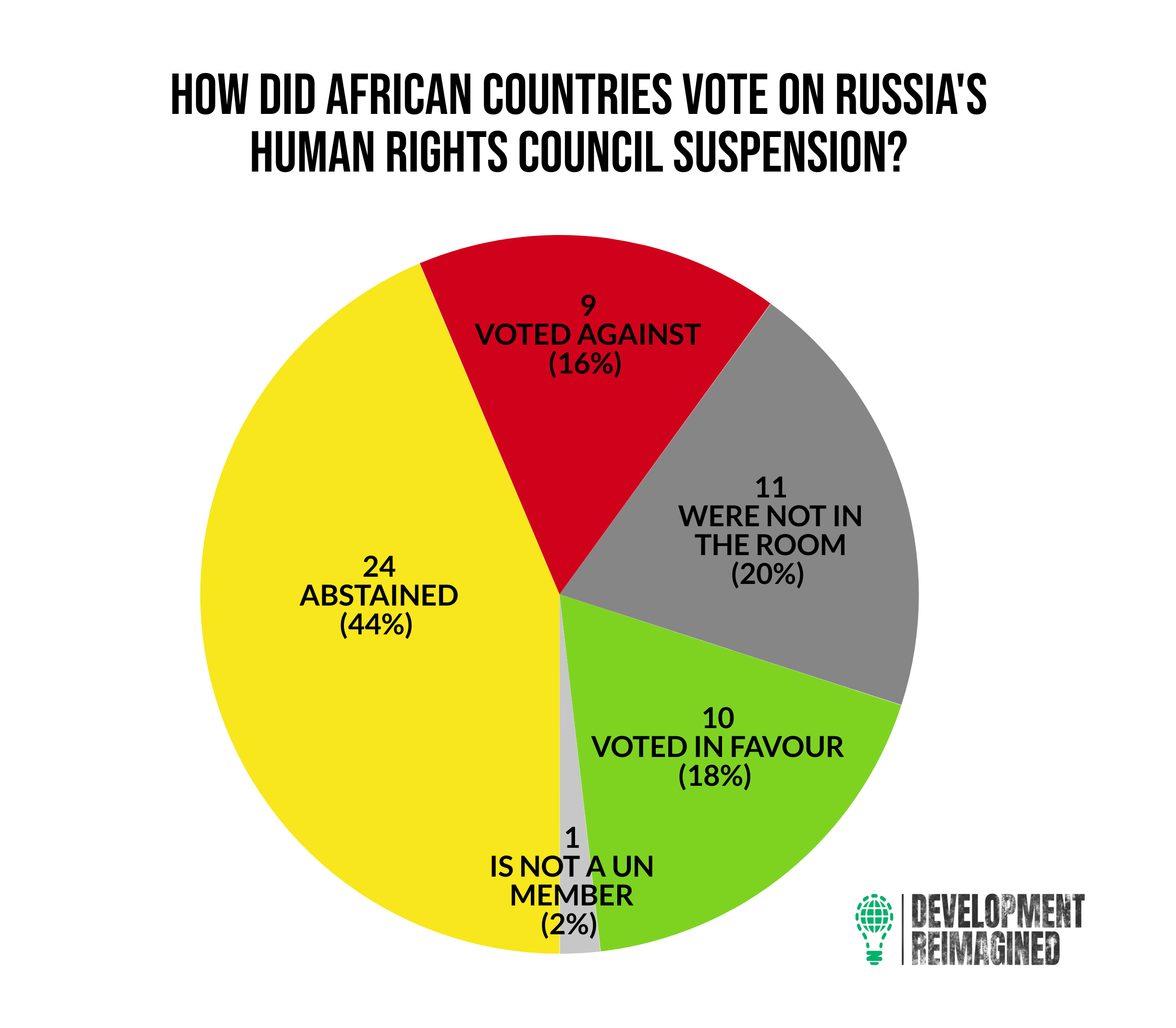 Third, on October 12th 2022, member states of UNGA, again in its 11th emergency session on the Ukraine crisis adopted Resolution ES‑11/4 entitled "Territorial Integrity of Ukraine: defending the principles of the Charter of the United Nations". The vote condemned Russia's "attempted illegal annexation" of four regions in Ukraine and reaffirmed the sovereignty, independence, unity and territorial integrity of Ukraine within internationally recognised borders. The issue of breaching territorial integrity had previously been central to a strong speech by Kenya's Ambassador to the UN Martin Kimani in the UN Security Council in February 2022.
As is clear from the charts below, this resolution garnered more support from African member states than both the previous votes. Notably, no African country voted against the resolution; a smaller set of 5 African countries were not in the room; and overall the largest percentage so far voted in favour – 54%, some of whom had previously abstained or not been in the room. Furthermore, it achieved more African support than a previous vote in 2014 referring to the territorial integrity of Ukraine.
Part of this new support may be explained by the reference in the October resolution to "strong support for...a peaceful resolution of the conflict through political dialogue, negotiation, mediation and other peaceful means", which did not appear in the 2014 or previous 2022 resolutions.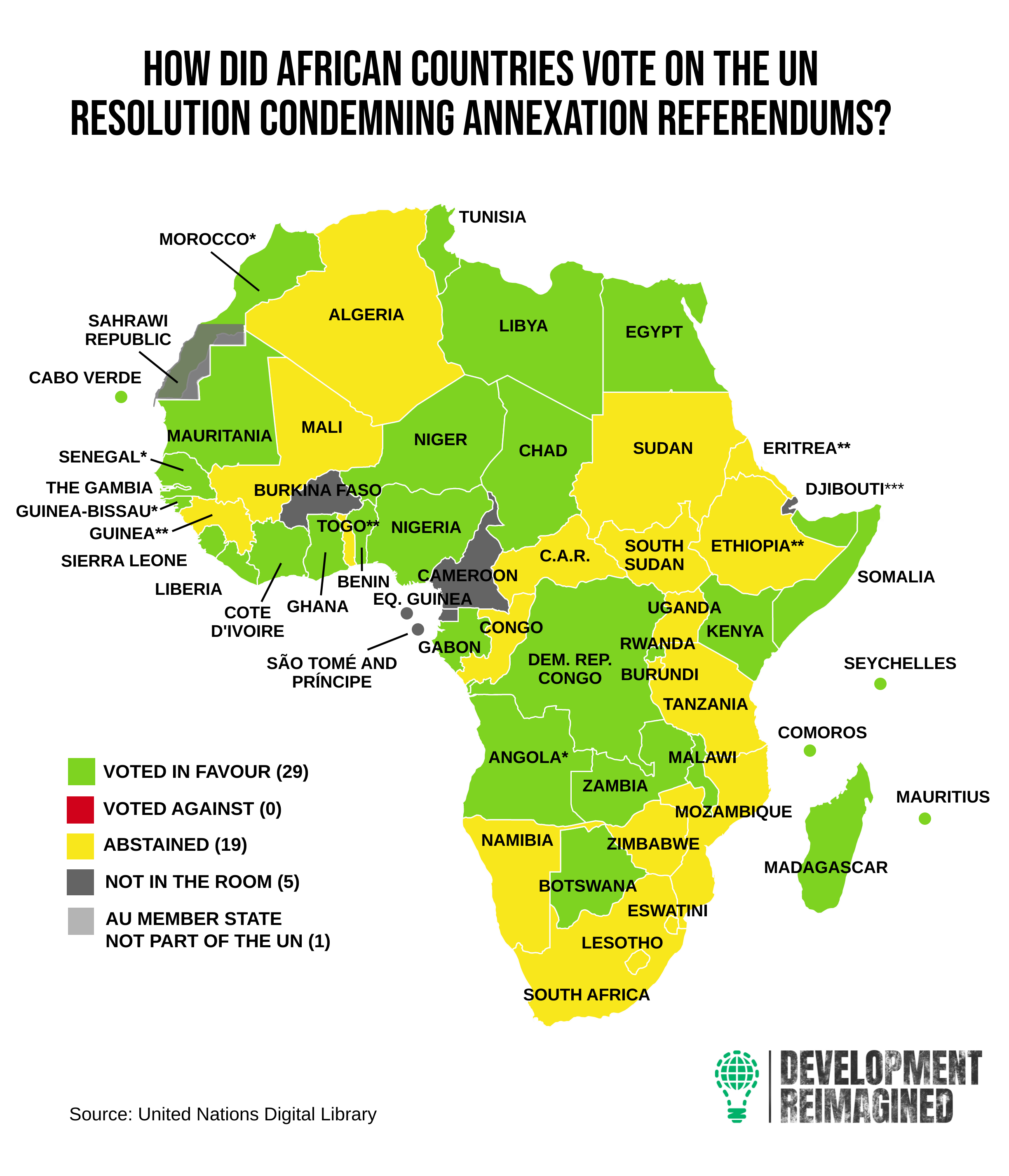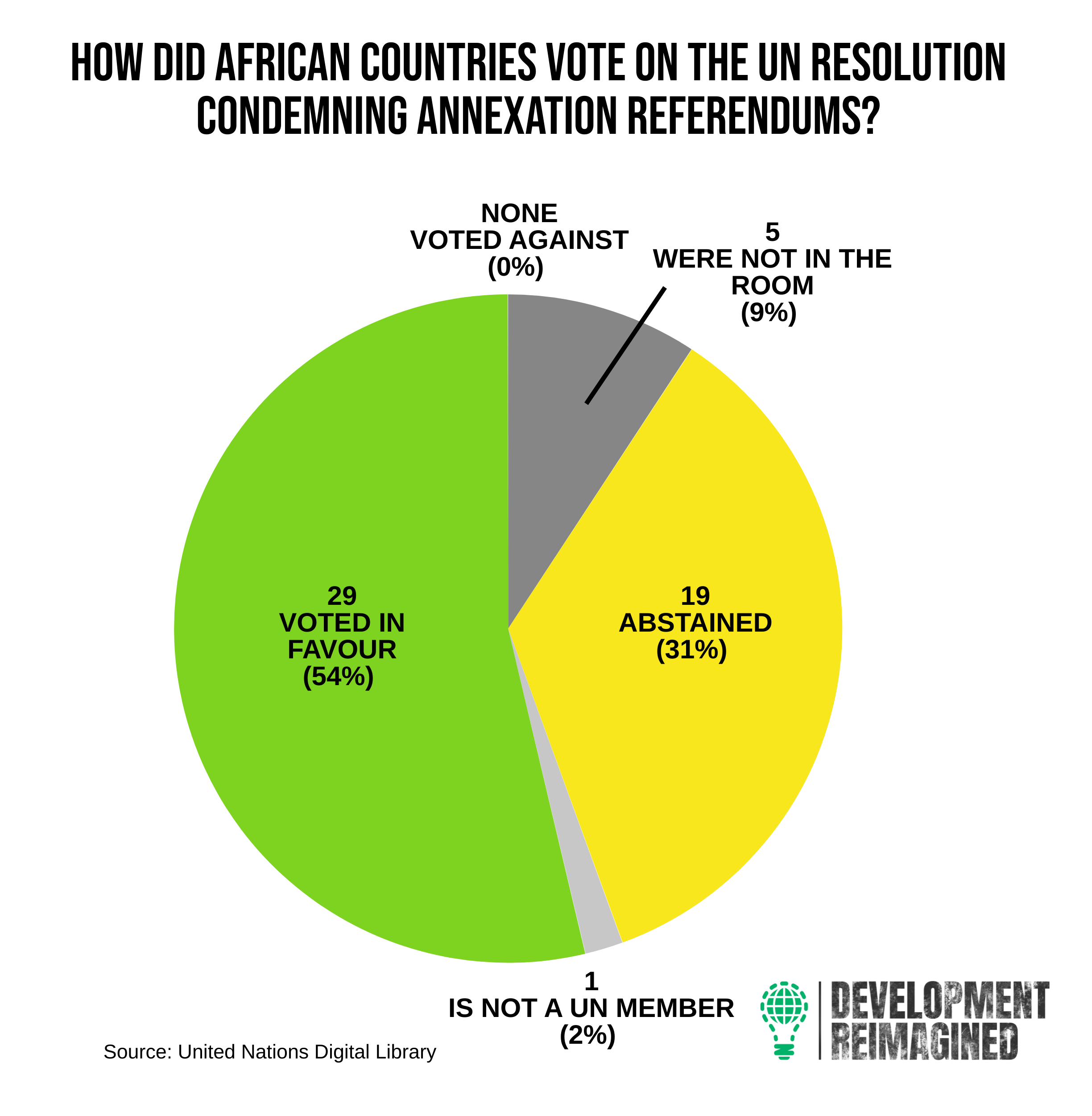 Our analysts have provided several public articles and briefings to explain these voting patterns, drawing on our expertise of African foreign policy as well as Africa's geopolitical and economic engagement with partners including China, including:
More will come, so do watch this space!
To request bespoke briefing or analysis on these or other issues, or request any other type of support from Development Reimagined, please email the team at clients@developmentreimagined.com.
Also, if you spot any gaps in our analysis or have any enquiries about our data, please send your feedback to us at team@developmentreimagined.com, we will aim to respond asap.