For the first time in a global context dramatically changed by the COVID-19 pandemic, the 2021 Forum on China Africa Cooperation (FOCAC) Ministerial Conference will be held in Senegal at the end of the year. The pandemic has had a significant negative impact on Africa's economy, with many countries facing declining GDP and economic growth rates. Beyond this, the past months have helped shine a light on policy areas that require further attention. This context necessitates a reflection on past Africa-China cooperation under the FOCAC umbrella, as well as an exploration on how to best adapt it to newly highlighted policy priorities.
In order to explore African needs and demands in agricultural development, Development Reimagined has published the "Agricultural Cooperation Under the FOCAC Umbrella" Deepdive. The report, co-authored by Gyude Moore, Senior Policy Fellow at the Center for Global Development (CGD) and former Liberian Minister of Public Works, and Anna Baisch, Development Reimagined Research Analyst, aims to provide reflection on China-Africa Cooperation in agriculture to date and provide solid recommendations for future cooperation, in particular for FOCAC 2021.
Why is agricultural cooperation important for FOCAC?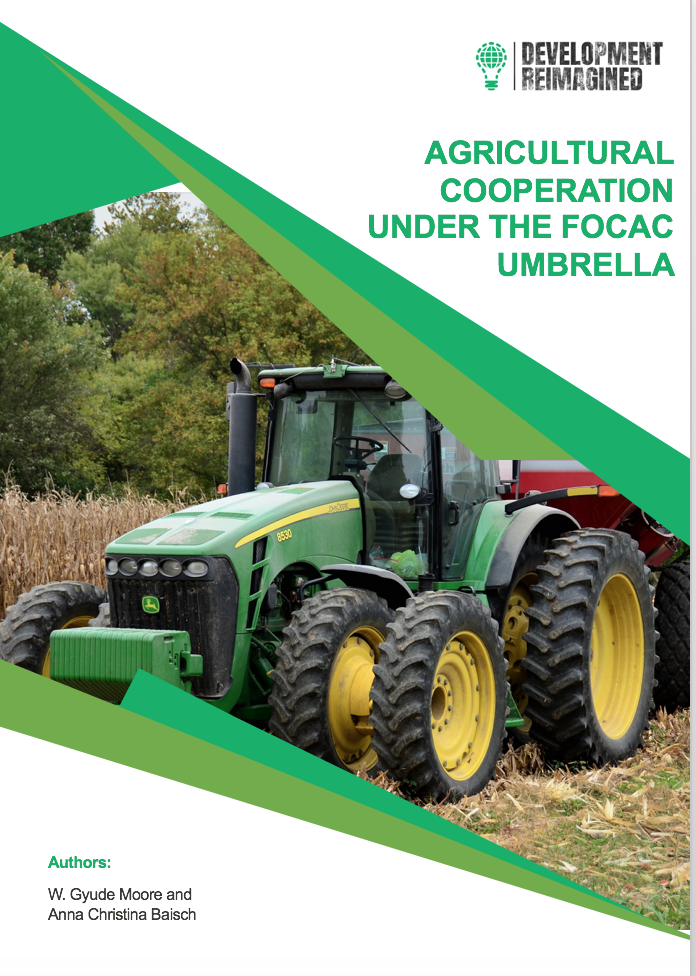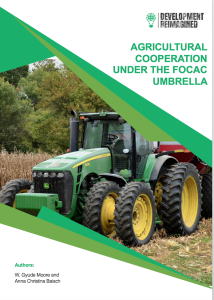 There is a large untapped potential for African agriculture. About two thirds of Africa's economically active population is employed in the agricultural sector but agriculture largely remains concentrated on subsistence-oriented smallholder farms, with many lacking skills to enhance productivity and further process agricultural products. Even though Africa possesses 60% of the world's uncultivated and arable land, it has remained a net importer of food. This is especially pertinent considering the rapid population growth on the continent, climate change and connected fears over food security. Beyond this, agricultural development holds potential to reduce poverty, create jobs and empower women.
China has become an important partner for African Countries, with agriculture a key component of this engagement. Over the last decade (since 2009) FOCAC has consistently referenced Africa's own agricultural plans (CAADP), outlining commitments aimed at implementation of CAADP. However, there still is significant scope for agricultural cooperation to improve and enable African agriculture to play a transformational role in achieving national and continental goals, the SDGs and laying the groundwork for a transition to industrialization.
Following an overview of Sino-African cooperation in agriculture to date, as well as challenges to African agricultural productivity, the Deepdive analyses previous FOCAC policy on agricultural cooperation. It includes overall trends, categorises commitments and takes stock by assessing interim results of agricultural cooperation under the FOCAC umbrella. This is followed by four country cases, each highlighting an issue area of agricultural cooperation: Liberia, Mozambique, Senegal, and Kenya. Finally, based on the preceding analysis, the Deepdive provides a number of recommendations to African and Chinese policymakers in order to further improve Sino-African agricultural cooperation going forward.
The Deepdive, intended for African policymakers, draws on desk research, and exchanges with both Chinese and African experts and government officials. These include an interview with the Permanent Representative of the African Union to China, the August 2021 CAITEC African Needs Assessment under FOCAC Consultation Meeting with African Embassies, and Development Reimagined's September 2021 African Ambassadors to China Retreat.
The report has been adapted for two different audiences, with recommendations tailored to the implementing context.
Download the report for African policymakers (English)
Download the report for Chinese policymakers (Chinese)
Find out more about Development Reimagined's portfolio on FOCAC >>
Questions or comments? Contact the team at clients@developmentreimagined.com