In China, e-commerce is everywhere. Walk down any street in a busy city and you come across "Kuaidi" drivers delivering parcels or advertisements for online "Taobao" shops. But beyond China's bustling cities, e-commerce has a profound impact on job creation and poverty reduction. With 2020 hailed as the deadline for the eradication of poverty in China, at Development Reimagined we have been exploring if this model provides lessons for poverty reduction across Africa, particularly for boosting agricultural sales.
Over the past five years, e-commerce has been used as a tool to support China's poverty reduction strategy across the country. E-commerce companies have targeted new sellers in rural China, with Alibaba's "Taobao villages" program being credited with helping many of China's rural residents to lift themselves out of poverty since 2015. This is especially true for the agricultural sector: In 2018, agricultural e-commerce sales totalled 230.5 billion yuan ($34.06 billion) with 13 million farmers in China selling their products online – E-commerce has played a crucial role in boosting agricultural sales.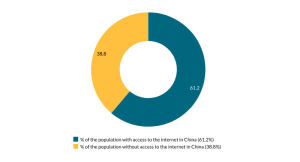 Comparatively, Africa's overall e-commerce market is significantly smaller, with only 21 million e-commerce consumers in 2017, valued at US$5.7 billion – just around 0.5% of the Chinese e-commerce market at the time. This accounts for less than 0.5% of the continent's GDP, far below the global average of 4%. Yet, the potential for e-commerce to support agricultural growth is large. Currently, at about 15%, the agricultural industry accounts for a significant share of the African continent's GDP, alongside employing about two thirds of the population, even without a large-scale coordinate use of e-commerce to boost sales of agricultural goods.
As the COVID-19 pandemic continues to restrict movements and disrupt daily life, e-commerce sales around the world have experienced an exponential surge, especially in essential items including agricultural products.
In light of COVID-19, can Africa's e-commerce market follow a similar trajectory to China's and boost growth in agricultural product sales?
How Has E-Commerce Supported the Agriculture Sector in China During COVID-19?
In China, the pandemic initially stimulated a crisis in the rural and agricultural sector, which, through e-commerce innovations in particular quickly turned into an opportunity.
At first, sales were negatively impacted, due to lockdowns, reduced logistics services and declining supplier demand. Seeing this, Alibaba decided to launch the 'Farmer Assistance Project' on Taobao in February to boost agriculture's e-commerce presence, and the response was surprisingly strong. It facilitated over 200 tons of excess stock to be sold online within the first few hours.
Further success came from taking live-streaming to farmers: By mid-April, rural live streaming had generated RMB 60 million ($85 million) of sales, with around 2,000 rural users generating an income over RMB 10,000 ($1,400), helping them sell stock which might have otherwise gone to waste. This surge in agricultural e-commerce correlated with increased orders of fresh food, which saw over 200% sales growth, with e-commerce platform JD Daojia's daily average users increasing by 98.
In this way, e-commerce was essential to China's rural areas' recovery from COVID19 and paves the way for green growth in future. Without e-commerce, many farmers may have fallen back into poverty, with large parts of the agricultural sector decimated.
But has e-commerce been as helpful elsewhere in COVID19 recovery, including in Africa?
Although E-Commerce Is Making Strides Across the African Continent, Rural E-Commerce Still Has Not Reached Its Full Potential
Whilst Africa's e-commerce market is significantly smaller, there already are numerous players, including around 264 operational start-ups across 23 countries. Major players include Jumia (Nigeria), Takealot (South Africa), Zando (South Africa), Konga (Nigeria), and Kilimall (Kenya). However, most e-commerce companies in Africa are highly underfunded. Moreover, sales are unevenly distributed, with Kenya, South Africa, and Nigeria alone accounting for over half of e-commerce consumers in 2017.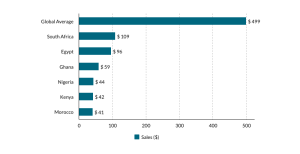 Data on e-commerce penetration of rural and urban areas is limited, although Jumia.com indicates rural e-commerce is rising. In 2019, 25% of deliveries were in rural areas, 50% in urban cities and 25% in small cities/towns. Overall, Jumia.com has experienced increasing rural e-commerce usage, with rural deliveries up from 23% in 2014 to 45% in 2016.
Currently, there is little data available on agriculture-specific e-commerce businesses. A few examples include Pick n Pay (B2C, South Africa), Checkers Sixty60 (B2C, South Africa), Twiga Foods (B2B, Kenya), Efarm.cm (B2C, Cameroon), and Farmcrowdy Foods (B2C, Nigeria). However, several key factors indicate a large potential for e-commerce expansion throughout Africa, for instance: a young and increasingly educated population, high levels of mobile phone usage and mobile payments, as well as established e-commerce companies. Additionally, the 2019 Africa Continental Free Trade Area (AfCFTA) will encourage intra-African trade.
Indeed, the COVID-19 pandemic is accelerating e-commerce usage, with many customers opting to order online to avoid physical shops or open-air markets. Over the lockdown period, online consumers increased by 30% in Nigeria, South Africa, and Kenya; with a 200% growth in online food purchases estimated for South Africa in 2020.
This spike is especially prominent within essentials. Jumia reported that demand for groceries and essentials grew fourfold in the first quarter of 2020, compared to 2019. To extend its reach, Jumia partnered with Twiga Foods in Kenya; and fast-tracked the launch of Farmcrowdy Foods.
But has this been enough?
Are There Lessons for African Countries From China's 'E-Commerce for Agriculture' Approach?
First, it is essential to recognise China's e-commerce model cannot simply be replicated elsewhere. 'Africa' consists of 55 countries, each with a diverse range of policies, market sizes, consumer profiles, histories, and languages. Other contextual differences make economies of scale extremely difficult due to coordination and logistics issues. Comparatively, China is a large, unified market, with e-commerce initiatives supported by both local and central government.
Yet, the potential for comparison is there, especially since China's rural poverty can often look just like that in African countries. At Development Reimagined, we have three key recommendations for growing e-commerce for agriculture and poverty reduction in African countries, based on China's experience.
1. Infrastructure Investment
For e-commerce to be successful, connectivity is key. Roads, railways, airports, internet portals are crucial to ensure e-commerce becomes convenient, speedier and a trusted alternative than face-to-face shopping. From 1992 to 2013, China spent 8.6% of GDP on physical infrastructure to ensure reliable movement of goods, alongside 140 billion RMB (US $21billion) on expanding broadband internet to 98% of country's 500,000 villages by 2020. In contrast, since 2000, African countries' GDP share on infrastructure investment has been reported at 3.5% per year. To close infrastructure gaps, McKinsey Global Institute in 2016 projected that African countries would need to increase this figure to 4.5%.
In Africa, infrastructural underdevelopment contributes to long delivery times and hampers intra-regional trade. With 204 kilometres of roads per 1,000 square kilometres as compared to the global average at 944 kilometres per 1,000 square kilometres, and 65 thousand km of rail across the entire continent (of which 22 thousand is within South Africa) compared to China's 139 thousand km (of which 35 thousand is high speed), Africa has a lot of catching up to do. Once infrastructure is established and logistics are smoothed, better trust relations will be instilled due to faster, reliable deliveries. This will complement the AfCFTA, which will help to harmonise cross-border rules and regulation and make trade and logistics more consistent.
2. Focus on Value-Added Products in the Agriculture Sector
Africa currently misses out on the profits linked to producing value-added products. The majority of African agricultural exports across the world are in the form of soft commodities, with little value-added products. Soft exports require costly government subsidies, generate low profits and stifle employment opportunities, locking Africa into a low position in the value chain. For instance, Côte d'Ivoire, Ghana, Cameroon and Nigeria produce over 70% of global output of cocoa, yet 75% is exported raw and only a quarter kept for value-added processing into items such as cocoa butter, powder and chocolate. As a result, West Africa gets a tiny 5% share of the $100bn worth chocolate market.
Developing the valued-added sector requires increasing both investment and domestic consumption levels. Africa boasts several advantages for value-addition – a growing population with low labour costs, a huge and increasingly educated youth, low capex costs and abundance of arable land – making it a great investment opportunity. Funding and loans should be channelled into SMEs to support the growth of African companies to compete with cheaper overseas products (many of which are themselves often subsidised), alongside the implementation of government-backed schemes to encourage young entrepreneurs to build e-commerce hubs in the rural areas. Secondly, cultivating local demand for both soft and value-added products is helpful as a buffer against shifting external markets. This can be supported by governments subsiding value-added sectors during their infancy, alongside private sector investment and partnerships, as took place in China. This is a viable strategy, as Africa has the fastest-growing middle-class, with household consumption estimated to be worth $2.5 trillion by 2030.
3. Expand the Use of Mobile Money for Agri E-Commerce:
While behind on e-commerce itself, Africa is responsible for an astonishing 46% of mobile money activity in the world – with an estimated transaction value of over US$26.8 billion in 2018 alone. Despite this, when it comes to e-commerce, cash-on-delivery is widely preferred. Looking at China's experience, this disconnect will massively limit e-commerce growth into the long-term. However, mobile money use is a key opportunity. Since citizens are familiar with using mobiles for payments, a standardised mobile payment method should be implemented across African e-commerce markets to facilitate easier and more trusted transactions.
Overall, the COVID-19 pandemic presents an opportunity to develop Africa's e-commerce sector, especially in agriculture, due to its essential value. China's experience shows just how transformational this can be. But to ensure this growth continues, vital investments must be made, now.
**This article is based on a forthcoming report on e-commerce for poverty reduction, for the Center for Global Development.
This article was originally published on the China Africa Project Website on 30 October 2020