Over the past few decades, it has become abundantly clear that 'aid' is not the only answer to Africa's development. Solving economic and social challenges requires more than just financial aid, with an urgent need for structural change – in trade, investment and people.
Since the late 2000s, China has become an increasingly prominent development partner for many African countries – with a crucial component of Africa-China relations being trade. Since 2008, China has been the continents largest trading partner! Nevertheless, there is an acute trade imbalance in China's favour, as 40 out of 55 African countries have a significant trade deficit with China. Moreover, Africa's trade with China is highly concentrated in primary products, with exports dominated by oil, ores, agricultural products, and precious metals. This lack of export diversification leaves many African countries vulnerable to external shocks, most recently seen in the commodity price slumps from COVID-19 impacts.
Overall, this trade imbalance combined with the lack of value-addition dampens possible job creation, foreign exchange generation and value-chain development from flourishing. This is not sustainable, especially given the lack of jobs in African countries, with over 600 million unemployed people.
This is precisely why we launched our first flagship in 2019 – Africa Reimagined – with the mission of cultivating sustainable, impactful development through helping African brands enter the vast and growing Chinese market. We are redefining the development field by making a tangible difference by focusing on real people, real impacts, and real change.
All the brands we support have an entirely African-based supply chain, and therefore keep value-addition – and its subsequent benefits – in the continent. Empowering these brands stimulates positive socio-economic change, with our mission being closely aligned with the Sustainable Development Goals to tackle poverty in its variety of forms.
The Chinese market offers many opportunities for African brands. First off, China's consumer market is enormous! The country has 18% of the global population (1.4 billion), with China's domestic retail sales forecast to increase by 13.8% in 2021, following China's COVID-19 recovery. Moreover, throughout the pandemic, Chinese consumers are shifting towards purchasing ethical and sustainably-produced products. According to a 2021 McKinsey report, Chinese consumers lead the world in researching brand and product choices before buying, with over 70% of survey respondents stating that they had spent more time and money on eco-friendly products throughout the pandemic.
However, entering the Chinese market is no easy feat. Africa Reimagined provides strategic support to African companies to navigate the complex Chinese market, which can be difficult to grasp given a host of factors such as language barriers and the opaqueness of the business environment.
But do Chinese consumers actually have an appetite for high-end, luxury African products?
The answer is an emphatic YES.
We discovered this during our experience at the 2019 expo when we invited seven African businesses from seven different African countries. During the expo, our interactive 'Africa Reimagined' booth attracted thousands of Chinese and international visitors with the brand products flying off the shelves, with 90% of our products sold out, with numerous partnership and distribution connections made.
And this year, we did it all again! The second CAETE expo was held from September 26th to 29th, where we introduced an additional ten exciting, innovative SME African brands to the Chinese market. These brands demonstrate a broad range of African talents and expertise and sit within various sectors such as footwear, fashion, jewellery and beverages, and come from a range of countries, including Ethiopia, Kenya, Uganda, Rwanda, Tanzania and South Africa. Once again, the brand's products were extremely popular!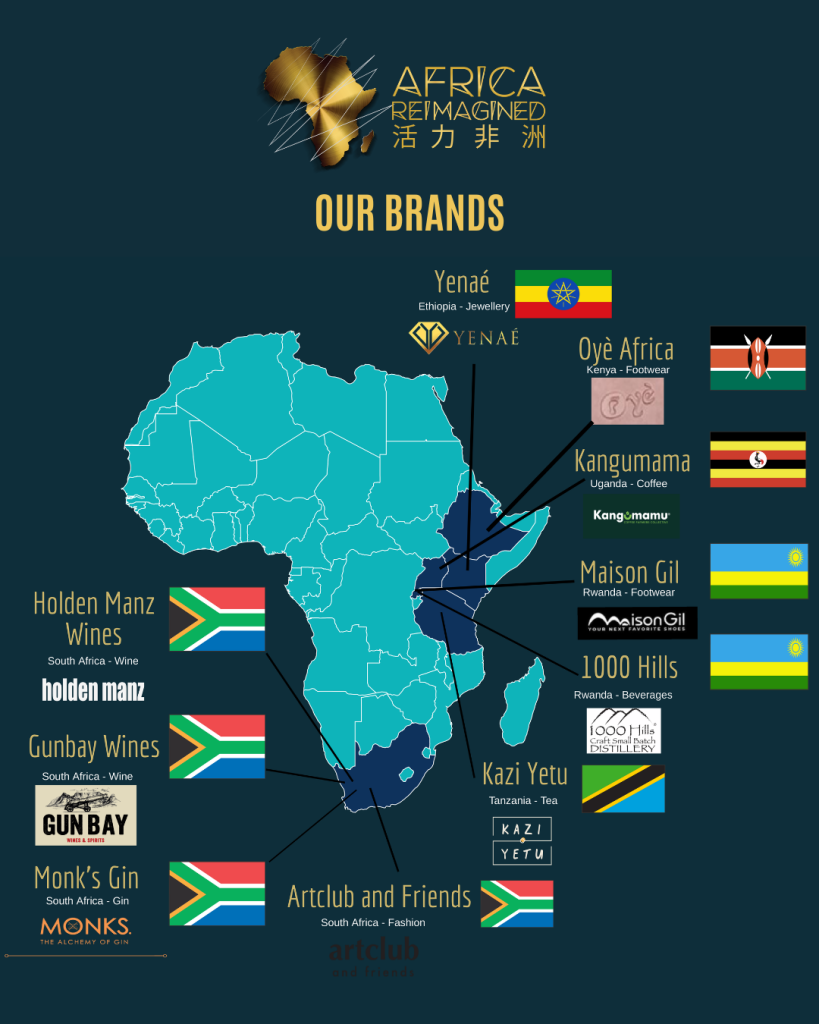 SO LET'S INTRODUCE YOU TO A FEW OF OUR BRANDS!
First, we have Kazi Yetu, a Tanzanian organic tea brand, who package their tea using biodegradable pyramid bags to keep environmental impact to a minimum. Kazi Yetu also employs marginalised, artisanal women, most of whom are single mothers. The brand also reinvests a proportion of its profits too supporting over 2,000 Tanzanian farmers through training programmes. There is a growing demand for unique, foreign tea in China, with the tea market valued at over USD 10 billion. Kazi Yetu can tap into this demand and reach thousands of new customers, especially through utilising China's e-commerce and retail channels.
Other examples of the brands we support include 1000 Hills Distillery from Rwanda, who sources all their materially locally to support other Rwandan SMEs and turns the methanol by-product into a low-cost mosquito repellent.
Or take Monks Gin from South Africa, who use locally sourced botanicals from the mountains around their distillery to reduce their carbon footprint. The distillery is also the first off-grid distillery in Africa and is powered by solar energy!