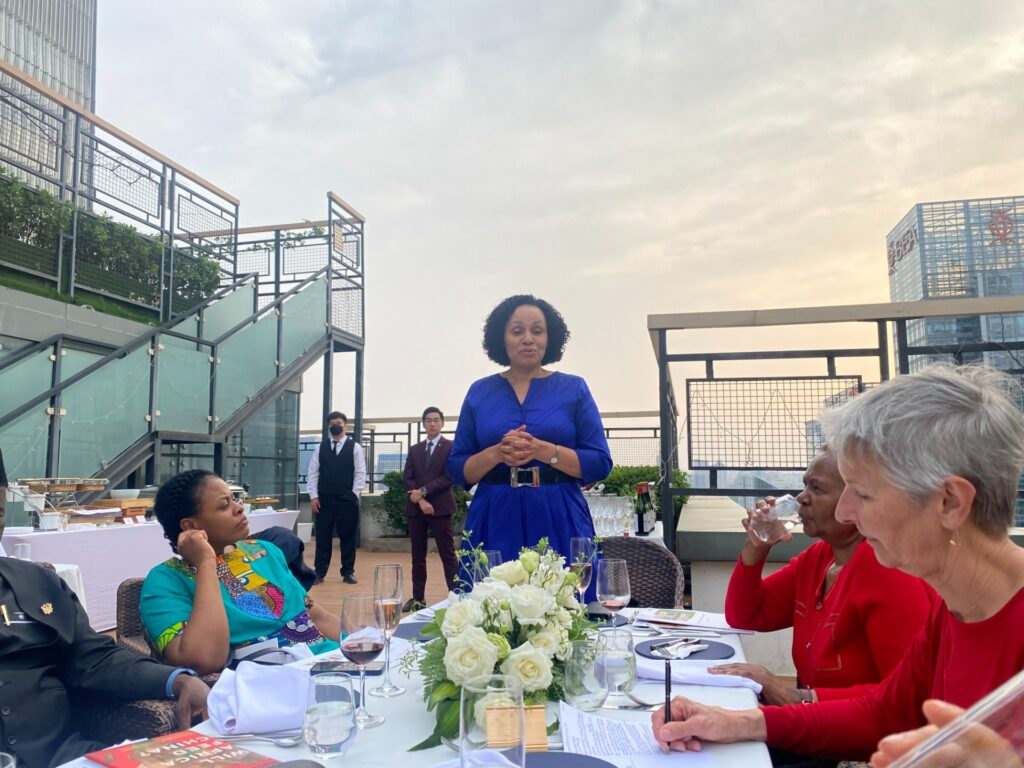 Beijing, 26 May 2023- Development Reimagined in partnership with the African Union Permanent Mission in Beijing convened an evening with Professor Deborah Brautigam, the Director of the China-Africa Research Initiative, and Bernard L. Schwartz Professor of Political Economy Emerita at Johns Hopkins University's School of Advanced International Studies (SAIS), on Friday 26 May 2023 at Development Reimagined's Beijing office.
The event aimed to bring together African ambassadors, Prof. Deborah Brautigam, and Development Reimagined for an engaging discussion. It was envisioned as an evening dedicated to gaining valuable insights from Prof. Brautigam, a renowned expert in the field of Africa-China relations. Instead of constraining the discussion to a specific topic, it sought to provide a platform for Prof. Brautigam to present an overview of her team's most recent work, with a particular focus on loans and financing in the Africa-China context.
Professor Brautigam delivered a presentation on the research methodology employed in her latest publication, titled "Will Africa Feed China." During her discourse, she also recounted her past experiences of conducting research as a visiting senior research fellow at the Department of Strategy and Governance Division within the premises of the International Food Policy Research Institute (IFPRI) in Washington, DC. She further discussed the work that went into her previous and equally thought-provoking read: "The Dragon's Gift: A Real Story of China in Africa," a book that relied on nearly three decades of scholarship and field research in South Africa, Nigeria, Tanzania, Zambia, Mauritius, Mozambique, Sierra Leone, and Zimbabwe.
Over 15 guests, including 8 Ambassadors, joined the event to share their insights and opinions during a lively Q&A session. The discussions were held under Chatham House rules, to encourage frank discussion.
The event concluded with Prof. Brautigam signing a number of books for event participants and engaging with participants.
Development Reimagined is thankful to the African Union Permanent Mission in Beijing for convening the informal gathering on Gaining Insights into Africa's Development Trajectory, and for working with us to make it a success.
In recent years, Development Reimagined has convened a series of compelling high-level events that have brought together the African Diplomatic Corps in Beijing with key opinion leaders and experts from around the world. Distinguished figures such as Dr. Okonjo-Iweala, the Director of the World Trade Organisation (WTO); Dr. Agnes Kalibata, the President of AGRA; Ms. Bogolo Kenewendo, Africa Director of UN Climate Champions; and Faten Aggad, Senior Advisor on Climate Diplomacy and Geopolitics of the Africa Climate Foundation, among others, have graced these gatherings with their presence, and DR will continue to provide such interesting spaces for years to come.
For those who were unable to join us, we invite you to stay connected as we bring you updates on forthcoming events and opportunities for further engagement.
Want to partner with DR to host an event? For any inquiries or feedback, please do not hesitate to reach out to us at:
Miss Judith Mwai
African Diplomacy/UN Agencies Engagement Lead
judithmwai@developmentreimagined.com
For additional information about Prof. Deborah Brautigam, kindly visit: