Chinese military medical personnel attending a patient at a hospital in Freetown during the height of the Ebola crisis in Liberia in December 2014. Photo via Xinhua.
Over the last few weeks, we have seen various Chinese actors launch significant campaigns in Africa to help tackle COVID-19. So far, the Chinese government has created numerous online resources to share its experience; sent 12,000 testing kits to multiple African countries and organized videoconference sessions with health leaders from 20 African countries. The Chinese billionaire and founder of Alibaba, Jack Ma, has also distributed 20,000 test kits, 100,000 masks and 1,000 protective suits to each of the 54 African states.
However, this is not China's first aid campaign in Africa, nor is it, so far, the biggest. In 2014, China joined the international health response to the Ebola outbreak in Guinea, Liberia and Sierra Leone. In total, the Chinese government pledged around $125 million to UN agencies, the WHO and other organizations, sent almost 1,500 health workers, constructed a treatment center with 100 beds, a biosafety lab that conducted 40-60 tests per day, operated a mobile testing lab that treated 900 patients and sent additional supplies, including ambulances, medical equipment and food aid to the West African region. Additionally, existing Chinese Medical Teams (CMTs) in the region trained thousands of local health workers and community-level social mobilizers on Ebola prevention measures. Overall, this was a massive contribution considering the fact that this was China's first major humanitarian aid campaign abroad.
Nevertheless, China's health response did face some criticisms, for example, for not coordinating its Ebola response with other development partners. While coordination is important, as a consultancy that regularly advises organizations on how to improve the effectiveness of their development cooperation, in our view there are several other more important recommendations that could have increased the effectiveness of the Chinese health response to Ebola. These are particularly worth considering as Chinese stakeholders plan the support they will provide for the rapidly worsening outbreak of COVID-19 across African countries.
1. Utilize and Strengthen the Capabilities of Existing Health Systems in Urban and Rural Areas
During the 2014 Ebola outbreak, many Guineans, Liberians, and Sierra Leoneans resisted international and government-led health measures because of negative experiences with foreigners and their government. For instance, many people believed that their government prioritized enriching themselves through transactions with foreign companies, such as mining companies, rather than using profits to provide social services.
After some communities resisted referrals to Ebola Treatment Centers (ETUS), hid the infected and prevented health teams from entering, the Ebola response began to see the value in training and protecting trusted Community Health Workers (CHWs) and constructing rural Community Treatment Centers, as local alternatives to ETUs. Thereafter, the resistance of health measures subsided.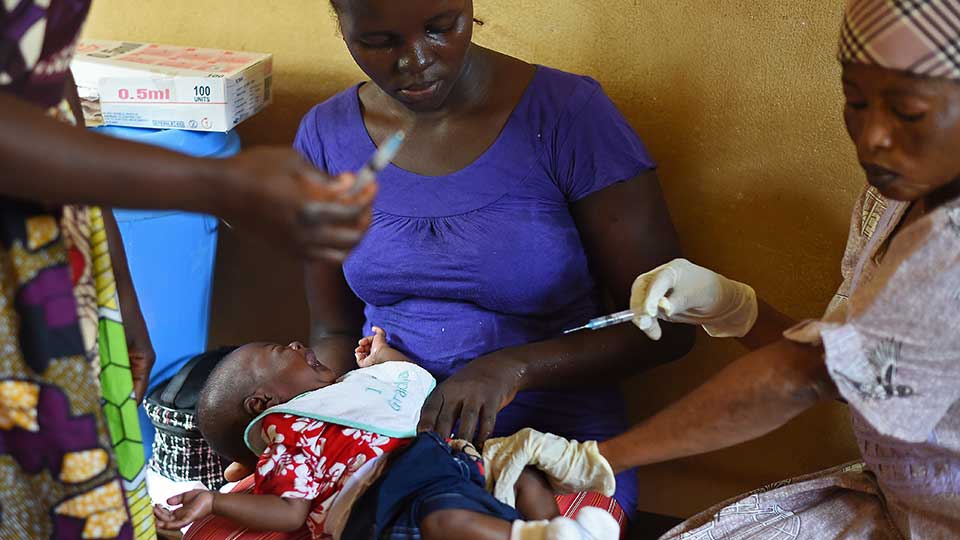 A baby is vaccinated during a routine doctor's visit at the Kuntorloh Community Health Centre on the outskirts of Freetown on November 14, 2014. Ebola-hit Sierra Leone faces social and economic disaster as gains made since the country's ruinous civil war were wiped out by the epidemic. FRANCISCO LEONG / AFP
China also recognized this issue and adapted parts of its Ebola response. For instance, the Chinese CDC took into consideration the cultural context in which it was operating by testing corpses in its mobile testing lab to see if traditional burial practices could be performed, as the prohibition of traditional burials had induced widespread anger and resistance.
Although the examples above refer specifically to Guinea, Liberia and Sierra Leone, they can also be applied to COVID-19. In most African countries rural areas are detached from the central government, which makes distributing limited health resources and implementing health measures beyond major cities difficult. In many countries, COVID-19 has already spread beyond major cities into rural regions. Thus, ensuring that there are trained CHWs in rural areas is essential.
Additionally, as many African's do not trust their governments, using trusted public figures, such as religious and traditional leaders or pop stars instead of government officials to communicate COVID-19 prevention measures can help ensure that social behavioral changes, such as social distancing, are followed during the outbreak. From the outset, these messages must be clear and remain consistent throughout the country.
2. Provide Basic Healthcare
African health systems are generally underfunded and under-resourced. To overcome COVID-19, existing health resources will be used to battle the outbreak and few will be left to treat non-COVID-19 related illnesses. Over 11,000 people died from Ebola during the 2014 outbreak but the true number is unknown, as thousands more died from non-Ebola related illnesses, as the already under-resourced health system was focused on Ebola.
During the Ebola outbreak, China did not focus on this issue. After successfully operating separate health systems in China during COVID-19, China should help African public health officials to do the same, as well as supporting existing health facilities, Chinese-run health facilities, and CMTs.
3. Invest in Contact Tracing, Testing, and Quarantine
After Ebola, African governments understood that the key to overcoming any outbreak of the infectious disease was contact tracing to ensure that all possible cases were found and isolated. Supplying all health facilities with testing facilities was also imperative, as sending samples away delayed diagnosis and the separation of the infected from the non-infected. This was part of the response chain that China supported most vigorously for Ebola, has also supported for COVID-19, for example, Jack Ma's donation. Ensuring that testing facilities are high quality is also especially important for COVID-19 because symptoms can easily be confused with illnesses such as pneumonia.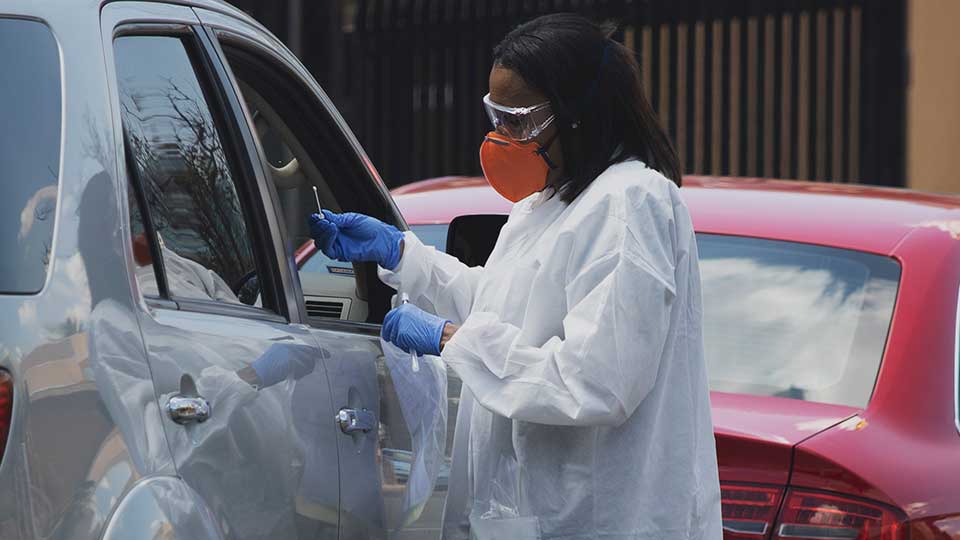 A health professional holds a swab test for the COVID-19 coronavirus at a drive-through testing site outside the Lancet Laboratories facilities in Johannesburg, on March 19, 2020. MARCO LONGARI / AFP
Importantly, testing facilities, and also quarantine and treatment centers must be separate from regular health facilities to avoid transmission. To save time and resources, existing health facilities, public spaces, such as stadiums and conference centers, and tent hospitals can all be converted into or used for testing, quarantine, and treatment.
During Ebola, China's People's Liberation Army constructed a separate treatment center, and during COVID-19, public spaces were swiftly converted into treatment centers in Wuhan. Considering the fact that COVID-19 is much more infectious than Ebola and has spread much further across Africa, China should use its rapid construction capabilities to construct sufficient testing, quarantine and treatment centers across the continent. Finally, a list of health facilities, their contact information and the services they provide should be circulated on social media, national television, and radio shows.
4. Provide Economic Support and Debt Relief to the Hardest Hit African Countries Post-COVID-19
Outbreaks of infectious diseases affect economic growth as well as people's health. Africa is the world's poorest continent and many African economies are reliant on China for the import and export of commodities for growth. We have, elsewhere, recently published analysis showing that 14 of the top 20 African economies that might be worst affected by COVID-19 trade shifts are also Africa's least developed countries.
During the Ebola outbreak, with border closures and travel bans throughout the region, West Africa also suffered massive economic shocks from the lack of tourism and intra-sub-regional trade. The IMF responded by providing $130 million in emergency relief to infected countries and the USA offered to write off $100 million in debt and reinvest the money in health and other social services.
For COVID-19, Africa's biggest lenders, including multilateral lenders, the U.S., the private sector, and China should consider similar emergency and debt relief measures to prevent the least developed African countries from falling further into poverty. This will help them open up fiscal space to spend on other health measures as well as economic support measures to help their populations avoid falling into poverty. Leadership by China on this – as a major lender in many African countries – could cement the country as a global humanitarian leader.
Finally, to maximize the effectiveness of all development cooperation that is already, and will be provided for COVID-19, everyone, including Chinese stakeholders, must focus on finding solutions to increase the resilience of African countries and not just short-term measures. For example, when China's economy recovers and continues its path into consumption and services-based economy, China should speed up the process of transferring its manufacturing capacity to Africa while also greening that investment, in order to create more sustainable development opportunities for the continent. In the end, it's this long-term resilience that will help most.
Originally published on The China Africa Project by Rosie Wigmore a Policy Analyst at the Development Reimagined. Rosie was in Sierra Leone during the 2014 Ebola outbreak conducting research and supporting Ebola response efforts