How can Development Reimagined help YOU successfully respond to the COVID-19 outbreak?
Having access to the right information in a timely and consistent matter allows us to better understand the world around us and subsequently how to adjust our policies or ideas in order to maximize the benefits available. That's why at Development Reimagined our experts have been creating bespoke analysis for our clients to support them through the COVID-19 pandemic, enabling them to continue their poverty reduction and sustainability efforts, whilst mitigating the worst impacts of COVID-19.
The team at Development Reimagined, believe that in the new era of China engagement, it is pivotal for developing nations to strategically engage with China and other development partners. Acting on this belief, we offer bespoke strategic advisory services to Governments, businesses and other stakeholders seeking to develop robust, holistic and long-term development plans and projects. And now specifically during the COVID-19 outbreak, we are providing cutting-edge research and advice (from policy briefs to phone calls and webinars) to make sure you- our clients are prepared and fully informed.
Why Development Reimagined?
We are a diverse set of specialists with key competencies in public relations, economics, diplomacy, and environmentalism. We play the pivotal role of connector between the aid world, governments, top-tier research institutions, and the private sector. For it is when these pieces come together that we can truly stride towards a sustainable future for all. Our niche is understanding the full situation and context in China and knowing what is and isn't transferable for other countries, especially in the context poverty reduction.
Our Analysis
In order to support the Government of Mauritius to make informed decisions on managing the impacts of COVID-19, Development Reimagined created a bespoke policy brief and strategic guidance document on the potential economic implication. This brief provided detailed analysis on the context, sectors affected by COVID-19 and a number of recommendations and next step.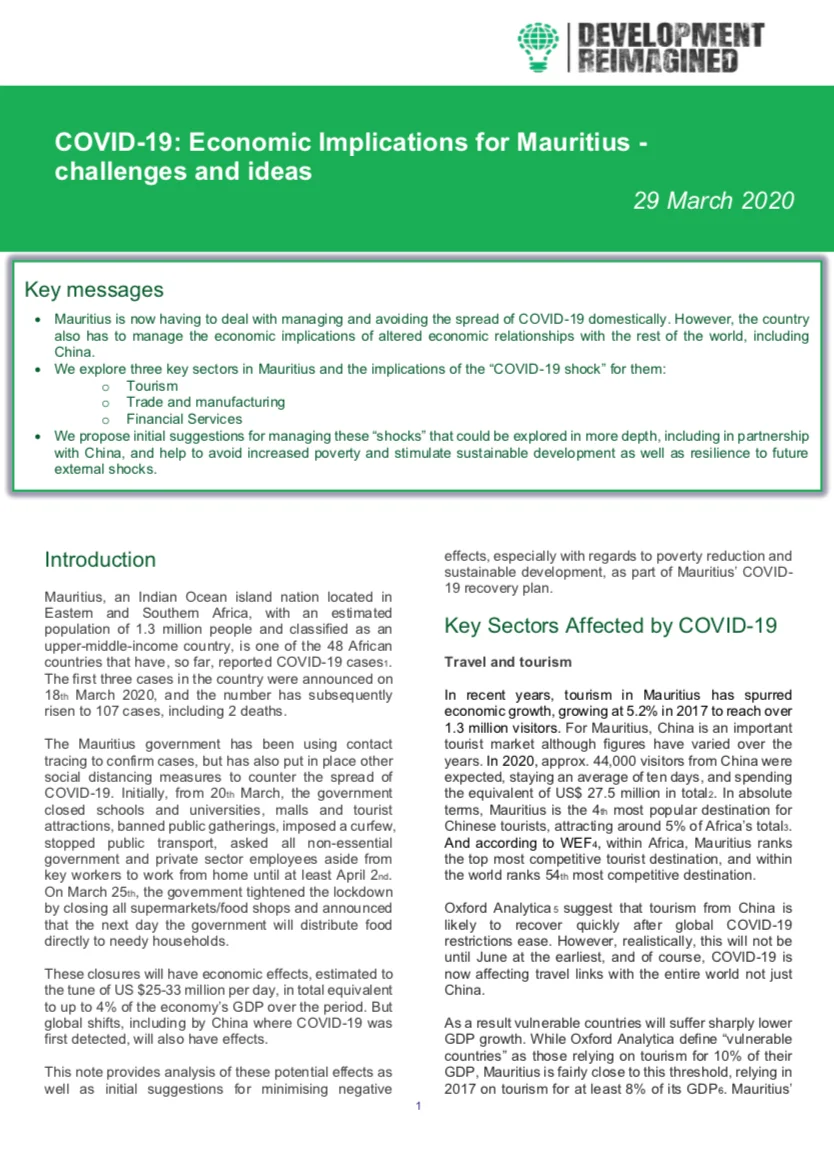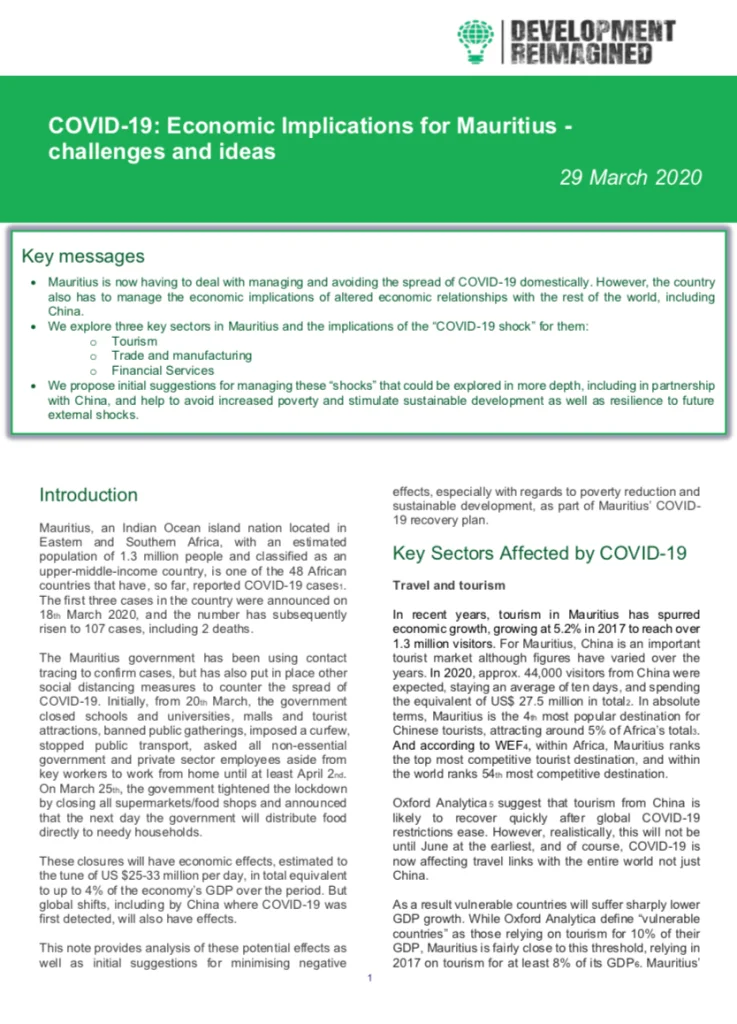 Download the full brief here
To find out more about how Development Reimagined can help you, contact our team at: clients@developmentreimagined.com
Development Reimagined is a ground-breaking African- led international development consultancy, headquartered in Beijing, China. DR's cutting-edge research and analysis is regularly featured in international media including the FT, BBC, NYT, Quartz, CGTN, Africa Business Magazine, Al Jazeera, and elsewhere.