Mafi Mafi's Mahlet Afework on Supporting Her Community Through the Production of Face Masks
The Ethiopian brand, Mafi Mafi, led by designer Mahlet Afework, has been a staple in the countries' fashion industry since 2011. Her designs merge contemporary styles with traditional Ethiopian fabrics and techniques, all of which are created by a team of skilled female weavers who are bringing the knowledge of their ancestors into the modern fashion market. With the onset of the COVID-19 pandemic, Afework quickly had to rethink her brand's concept in a bid to keep the business alive and support her local community. Fashionomics Africa caught up with her to discuss the current situation in Addis Ababa and her face mask production process.
You studied nursing prior to starting a career in fashion design; is this profession still close to your heart? With your background in nursing, how do you perceive the current Covid-19 crisis?
To be honest, supporting others is something that I have always loved and it's something close to my heart. In this time of health crisis, I would love to support and do my part in the fight against the virus.
The Covid-19 is still new to us and a number of research projects are currently in progress. We are learning every day – for example about the importance of wearing face masks or avoiding public areas. Apart from creating awareness about the pandemic, countries also need to focus on making masks, gloves and gowns and encourage the private sector to alter their production.
What measures have been put into place in Addis Ababa in light of the health crisis?
A number of measures have been put in place by the government including a 14 day, forced quarantine for all travelers coming to Ethiopia, hand washing stations have been set up in every corner of the country, educational programs, suspension of  all regular church activities, taking homeless people into camps, schools have been closed across the nation. The government along with the Ministry of Health are doing their best to educate and prepare people for what's to come.
When did you first start producing masks to give away? When did you start seeing an increase in orders?
About two months ago when the novel COVID 19 was declared a pandemic by the WHO; all our orders had been canceled and our business started declining. It was a very stressful moment to sustain our business and keep our employees. We were on the verge of closing our business and lay off employees. I had been following the news closely and was aware of the global impact of the virus, and the shortage of PPE faced in China & Europe. I then started developing samples to meet the standards set by the government to support the government in their effort to fight the COVID 19.
Initially, we started producing small quantities of cloth face masks made from cotton for our employees, family and friends only for personal protection and later we were able to produce more than three thousand pieces per day following the first COVID 19 cases in Ethiopia. This is when companies started ordering masks for their employees and later people started releasing the importance of face masks and started buying directly from us.  Currently the government has strongly enforced the wearing of face masks in public areas. This helped us not only sustain our business by keeping our employees on, but also to create more jobs along the way. When the Covid 19 positive cases spiked in Ethiopia I decided to give away one thousand masks for the most vulnerable people in Addis Ababa.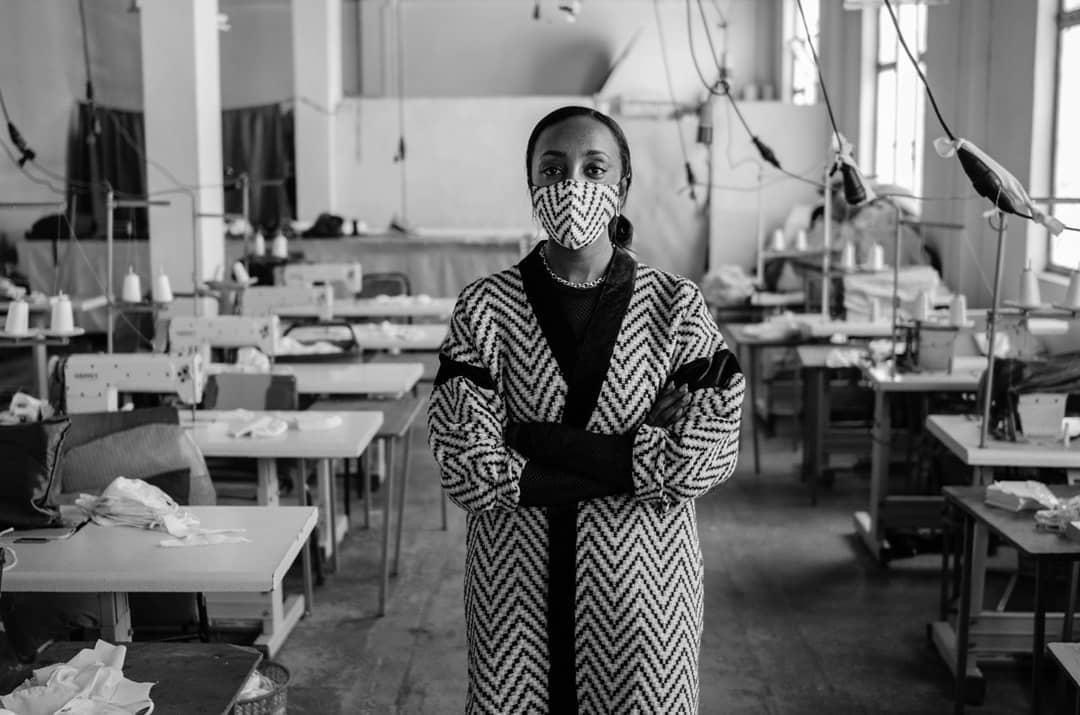 How do you intend to ensure affordability for marginalized communities?
Face masks should be affordable and accessible to all and the idea is to protect the people as much as possible from this pandemic but not to make fashionable items that could be sold at triple the price. We only produce one type of face masks for all, in one colour and made of 100% three layered cotton. The masks are washable, and we pack them individually with clear guidelines in our local language. We sell them for less than a dollar because my aim is to save millions of lives while sustaining my business and my employees.
What are the main criteria for surgical masks, and what are the challenges you're facing in securing supplies?
The main criteria for making surgical masks are the materials – especially the filter, which requires the import of the machines to produce the surgical and N95 masks. My dream was to produce cloth masks with the filter, so that health workers in Ethiopia could also use them. Importing the materials was not easy so we are just focusing on producing cloth masks for personal protection whilst improving the quality and the standards.
What steps are you taking to ensure the safety of workers in the production facilities?
We are taking all the necessary precautions to ensure the safety of all our workers in the production facilities and outside. The most important part for me was to create continuous awareness for the team. We also remind them to follow up on the safety precautions throughout the production process, every day. We repurposed the whole production space just to produce face masks and gowns, to make sure that every piece we produce is made with intensive care and hygiene. Besides the PPE that we provide for them, we also made transportation available to them to minimize their risk of infection whilst commuting via public transportation.
Your work has always been incredibly community focused. In which other ways are you working with the community during these uncertain times?
At the moment my focus is to produce quality masks to help my people and sustain my employees but my next step would be to support the artisans and weavers who are currently out of business and finding it difficult to feed their families. Artisans and weavers have been in the value chain when we were producing hand woven clothing. These are the people that I know personally and who have been the backbone of my brand in Ethiopia, so I would like to support them in this difficult time.
Interview originally published on Fashionomics Africa.
Mahlet came to China in 2019 as part of Development Reimagined's "Africa Reimagined Programme" ,a bespoke China market entry programme, which brought 7 leading high-end and sustainable African brands to the first China-Africa Import Expo and World Economic Forum's Summer event in Dalian, China. To find out more about Africa Reimagined, please contact us at clients@developmentreimagined.com