It's a big week of change for DFID this week. Despite apparently being in the "sexiest" department in Whitehall (according to the London Evening Standard at least!) we're all actually reeling from the news that our fantastic Permanent Secretary Minouche Shafik is about to leave us to become a Managing Director at the IMF, and getting used to the news that several of DFID's offices are going to close over the next four years.
Our office in Indonesia, which I visited a short while ago, is perhaps one of the offices facing the most change. The DFID office is due to close in April, because we can no longer justify continuing a traditional aid programme there. Indonesia is an "emerging power" – one of the fastest growing countries in the world, in which poverty rates and other development indicators have improved significantly over the years.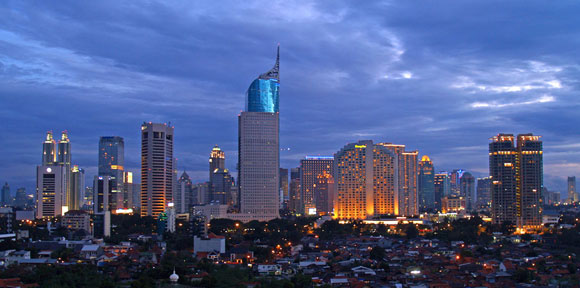 However, Indonesia's carbon emissions continue to rise strongly – despite the President's 2009 pledge to reduce emissions by 26% on business-as-usual levels by 2020, or to 41% if Indonesia receives international support. Such reductions are crucial, emissions from Indonesia will – just like those from the UK or any other economy – have negative effects on other, less developed nations, effectively determining the effectiveness (or otherwise) of current and future UK aid. So some DFID staff are going to move to help deliver a new UK-Indonesia partnership focused solely on climate change – jointly with FCO and other government departments.
The joint unit represents an innovative and crucial plan, but I'm even more excited by what it will actually be doing: "match-making".
A key problem in Indonesia – and many other developing countries – is that it is very difficult to find "good" low-carbon investments. Such investments may well deliver new jobs and stimulate growth, but they are considered to be risky because not enough of them have been tried and tested, and financial institutions do not normally lend for longer than five years. So to address this, the office is planning to develop a whole range of flagship, commercially viable projects then match these with finance from the private sector and other factors to help Indonesia keep growing. As a new book by Ann Bernstein makes clear – there is a case for investing in business to help tackle poverty.
From what I can see, no other offices or donors have taken up this "match-making" idea yet – Indonesia seems to be the pioneer. But it could yet end up being the "niche" area for the UK to make a practical and special contribution to the challenge faced by Indonesia and other developing countries in marrying climate action and economic growth.
Yes, times are a changing, but change can also represent opportunity, and it's great news that Indonesia – despite the uncertainty – is gearing up to set the bar for a new, game-changing sphere of DFID's work.