Despite reports on Covid-19-induced economic slowdowns in China, China's middle-class and their purchasing power is continuing to grow at a rapid rate. Today, China is home to more than 40 percent of the global wealth middle class. Furthermore, these middle-class consumers are continuously looking out for new and unique foreign luxury brands to help them stand out from the crowd. Unsurprisingly then, China is still set to be the biggest luxury market by 2025. Within the luxury goods sector, jewelry and watches are amongst some of the most popular purchases making China one of the top countries in the world in terms of revenue worth over $85 billion in 2021. Interestingly, gold is becoming the most noticeably popular choice when it comes to jewelry and particularly amongst young consumers seeing a 56% year on year rise in 2021. Furthermore, purchases of gold jewelry as gifts increase significantly during the Chinese New Year. During the Chinese New Year holiday in Shanghai alone, gold jewelry consumption reached 1.1bn RMB (154mn USD) in 2021.
What is even more interesting is that sustainability have become massively important to Chinese consumers and especially when it comes to fashion purchases. In a 2021 survey, 53.8% of respondents stated that the main motivation for choosing environmentally and socially friendly products is 'caring about the world and making both the environment and society better through individual actions'. Foreign luxury brands are taking note of this and emphasizing how their products are environmentally friendly or how their brand contributes in a positive way to societies.
For luxury gold jewelry brands that incorporate sustainable practices, never has it been a better time to take on the Chinese market. One such brand that has also recognized this opportunity is Yenaé whose story we are going to tell today. AR is a China market entry service platform and consultancy for luxury African brands. We support many incredible African brands from a range of sectors with selling in the Chinese market including Yenaé.
What is Yenaé ?
Yenaé is a high fashion, gold jewelry brand whose designs all represent a different piece of African history and culture, and is committed to sustainable practices. The story of Yenaé began when the brand's founders, Seble Alemayehu and Felekech (Fei) Biratu, both Ethiopian-American women and jewelry enthusiasts, became friends while attending high school in Addis Ababa, the capital of Ethiopia. Alemayehu and Biratu followed similar paths – they traveled around the world before arriving in the United States to earn their MBA's at the University of Maryland. As they are both jewelry lovers and are both inspired by Africa's rich histories and cultures, they founded Yenaé in 2015 during an eight-week startup acceleration program, which led to the launching of the first collection in 2018. By the following year, Yenaé showcased its collection for the Ethiopian market at Addis Ababa Design Week 2019 in February.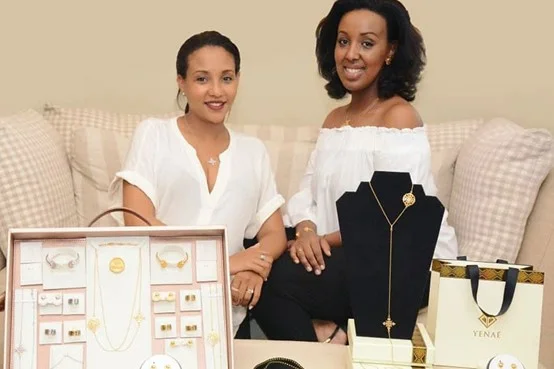 Yenaé 's objective – The preservation and transmission of African histories and cultures
Alemayehu and Biratu use the Yenaé brand as a vehicle to tell stories from Africa. Each piece of jewelry represents a different piece of African history and culture, and the origin of the stories are verified by African historians and folklorists. Part of the reason for doing this is because it contributes to creating a more positive, accurate and African-led image of Africa. For the consumer, just by wearing a piece of Yenaé, it is like a journey into Africa Thus, when buying Yenaé, people are not only buying a piece of jewelry, they are also helping preserve African cultural heritage and local traditions.
Yenaé strives to contribute to the local economy in Ethiopia and across the continent. For example, they source raw materials such as semi-precious stones and have them processed by local artisans to keep the value-added within the African continent and contribute to Africa's economic growth. This also allows Yenaé to showcase African talent to the international market. Yenaé focuses on overseas customers that love travelling, are interested in foreign cultures and like uniquely designed jewelry. Yenaé has a global customer base and especially in the USA where Alemayehu lives in Virginia. Yenaé has attracted a strong customer based in the USA and has even been featured in Vogue.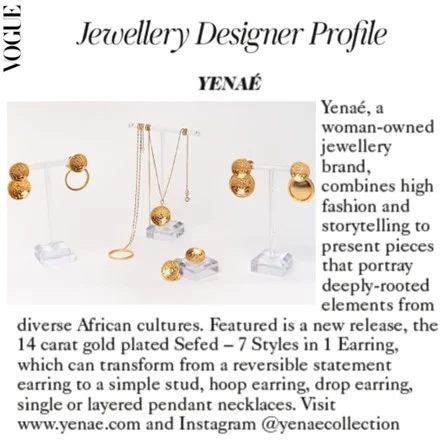 Yenaé is now also turning its sights to the lucrative opportunities that the Chinese market has to offer with the support of our team at Africa Reimagined (AR). Yenaé attended the 2021 China-Africa Economic and Trade Expo in the AR booth where the AR team sold and made business partnerships on Yenaé's behalf. They were a huge hit with the attendees, which solidified Alemayehu and Biratu's decision to continue exploring the Chinese market. Watch this space!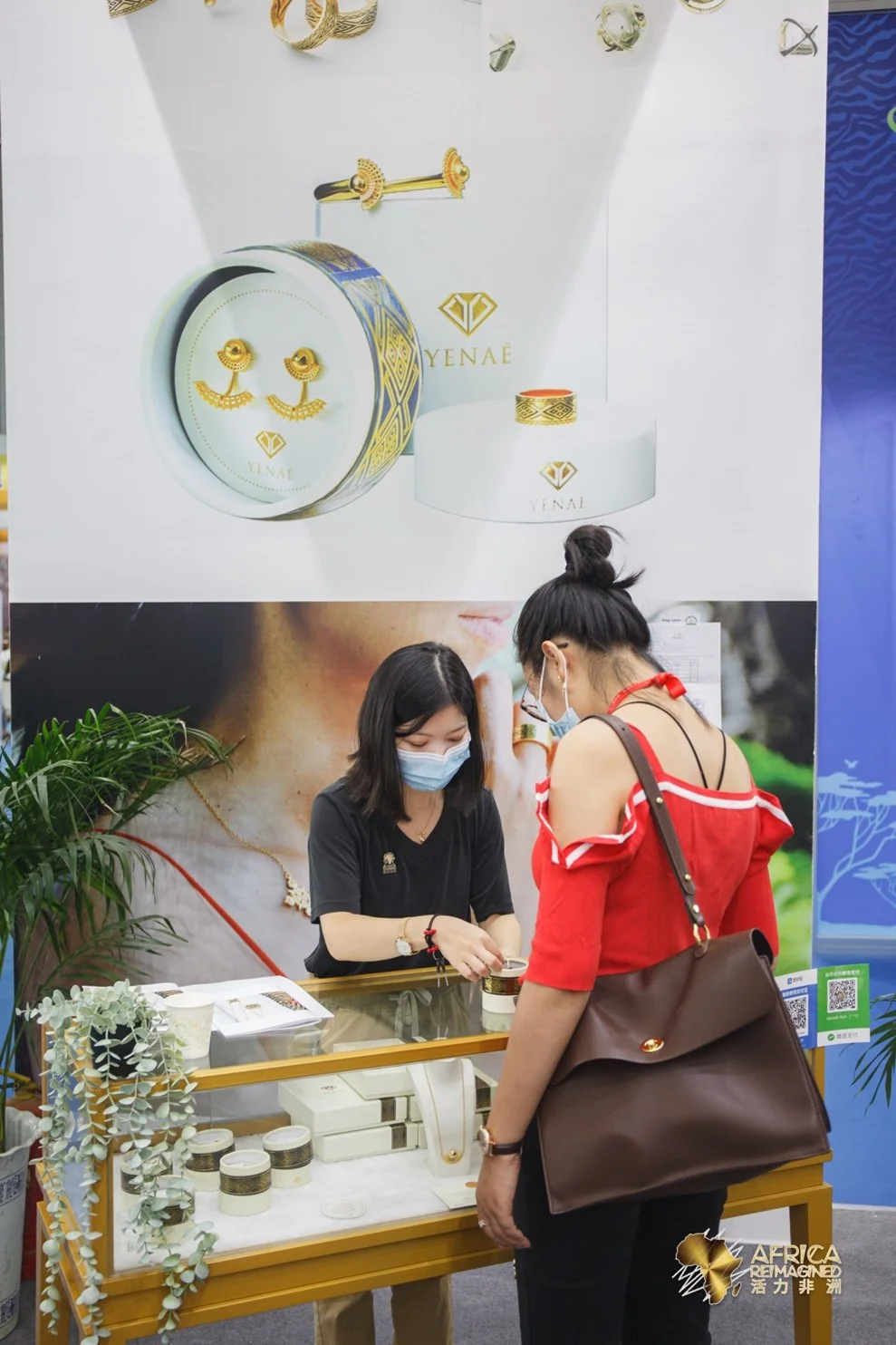 To purchase from and find out more about Yenaé, visit:
Instagram: yenaecollection
Website: www.yenae.com
Email: info@yenae.com
AR is a China market entry service platform and consultancy for luxury African brands. Visit our website to learn about our services and the brands we work with. Contact us to learn more about how:
If you're a China-based business owner or person, how you can connect with our brands and explore business partnerships
If you're an African brand, how we can support you with selling in the Chinese market.