In the wake of the COVID-19 pandemic-induced drug and vaccine supply issues, attention has started to shift towards the idea of "local manufacturing" in Africa.
This is necessary. A new report "MAKING AFRICA'S PHARMACEUTICAL AMBITIONS A REALITY: Part 1 – History, Trade and Hubs" published by Development Reimagined highlights for the first time that all African countries* have an import deficit when it comes to pharmaceuticals. Indeed, we find that the largest markets and those with the largest pharmaceutical sectors such as Egypt, Nigeria and South Africa have the largest deficits. This validates evidence by others that shows that while Africa's pharmaceutical sector is valued at an estimated 65 billion USD and is primed for rapid growth, the continent produces only 3% of global medicines, and imports over 75% of its pharmaceutical needs.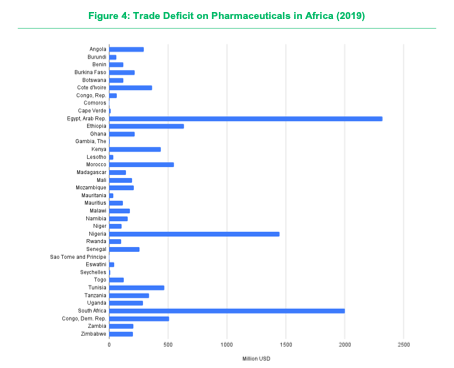 These findings also explain why Africa has remained at the back of the queue when it comes to PPE, vaccines, tests and even treatments for COVID19 and other new threats such as monkeypox.
We explain that this unsustainable international dependency is in itself a huge health risk to Africans – perhaps even larger than domestic risks such as poor governance or health systems.
The report, the first in a three-part series and part of Development Reimagined's programme of work to decolonise the development and global health sector, aims to understand the reasons for Africa's dependency on international pharmaceutical markets in order to suggest practical, sustained long-term ways out, with key concrete steps towards seeing pharmaceutical manufacturing taking off in Africa.
Why is this report relevant?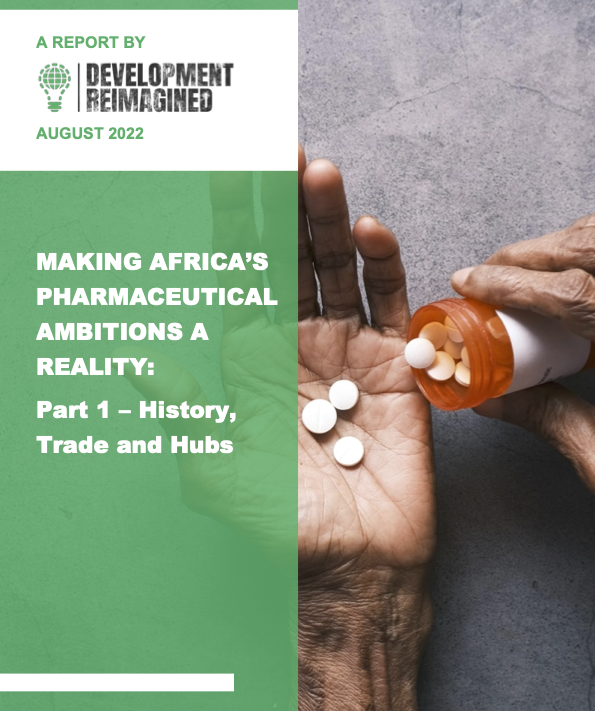 The report, targeted at pharmaceutical investors, researchers, manufacturers, and regulators working in or interested in investing in African countries – and other LMICs by extension – begins with a history of the sector on the continent, and ends with a plan for a reimagination of the developing pharmaceutical sector, with actions not only for Africans but also international organisations and private sector actors.
The report shows that investment in African pharmaceutical manufacturing is increasing, and research and development capacity, as well as regulation is on the rise – including stimulated and coordinated by African instituti
ons such as the Africa CDC and the African Medicines Agency (AMA) – the report also highlights through its historical analysis that said progress can easily be eroded by the impact of international markets and institutions (even those that are well intentioned!) as well as domestic and regional market and political instability.
This forms the reasoning for the reimagining – the argument for focusing on pharmaceutical manufacturing hubs in Africa. The report presents the best potential locations for the hubs, and argues that hubs will provide economies of scale for local manufacturing, add value, and provide a better return on investments.
What steps needs to be taken?
With this overall context, the report lists five actionable recommendations tailored to manufacturers, policymakers, and leadership in the African and international pharmaceutical sector and beyond:
Build a continental or regional database on African pharmaceutical manufacturers;
Prioritise producing pharmaceuticals to address the continent's own current disease burden, while looking to future demand burdens and eventually international demands;
Consolidate pharmaceutical regulation and policy across the continent;
Invest in sub-regional manufacturing hubs – they are already easily identifiable now;
Institutionalise local procurement as a policy in global health funds and institutions.
By publishing this report, Development Reimagined aims to provide ideas for actionable solutions across the development sector for all stakeholders – African and non-African – to improve how they plan, regulate, invest, and deliver on the African Union's Agenda 2063 and the UN Sustainable Development Goals, including health.
The report is available for download in English here, as well as in French here and Chinese here.
Part 2 and 3 of the series will be released later in August 2022.
*38 out of 55 countries for which there is data.
Note: The authors are available for comment/interviews: please DM @hmryder or @osaruomosigho on Twitter, or for more information email: clients@developmentreimagined.com.
1st August 2022