INTRODUCTION: New Report says that Africa's pharmaceutical sector can become self-sufficient – using evidence from China and India
Making Africa's Pharmaceutical Ambitions A Reality: Lessons from China and India
In a follow-up to our August 2022 report on the African pharmaceutical sector, a new report by Development Reimagined highlights how the continent's pharmaceutical industries can be developed by drawing critical lessons from China and India's experience developing their pharmaceutical industries.
This report, the second and third elements of a three-part series, offers insights and actionable recommendations for the decolonization and sustainable improvement of Africa's pharmaceutical sector – by highlighting eight valuable lessons from China and India, both of which successfully developed in stages from import-based to self-sufficient and export-oriented industries, albeit to varying degrees.
China has developed as both a major exporter and importer of pharmaceutical products, with a huge uptick in its exports valued at 12.3bn USD in 2020 (dwarfed by its imports, valued at 30.8bn USD), while India has steadily increased its trade surplus in pharmaceuticals since the early 1990s, reaching an export value of 19.8bn USD in the same year (greatly dwarfing its imports, valued at 2.87bn USD).
In the report, Development Reimagined individually and comparatively analyzes China and India's pharmaceutical industries from a historical perspective, highlighting the history, progress, challenges, and opportunities of the role of industrial policy in developing the pharmaceutical sectors of both countries, international market entry, and homegrown innovation, to their modern pharmaceutical sectors and what these lessons could mean for Africa.
Why is this report important
Both China and India have secured their place in the global pharmaceutical market – representing the world's 18th and 10th largest markets by export volumes, respectively – and achieved self-sufficiency for medicines; a goal that African countries have determined is particularly urgent in the wake of the COVID-19 pandemic in which much-needed vaccines and therapeutics remain inaccessible, but which has in fact been a continental goal since 2012. Furthermore, the African Continental Free Trade Area (AfCFTA) Secretariat has proposed the pharmaceutical sector as one of four priority sectors for establishing local manufacturing and supply chains.
As such, the report is targeted at all pharmaceutical investors, researchers, manufacturers, and regulators working in or interested in investing in African countries – and other LMICs by extension; offering a history of the sector's development in China and India for practical purposes, and ends with a summary of the applicable insights for a reimagination of the developing pharmaceutical sector in Africa, with actions not only for Africans but also international bodies, multinational groups and private sector actors.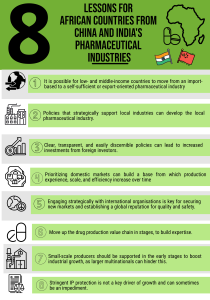 What steps need to be taken?
With this overall context, the report lists eight (8) actionable recommendations tailored to manufacturers, policymakers, and leadership in the African and international pharmaceutical sector and beyond:
Self-sufficiency is possible
Government planning and direction matter
Use the domestic market to build a base
Transparency matters
Engage strategically with international organisations
Move up the value chain in stages
Support small-scale production at the early stages
Use IP protection strategically
But – no policy is one-size-fits-all – context is key
While learning from other low and middle-income countries' growth paths will be crucial to expediting Africa's pharmaceutical development, we recognize that these insights gained must be adequately balanced within the context of the post-COVID era, the budding pharmaceutical industry in the continent and Africa's differences from both nations in focus. Hence, the report also offers four (4) key caveats to contextualizing these lessons.
Centralised planning across the continent could prove challenging
Difficulties may arise with managing international stakeholders and organisations
Global health procurement needs to prioritise local manufacturing in Africa
Global health procurement needs to prioritise localisation in Africa, due to competition now posed by China and India
By publishing this report, Development Reimagined aims to provide ideas for actionable solutions across the development sector for all stakeholders – African and non-African – to improve how they plan, regulate, invest, and deliver on the African Union's Agenda 2063 and the UN Sustainable Development Goals, including health.
The report is available for download here in English, French and Chinese.
The first report of the series focused on Africa can be found here.