Mapping the Future of China–Africa Relations: How the Continent can Benefit
China is Africa's largest trading partner, and deeper China–Africa engagement has the potential to transform the continent's trade. The establishment of the African Continental Free Trade Area (AfCFTA) is set to add significantly to this evolution, particularly as most of the African countries that have ratified the agreement underpinning the free trade area are also signatories to the Chinese-led Belt and Road Initiative. This paves the way for greater strategic cooperation between Africa and China in the area of trade, with many infrastructure development projects that have been carried out under the auspices of the Belt and Road Initiative providing an important foundation for trade expansion on the continent. However, to date, China–Africa engagement has been relatively ad hoc and uncoordinated, and its effects and benefits (especially from Africa's perspective) difficult to determine.
Co-authored by Development Reimagined's Policy Analysts, Yike Fu and Ovigwe Eguegu, this paper evaluates the potential for greater coordination between the AfCFTA and the Belt and Road Initiative by examining four cooperation approaches:
(1) the 'business-as- usual' or 'status quo' option in which the China–Africa relationship (helped by Chinese FDI flows to Africa) will continue to evolve and two-way trade will increase but in an ad hoc manner;
(2) greater coordination between the AfCFTA and Belt and Road Initiative, involving the channelling of Chinese FDI into priority countries and sectors in Africa and supported
by the establishment of economic zones;
(3) managed economic integration between the AfCFTA and the Belt and Road Initiative and a preferential trade framework, modelled along the lines of the US African Growth and Opportunity Act, with significant opportunities for Chinese FDI in economic zones in Africa;
(4) a free trade agreement between China and the African Continental Free Trade Area. Each of these options has advantages and drawbacks, while their feasibility also varies.
Drawing on the comparative assessment, the paper offers certain recommendations to African policymakers and other stakeholders for taking China– Africa relations to the next level, with the free trade agreement and Belt and Road Initiative acting as important pillars in the two sides' future engagements. The report is available for download from South Africa Institute of International Affairs (SAIIA)'s website linked here.
The report was presented to a high- level audience including the China's Ambassador to South Africa and China's Ambassador for FOCAC Affairs during the video seminar on "FOCAC and the Future of Africa-China Cooperation" co-organized by the Chinese Embassy in South Africa and SAIIA.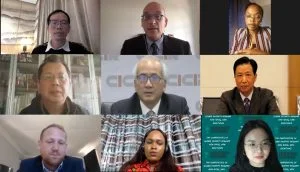 The seminar covered two broad areas: enhancing Africa-China cooperation in the face of global crises, and exploring new frontiers of the Africa-China trade relationship opened by the AfCFTA.
This paper is part of a series. The first paper "China's BRI and the AFCFTA: potential overlaps, complementarities and challenges" can be downloaded here.