Blue skies and cows grazing on pristine green pastures. Smiling celebrities. Cultural heritage sites and healthy lifestyle motifs.
Milk products with these images fly off the shelves in China. It' s ultra-high temperature (UHT) long-life milk, stocking refrigerators and stacked room temperature in premium packaging, cartons, and pouches. Tasting events are held weekly at hypermarkets to galvanize consumption, and innovative advertisements add a touch of glamour as they zip around cities on double-decker buses selling the idea of dairy. In China, there's a milk product for everybody – children, young adults, parents, the elderly – with sales in the billions.
Milk is not a traditional staple in China. Asian populations, in fact, are known for being low dairy consumers. But that is quickly changing. Milk in China has become a symbol of a moderately prosperous society; linked to modernization and development goals.
The Chinese dairy market is booming, and companies are looking to expand their operations to become global players. Chinese dairies have begun following the Belt and Road overseas – and Africa is squarely on the agenda. It makes sense; the African dairy market has huge growth potential, generated by demographic dividends, urbanization, natural resources, and the recently passed Africa Continental Free Trade Area.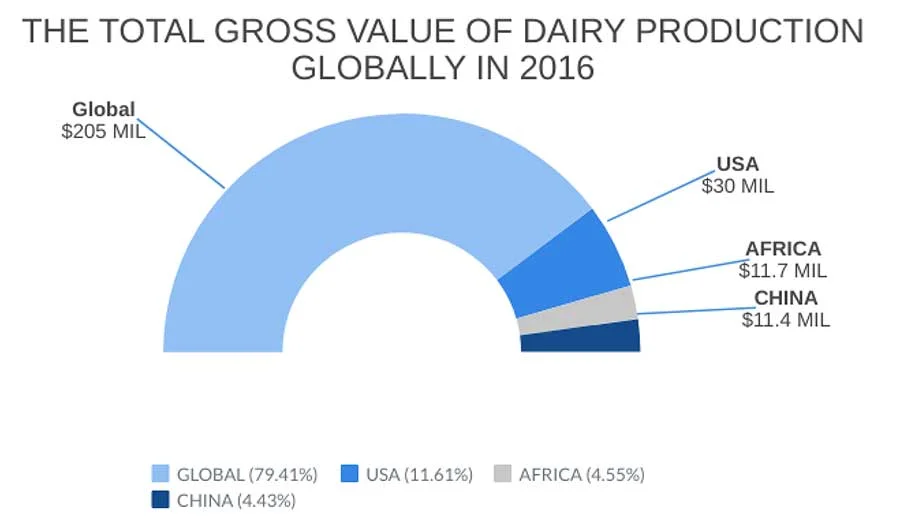 At Development Reimagined, we see a great deal of aid pumped into the agriculture sector, including the dairy sector. But one of our key values is that aid is only one piece of the development puzzle, not the end game. Other flows of finance, goods and people are just, if not more, important. All these pieces must be fit together in coordination to align objectives. That's why at Development Reimagined we also focus on broader investment trends, and advise Chinese companies seeking to "go out" along the Belt and Road in Africa, how do so responsibly and sustainably.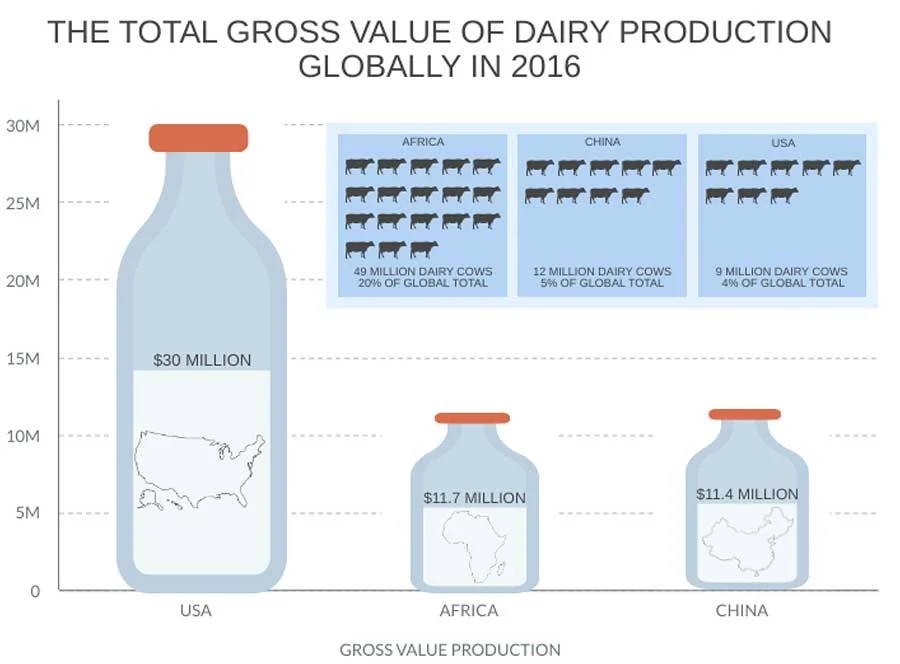 So, what is our advice when it comes to the dairy sector in Africa? How can Chinese companies work with African stakeholders for the biggest positive impact?
Step One: See the Opportunity
Growth in the dairy industry closely correlates with development and demographic trajectories. Developing countries are increasing dairy consumption year on year as populations have more spending power and diversified nutritional demands. This is very much the case in Africa, and it has been so for a long time.
Dairy consumption patterns vary across the continent. Raw milk currently reigns supreme in Kenya, where small holder farmers bring fresh unbranded product to market daily. Reflecting population growth and expanding middle class populations, Kenyan milk consumption rates are rising 7 percent year on year, more rapidly than production can keep up. Ghana, on the other hand, has a relative absence of domestic milk production, and instead relies on importing processed milk and milk powder. Meanwhile, South Africa boasts a thriving dairy sector, with commercial farms keeping an average herd of 500 cows each. However, UHT milk imports have been threatening domestic dairies in recent years, competing most critically on price.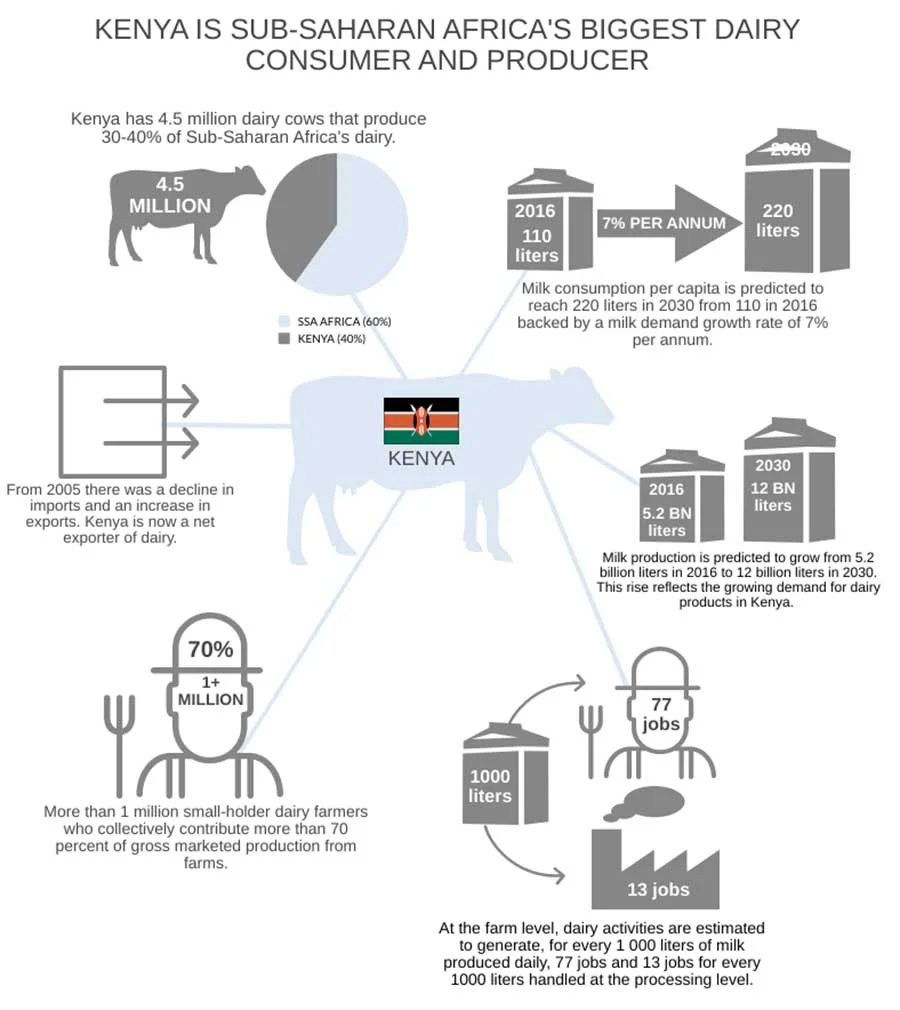 Dairy, as a nexus of staple foods (milk, cheese, butter) and fast-moving consumer goods (yogurt, ice-cream), includes avenues for investment in sectors from agriculture, to manufacturing for processing and packaging, to logistics, and all the way up the supply chain to retail and advertising. With a forecastedyouthful population of 2.6 billion people by 2050, African consumption of dairy will no doubt dominate the future global market.
Step Two: Recognize the Similarities and Differences of Dairy Farming in China and African Countries
Both China and Africa have agricultural sectors mostly comprised of small holder farms. However, in China, government assistance has allowed Chinese private companies to aggregate large commercial plots to scale productivity and drive down prices. How? The government legally owns all the land in China, so it acts as a turnkey to attract investment. Small farms are bought-back from villagers and then sold together in a bundle to commercial or agricultural interests. Then large dairy firms leverage capital intensive technologies to standardize production and scale output. Therefore, it is important to note: it is not the case in China that there has been mass skill and technology transfer to small holder farmers that continue to operate small plots. Instead, farmers can seek work at commercial cattle farms, dairy processing plants, factories, and warehouses where they are trained and re-skilled to be operate equipment used in commercial dairy production, packaging, and distribution.
African countries are also comprised of mostly small holder farms as well, but with very different organizational structures, legacies, and results. Land ownership in South Africa, Kenya, and Ghana, for example, is privatized. Local governments are not necessarily involved in purchasing land from farmers for sale to companies in the same way that they are in China. Therefore, commercial dairy companies looking to buy land in African countries must either acquire existing dairies or do consolidation on more of a piece-meal basis with individual farms. Kenya's small holder farms account for 70 percent of all domestic dairy. Small holders without land deeds may struggle due to unsubstantiated equity or collateral. This creates challenges for companies looking to invest as scaling can be more difficult. Acquisitions of existing big dairies in South Africa and Kenya may be more attractive for newcomers. Then there is built-in access to the new African Continental Free Trade Area.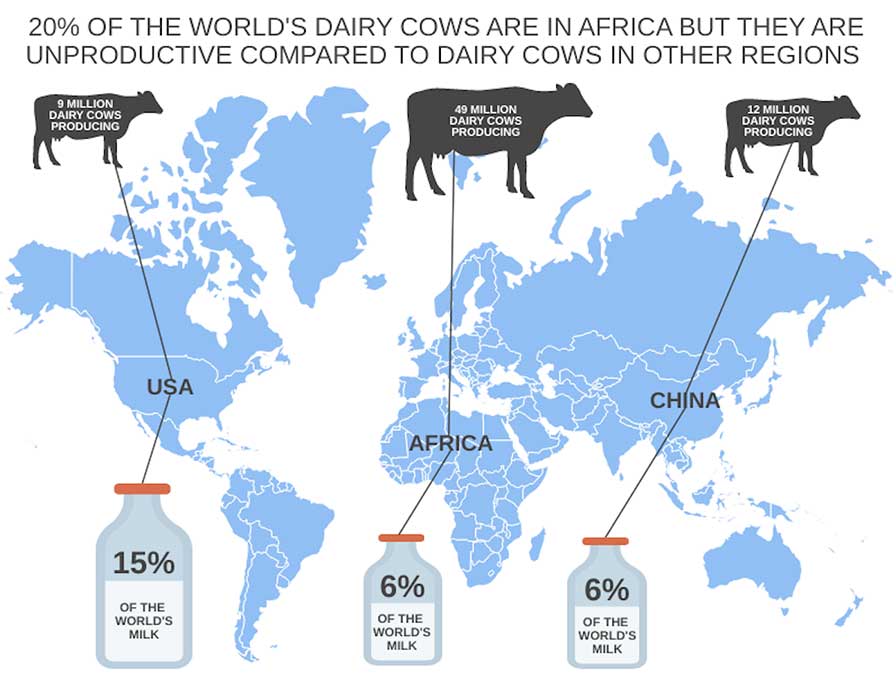 Step Three: Recognize That Dairy Development Also Has Its Downsides, Both for Public Health and for the Environment
Dairy has a questionable impact. For both public health and the environment, stakeholders must frankly evaluate their priorities and educate populations. The calcium in milk, for example, can make for strong bones, teeth, and nails. However, accumulated or excessive dairy consumption can contribute to heart disease, diabetes, and other serious illnesses that onset in older age. In fact, spinach has more calcium than the recommended daily cup of milk.
Dairy production also has negative externalities for the environment. Forests are being cleared around the world at an alarming rate to make room for farming soybeans, the primary component in cow feed. Dairy cow rearing is highly contentious, with animal advocates becoming increasingly loud in their condemnation of the industry's practices, as well as the carbon emissions it creates. Processing cow milk is also an energy intensive process that uses thousands of tons of water per day. In drought prone countries in sub-Saharan Africa, especially South Africa and Zimbabwe, this water intensive process is particularly strenuous.
What Does This All Mean in Practical Terms for the Potential of Dairy Development in Africa?
Our view is clear. With a sustainability first framework, dairy-led development can be a golden ticket for African countries to grow. But the sustainability piece is as tricky as it is important. The industry must accommodate the demands of the future as well as the present in order to make dairy a viable growth vector for the long term.
The dairy sector in Africa is prime for creating new jobs, ensuring skill and technology transfer that can help fill the youth unemployment gap across Africa, as well as creating a virtuous cycle for the industry as incomes increase and the future consumer base expands. But the issues raised regarding health and environmental sustainability also pose challenges. Both local and foreign companies need to be sustainability-centered in their investments in African countries and involve local stakeholders to have positive lasting impact. We have three recommendations.
1. Be Intentional in Localizing Operations Through Skill and Technology Transfer
The livelihoods of smallholder farmers must be considered in order to make any dairy consolidation sustainable. Important to ask is, how could these farmers be included in new operations? Local governments and communities must be vocal in advocating for inclusive growth. There also needs to be protection for local industries against cheap imported UHT milk products flooding the markets and drowning out small holder farmers' ability to make profit.
In tandem, training local talent for work on consolidated commercial operations will be necessary. Skill transfer and tech transfer must be high on the agenda for any locality vetting foreign investment. Commercial Chinese companies coming in to African countries for acquisitions should be prepared to communicate best practices in cow feeding, rearing, and beyond in order to increase milk per cow and overall productivity. As companies embed themselves into the local market, they must also create reciprocal positions for local staff to integrate, mirror, and later take over in leadership positions
2. 'Go Green' With Operations From the Beginning: Use Renewable Energy and Bio-Waste as Part of the Production Processes
Milk processing requires massive amounts of water. It takes over 1000 liters of water to produce 1 liter of milk. Water recycling operations must be installed from the get-go in order to ensure sustainability in the dairy sector. Green energy investments are already well underway in countries like Kenya and Ethiopia. Kenyan successfully lobbied for a termination of the Lamu Coal Power Plant project, and are instead seeking to attract more investment into solar and wind energy. In Ethiopia, hydro power is a high priority and solar works are well underway as well to capture the infamously strong Ethiopian sunshine. Dairies must seize onto this momentum and go green in their investments.
Local governments must be agents for positive growth. Any proposed investments in dairy processing must be required to include plans for green, environmentally friendly facilities actively address energy capabilities and decrease risks Feasibility studies should also be carried out to further understand how any commercial dairy farm or processing center will impact local water resources, the energy grid, and soil vitality.
3. Invest in Plant-Based Milk Production Alongside Traditional Dairies
Grain and oat based milks, such as Milo (by Nestle) and Oatly, are increasingly becoming popular alternatives. The malted milk beverage, Milo, already dominates the Southeast Asian dairy market, filling demands for cheap, convenient, and tasty nutrition. Oatly, on the higher end of the spectrum, also just closed a massive funding round, reflecting investor confidence in the plant-based trend's ability to take root in both developed and developing markets around the world. Given the relative underdevelopment of the dairy industry in most African countries, there is potential to gravitate towards plant-based milk production. Just because dairy is a development option, doesn't mean it has to go to the traditional route.
Conclusion
Dairy-led development can create positive change and inclusive growth – if done sustainably. It is clear that the dairy industry sits precariously on the edge of the development equation that balances short- and long-term objectives; growth and conservation; now and later. Therefore, we must reimagine what the dairy sector can look like.
African countries have a huge opportunity to learn best practices and avoid mistakes that have afflicted already established dairies, especially in the era of the COVID19 pandemic that is testing the globalized sourcing and supply chain model. The dairy demand is there; it's up to African governments seize their agency to best attract and facilitate competition in the dairy industry for inclusive sustainable growth that will keep on giving as their populations continue to grow and thrive.
This article was originally published on The China and Africa Report website on August 7th 
Nicola Licata, Samu Ndema Ngwenya, and Rosie Wigmore contributed to this report.