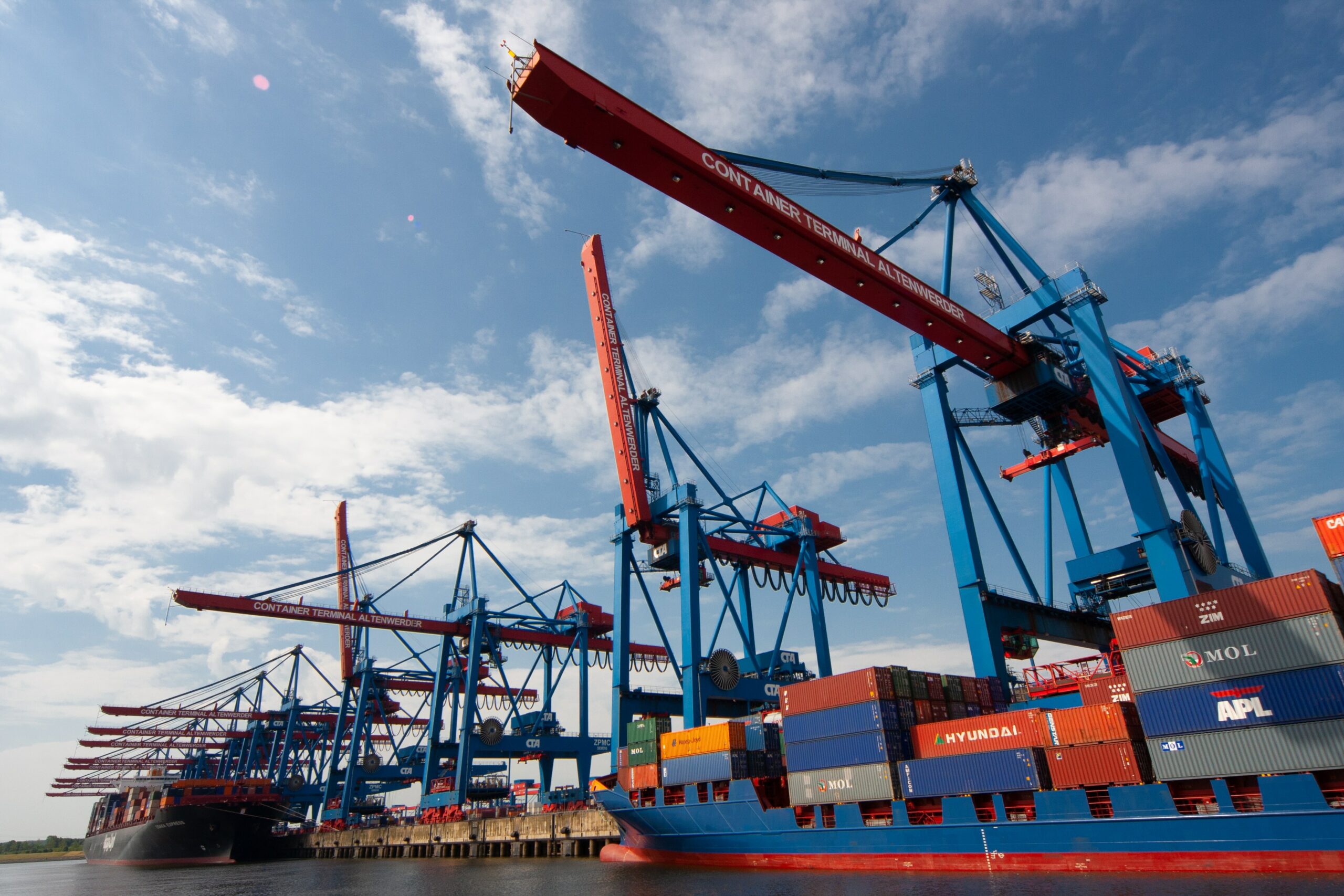 Shanghai is known for its fast-paced city life, with the bright lights from the Lujiazui skyline sparkling across the Bund, attracting tourists from within China and the rest of the world. It's a bustling trade and commercial mega-city, with Shanghai Port being one of the largest – and busiest – ports in China.
However, on April 3rd, the city came almost to a standstill, with the once thronging streets practically empty, as a full lockdown was implemented across multiple districts as 2,500 new COVID-19 cases were detected.
To explore the impacts of this, Development Reimagined's (DR) Policy Analyst, Ivory Kairo, sat down with Yixin Yu, a Research Analyst at DR's flagship project, Africa Reimagined (AR). AR has been closely tracking the impact of the recent Shanghai lockdown on Africa-China trade and potential implications for African businesses.
Ivory: Hi Yixin – thank you for talking with us today! We know that Africa Reimagined has been closely monitoring the Shanghai lockdown and the implications of this on trade. Can you tell us what impact the Shanghai lockdown has had on the Shanghai port?
It's well known that Shanghai is home to the largest and busiest ports in the world, so it is perhaps no surprise that the current lockdown will significantly impact the supply of imported and exported goods.
Indeed, the impact of the lockdown is being felt by both China-based businesses, as well as businesses across the world. China-based businesses are struggling for three key reasons:
First, the transportation of freight has been made difficult as the entry and exit of collectors and port workers has been stifled leading to delayed freight collection and delivery times. Second, there are many empty imported containers at the dock that cannot be transported to the yard or repaired, due to a lack of trailer personnel on-site. Third, the port is slowly filling up with no more space to store frozen goods. The import dwell time has so far increased to eight days since the implementation of the lockdown. This has forced cargo ships to take their goods to other Chinese ports.  
Ivory: Are there any measures being taken to address the challenges at the port?
Yes, Although challenges remain, the Chinese government has taken steps to mitigate these issues of the port despite the lockdown.
Most importantly, the Shanghai Port currently has a closed-loop management system in place meaning the workers live and work in the units at the port to prevent the spread of the virus. The government has deployed 25,000 personnel to the port to facilitate this closed-loop system and implemented additional measures to ensure the smooth running of the ports, waterways, and international marine logistics supply chains. For example, there are 12,328 telephone personnel who address issues regarding port waterway passage alongside port collection and distribution vehicles issues. Further, the government has asked state officers to check and review any unreasonable epidemic prevention measures to ensure the smooth running of supply chains.
Nevertheless, port workers have raised concerns over the system and say supplies will eventually run out if restrictions are not eased soon. They also foresee low supplies of inventory, for example, boxes that are necessary for shipping and transporting the supply of goods.
So, the picture is definitely more complex than what is typically reported.
Ivory: Thank you for those insights. So, what impact has the locked down had on African businesses that export to China so far?
Well, trade between China and Africa hit an all-time high in 2021, rising by 35% totalling to USD 254 billion. So far, it is unclear to what extend the impact of current lockdowns will have on African businesses, so businesses are yet to face a huge blow on their exports to China. However, several reports have suggested that potential impacts will stem from China's reduced demand for raw materials due to reduced economic activity and that supply chains may be affected by delays in China's exports which many African businesses often utilise within different aspects of their production.
Additionally, in China, we also expect that there may be lower consumer spending. When in lockdown, people may focus on buying essential goods, right? There have been numerous reports of people facing difficulties receiving deliveries – especially deliveries from abroad – both in areas in lockdowns and even areas not in lockdowns, due to policies around potential parcel contamination.
However, beyond this, the operations in Africa's largest port in Durban have been heavily impacted, – not by the lockdown – but due to a heavy flood which has destroyed the essential warehousing facilities and the roads at the port. The port is essential as goods such as cobalt and lithium from Congo and Zimbabwe go are exported from the port to China. So, this will likely have additional knock-on effects on trade.
Although, it is important to note that this is still largely speculative, and there is little known impact so far – only time will tell at this stage.
Ivory: Going forward, what measures can African governments put in place to cushion the effects of the trade disruptions?
I think African governments must continue to focus on long-term solutions to enhancing trade – including building up local manufacturing and increasing their manufacturing and supply-chain capacity, especially given that the African Continental Free Trade Agreement (AfCFTA) came into force last year.
To achieve this, African governments must collectively work with China to actualise the commitments made at the Forum on China-Africa Cooperation (FOCAC) in November 2021. As our colleagues at Development Reimagined have noted, during FOCAC, the Chinese government pledged to support Africa with USD 10 billion for trade financing in a bid to support African exports, alongside setting targets such as for China to receive USD 300 billion in African imports over 2022-2024 and USD 300 billion in annual trade by 2035 – which would make China Africa's largest export destination!
Lastly, there are also other commitments which can be utilised to support both intra-African and international trade, such as the commitment by China to provide $10 billion in new FDI by 2024 and USD 60 billion in additional FDI by 2035 – or the commitment to provide 10 connectivity assistance projects and to coordinate with the African Union's Programme for Infrastructure Development in Africa (PIDA) will enhance regional infrastructure, that, in turn, will bolster trade flows and supply chain efficiency.
Ivory: I agree, now is the time to operationalise the commitments made under FOCAC to boost economic growth. Talking of FOCAC – have there been any recent developments in trade commitments?
Yes! The Chinese and African governments have come up with initiatives to bolster trade. In the past, we have seen live streams by African Ambassadors to China promoting their country's products to Chinese consumers. Very recently, online shopping festivals are being put into good use where more than 300 commerce platforms, potentially link more than 100,000 African brands with to Chinese consumers.
There is a festival being held from 28th April to 12th May 2022 and AR is working with Kiliselect, Gaoqiao and the Ministry of Commerce through supporting African brands by participating in these festivals. AR is also supporting African brands selling on Kiliselect and Gaoqiao's e-commerce stores that are both able to import African products with the support of the Chinese government.
So, we are starting to see some of the commitments come into action – but, as the Shanghai lockdowns have illuminated, clearly there is a need to speed up and get the ball rolling on other trade-related commitments to enhance the continent's manufacturing capacity and international trade.
Ivory: Thank you, Yixin!
**
Africa Reimagined is an international consultancy that provides up to date information on the Chinese market. It offers African brands China market entry services as we provide tailor-made services that help businesses overcome challenges. To find out more about how Africa Reimagined can support your business, explore our services here or book a free consultation here.
It is a flagship project of Development Reimagined, an African-led international development consultancy.
Disclosure: Established in 2019, "KiliSelect(非洲心选) is Kilimall's African import e-commerce business in China, both B2C and B2B business. It is the official import platform of the China-Africa Economic and Trade Expo (CAETE)
Special thanks to Ivory Kairo and Yixin Yu for their research and contributions.