Now, more than ever, businesses no matter how large or small, and regardless of their industry, can contribute to sustainable development and the achievement of the United Nation's Sustainable Development Goals (SDGs). Global challenges – ranging from climate, water and food crises, to poverty, conflict and inequality – are in need of solutions that the private sector can deliver, representing a large and growing market for business innovation. In the rush to transform business models and systems for the future, integrity and values will have a huge role to play.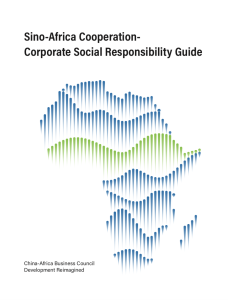 With the acceleration of Chinese companies going global, more and more companies are actively practicing CSR both in China and overseas. According to Chinese MOFCOM statistics, there are over 3800 Chinese investors in Africa. The 'Sino-Africa Cooperation-Corporate Social Responsibility Guide' aims to promote Chinese enterprises to better fulfil their social responsibilities and achieve the United Nations 2030 Sustainable Development Goals through the analysis of best practices for corporate social responsibility at home and across the African continent.
The report co-authored by the China Africa Business Council and supported by Development Reimagined aims to provide a practical overview of the importance of CSR and why companies must think strategically about local CSR efforts across the African continent.
Chapter One provides context on the concept and scope of CSR around the world. Chapter Two provides a series of CSR case studies from British, French, American, Indian, Chinese and African companies. These case studies explore both best practices and the challenges of implementing CSR in Africa. Chapter Three provides practical guidelines on how companies can create impactful CSR in Africa. Lastly, Chapter 4 highlights some good examples of Chinese enterprises already implementing CSR initiatives both at home and in Africa.
Download in English and Chinese
Questions or comments? Contact the team at clients@developmentreimagined.com