August 11th 2020
"Despite the COVID-19 pandemic, the Sino-Africa cooperation is at a defining moment in which it has the potential to help propel African countries towards sustainable development." This was one of the most echoed sentiments from the 'Sino-Africa Dialogue on challenges and cooperation in pandemic times' webinar co- hosted by Development Reimagined, The Centre for China & Globalization and the Embassy of Ghana, to mark the 60th anniversary of Sino-Ghana relations.
The webinar, initiated by H.E Ambassador Boateng- The Ambassador of the Republic of Ghana to the People's Republic of China – was attended by dignitaries including H. E Ambassador Lin Songtian the President of the Chinese People's Association for Friendship with Foreign Countries and Professor Carlos Lopes the former Undersecretary General of the United Nations. The webinar consisted of selected high-level interlocutors from China and Africa and African Ambassadors to China, from Cabo Verde, Ethiopia, Ghana, Kenya, São Tomé and Principe, Tanzania, the UN Resident Coordinator in China and the African Union Representative.
Broadcasted live to 600,000 people on CCTV, Ghanaian television networks and an online global audience, the speakers considered the ways in which African countries can adapt in these new times while leveraging their relationship with China to accelerate their development.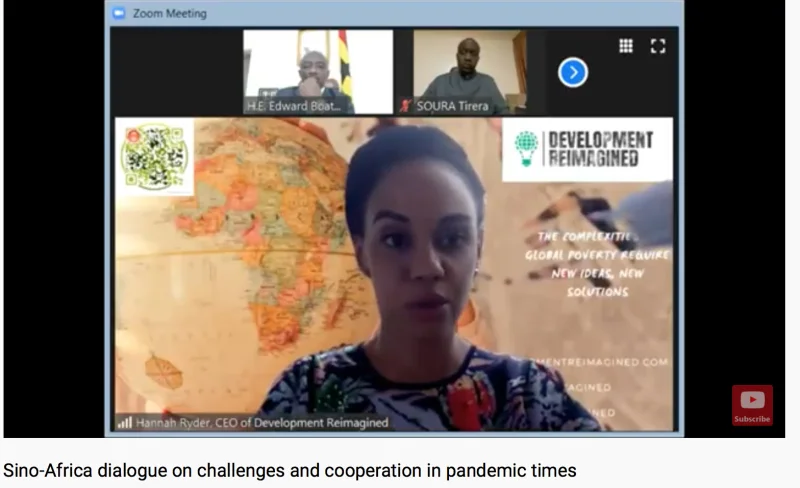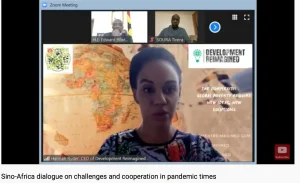 Development Reimagined CEO- Hannah Ryder moderating a discussion on the importance of Sino-Africa trade and people- people flows
H.E Ambassador Lin Songtian during his special address outlined four points.
"Africa is marginalized in the global fight against COVID-19… but China continues to provide support to African countries."
Sino-Africa united: China and Africa should remain united in order to safeguard the development of countries.
The role of the United States: The United States should work hard to contain the COVID-19 so as to avoid damaging the efforts of other nations in this fight.
Global efforts to support Africa: other developed countries, multilateral organisations, the World Health Organisation and especially China should step up efforts to support Africa.
Not just COVID-19: International media should pay attention to the pandemic prevention and control whilst also focusing on people's livelihoods and development. Partners should consider other contagious diseases such as malaria and HIV & AIDS, alongside supporting the COVID-19 response and effort.
Professor Carlos Lopes gave five points during his address.
"This is the right time to propel changes that have always been postponed in Africa"
Green energy accelerating Africa's Development: African countries can start shifting to cleaner, low-carbon production. Green energy can accelerate Africa's industrialization and China is the perfect partner to help as they are the number one producer for renewable energy.
Building value chains & pushing Africa commodities: With the African Free Trade Agreement Africa can create value chains that enable smart protectionism that protect value added trade and increase cooperation with China in a smart way.
Health structural solutions: Africa has 25% of the world's disease burden but accounts for less than 1% of the global health expenditure and only manufactures 2% of pharmaceuticals. China could be a strategic partner in integrating pharmaceuticals and protective equipment production as part of African industrialization.
Youth driving innovation: Africa needs to get ready for the impact of new technology. By emulating what was done with mobile banking, Africa can leap frog past the infrastructural shortcomings and bureaucratic challenges. The same needs to be done with innovation especially among young people, who should be participants not passive actors.
China as the right partner: Macro-stability rules have been challenged yet it is important that the African plight is at the center of these conversations.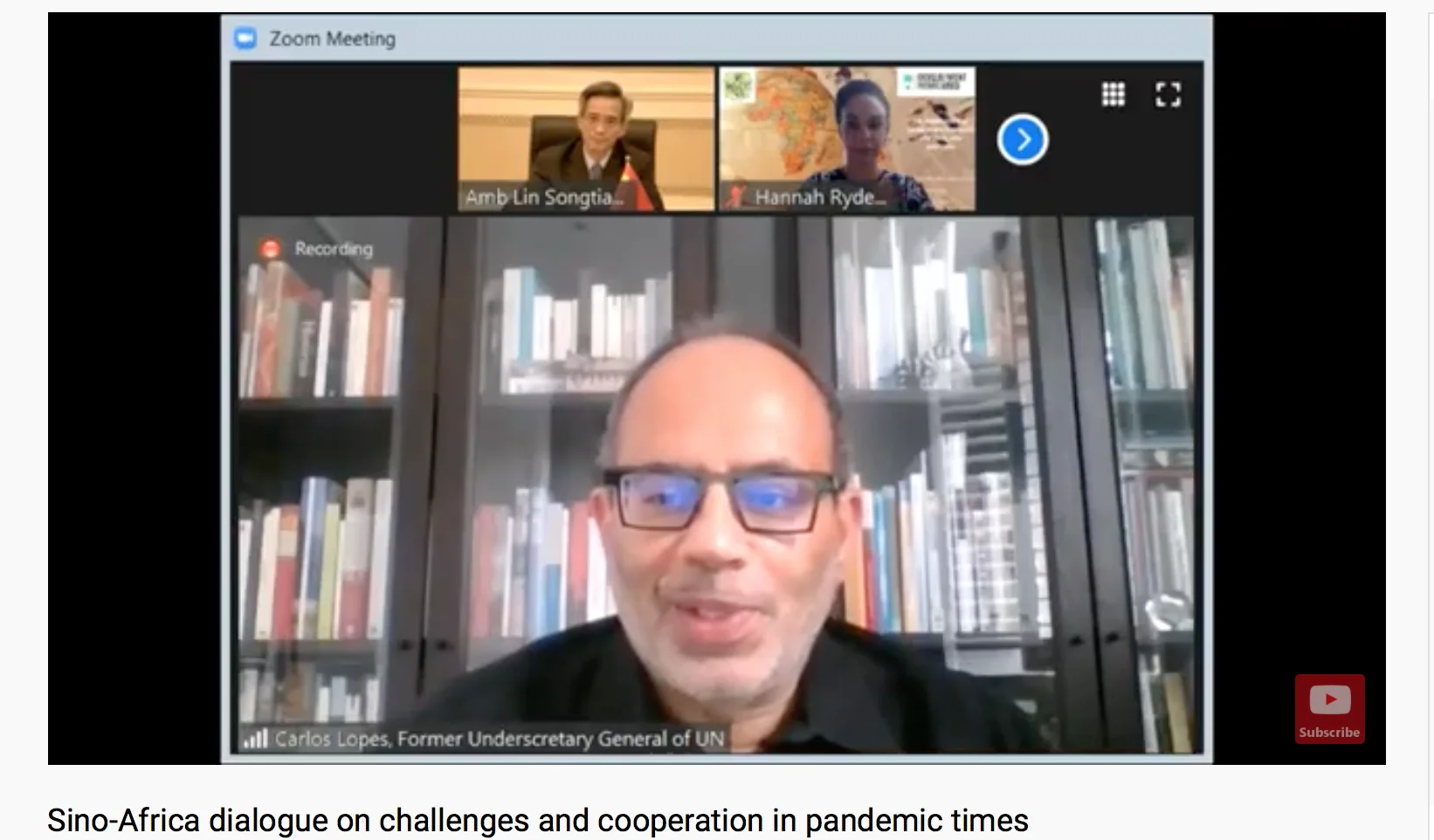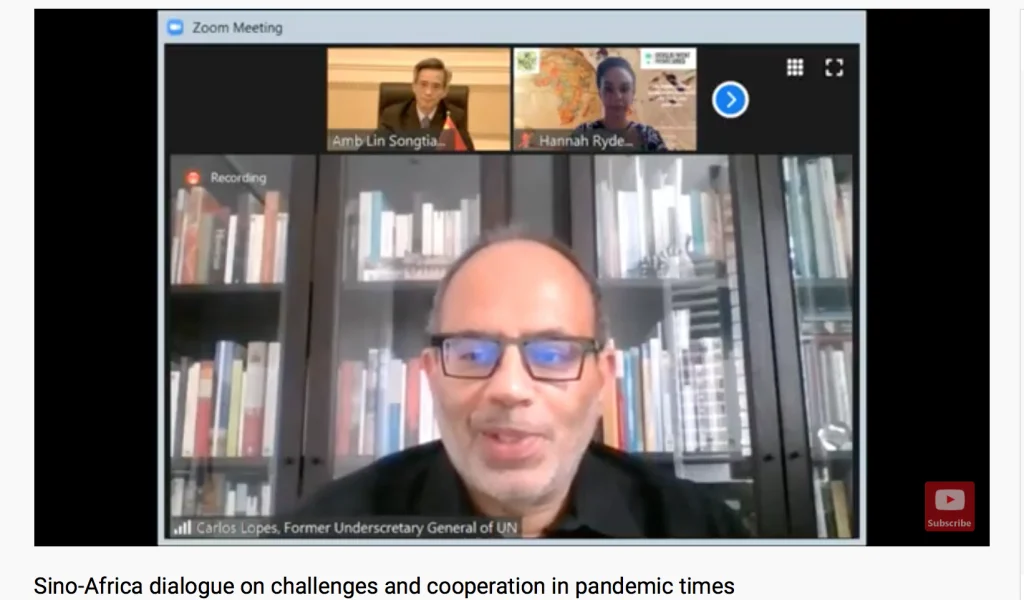 Professor Carlos Lopes the former Undersecretary General of the United Nations, special address to the participants
After welcoming remarks from H.E Ambassador Lin Songtian and Professor Carlos Lopes, the special guest panel and Ambassadors dialogue provided several important and actionable points that fall into two categories 1) What are Africa's ambitions and priorities post COVID-19? 2) How can China support Africa in reaching continental wide development goals? The key points that emerged were:
Africa's post COVID-19 priorities
Africa needs to set its own narrative and agenda for Sino-Africa cooperation
Debt forgiveness is only a minor and short-term solution. What is needed is a more sustainable long-term approach to lending structures
Must be continued efforts to build partnerships of equality and respect
Need to strengthen the rise of e-commerce in African countries and seek partners to support this
Increase mobility and people to people flows, particularly for students and Chinese tourists, whilst also adapting to new demands in post-COVID world
Countries should seek to be more equitable and use COVID as an opportunity to further sustainable development
Include students in Sino-Africa dialogues to bring their unique insights and ideas
African countries need to come together to decide on a list of 'asks' from China and each other to build more strategic cooperation.
How can China support Africa's development plans?
China has already demonstrated its support in helping African countries facilitate free trade and this cooperation should continue
Put more efforts into the supply and productivity aspect of the Sino-African trade relations and overcoming the challenges that exist
There needs to be furthering ease of access into the Chinese market for African companies and individuals; strengthening the supply side and the value-added production
Migration is essential for trade and people to people exchange yet further efforts are needed in social cohesion both in China and Africa
China has vast experience in education and can support with equipping the youth in Africa with much needed technical skills to close the existing skills gap in industries
Enrich African student's experiences in China by connecting them to practicum opportunities
Need for more data and information sharing on which African markets to tap into and how to tap into the Chinese market
Finally, H. E Ambassador Osman, The African Union Representative to China, provided closing remarks noting the importance of the African Free Trade Agreement for opening up the African market to Chinese investors to partner with African counterparts and also provide a mechanism for greater industrialization across Africa.
Watch the full webinar at: https://www.youtube.com/watch?v=TKcYdPB1MsU
Download the Agenda here
Development Reimagined works with a variety of clients (who include governments and businesses across continents) to develop robust, holistic, and long- term innovative solutions to challenging development issues, including in partnership with China. To find more about Development Reimagined's ongoing work on China-Africa cooperation, contact the team at clients@developmentreimagined.com