Bridging China-Africa health collaboration
With COVID-19 threatening public health in countries and regions worldwide, international health cooperation is increasingly needed to recover from the pandemic, strengthen health systems and accelerate development. To enhance communication and cooperation on health between key stakeholders in Africa and China, the Joint United Nations Programme on HIV/AIDS (UNAIDS) partnered with the Bill and Melinda Gates Foundation to organise the "Virtual Dialogue on China-Africa Health Cooperation" with support from the African Union Commission (AUC) and several Chinese institutions. The Dialogue was hosted on ZOOM on 23 September 2021, organised by Development Reimagined.
The Dialogue provided an opportunity for experts and participants to exchange their views regarding the immediate and consequential impact of COVID-19 on the entire world, revealing insufficient systems for tackling infectious diseases.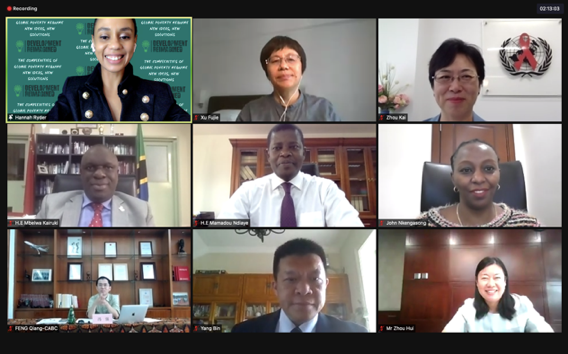 The objectives of the Dialogue were:
Review the implementation of the Beijing Action Plan 2018-2021, identify new challenges, and recommend areas and ways of China-Africa health collaboration for the next three years.
Generate broader awareness on pandemic/epidemic response to infectious diseases based on the lessons learned from HIV; promoting access to quality and affordable medicines and health products including collecting demands from African countries; as well as the use of innovation and digital services in shaping the longer terms of health cooperation among key stakeholders of Africa and China.
Promote collaboration and partnership between key stakeholders of China and Africa to share knowledge and tools to reinforce the fight against COVID-19 and colliding epidemics to strengthen universal health coverage and health preparedness.
A total of 125 people watched the Dialogue online. This included: government organisations, research institutions, civil societies, development partners, and Chinese pharmaceutical companies. Fifteen speakers, including senior leadership from the African Union Commission, Africa CDC, African Union Development Agency-New Partnership for Africa's Development (AUDA-NEPAD), African Diplomatic mission to China, China Academy of International Trade and Economic Cooperation (CAITEC) and China Chamber of Commerce for Import & Export of Medicines & Health Products (CCCMHPIE), the National Medical Products Administration, UN representatives, academia, and the private sector, provided insights into China-Africa health cooperation.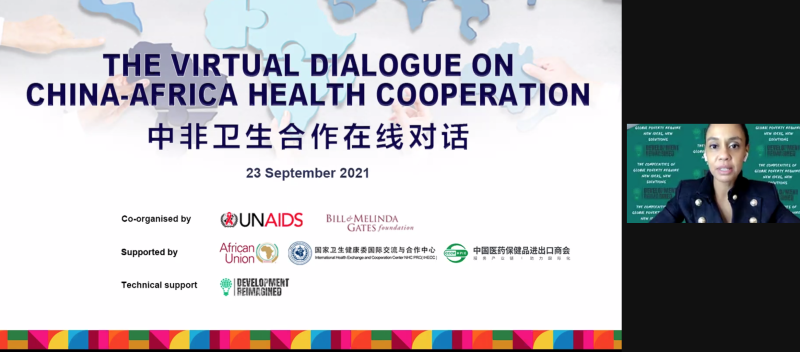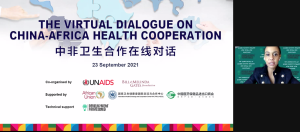 Chinese, English, and French Simultaneous Interpretation was provided for speakers and participants.
Download the report in English, Chinese and French
To find out more about how Development Reimagined's is working with our partners in preparation for FOCAC, visit our dedicated FOCAC page.