As COVID-19 has ravaged the globe, governments have had to face the grim reality of overwhelmed medical systems. The impact has been morbid, with over 7 million confirmed cases and over 400,000 deaths worldwide. In the absence of therapeutics or a vaccine, alternative curatives are becoming increasingly popular, the most recent being traditional herbal medicines. Madagascar has recently come under scrutiny for its unorthodox solution to the virus: COVID-Organics, an herbal remedy with roots in African traditional healing. Despite the scrutiny, however, it raises the question "can African Traditional Medicine (ATM) play a role in the global health sector?", and, in particular, can lessons be learned from China's strategy to gain international recognition of Traditional Chinese Medicine (TCM), or is TCM itself a potential threat to ATM?
What is TCM and How is it Different to African Traditional Medicine?
Traditional healing is not a homogenous healing system, but varies by culture and region. Both Chinese and African communities have had a long-standing history with traditional medicine systems. China in particular has invested huge sums of money to promote the modernization of TCM, funding clinical research and its distribution to gain international recognition. Thus, TCM has grown popular across the world, including in Africa.
According to the U.S. National Institute of Health, TCM is a millennia-old medical system that uses herbs and practices like acupuncture to address health issues. It has become popular as an alternative to Western medicine, as proponents argue TCM avoids modern medicine's chemical side effects. With over a million Chinese migrants in Africa and a growing number of African students studying TCM, the number of practitioners is rapidly increasing. Some TCM products have been successfully developed into modern drugs, such as the antimalarial drug Artemisinin, but there is still disagreement within the scientific community over TCM's efficacy.
Yet, data suggests that TCM is far less popular in Africa than traditional African healing. To date, only five African countries have collected the relevant information, suggesting that more efforts are needed to track TCM's proliferation. Of these five countries, traditional medicine practitioners outweigh TCM practitioners by thousands. TCM is also far less popular in Africa than modern medicine. Research our firm conducted in 2018 for UNAIDS and the China Chamber of Commerce for Import and Export of Medicines and Health Products (CCCMHPIE) suggested that for 21 African countries, on average TCM accounted for a slim 2% of all pharmaceutical and health exports from China to those countries, with the highest level being 5% – for Ghana. However, it is important to note that this is likely an underestimate, as some TCM products are registered as food/dietary supplements rather than pharmaceutical products.

Table showing TCM vs. TM practitioners across African countries. Sourced from the WHO 2019 Report.
TCM in Africa is typically distributed through personal networks and small local clinics. An example of a standard TCM clinic is Dr. Zhao Shi's in Nairobi, a city with 15 registered TCM clinics. Her clinic receives 200+ new patients a month, primarily upper-middle class Chinese and Kenyan citizens. Zhao attributes TCM's surge in popularity in Africa to its similarities with ATM, arguing that the traditional methods are healthier than modern medicine.
However, ATM goes beyond the normal scope of healing. ATM is a form of holistic health care organized into three levels: divination, spiritualism and herbalism. The traditional healer provides health services based on culture, religious background, knowledge, and beliefs that are prevalent in their community. Thus, unlike TCM, ATM is only learned from healers through oral communication because the knowledge is not written down. TCM, on the other hand, is widely accessible through coursework, including in Africa. For instance, six of South Africa's eight medical schools offer TCM degrees (both bachelors and post-graduate level).
Yet, despite its popularity across the continent, there is still stigma against ATM (as well as TCM). Traditional remedies rely on anecdotal records of effectiveness and thus face an absence of clinical testing, leading to misinformation. For example, a claim by a Zambian healer that an African potato variety can treat HIV/AIDS was later found to be untrue, as the healer admitted that the potato only boosts the immune system. In fact, he shared that its wrongful use could even cause severe side-effects.
Regardless of the scrutiny it has faced, it is important to note that modern medicine as well as food and dietary supplements have roots in ancient medicine. It is likely that many important new remedies will be developed and commercialized in the future from African biodiversity, by following the leads provided by traditional knowledge and experiences. Moreover, African healing remedies are not only affordable but also offer a variety of expertise.
China Used Targeted Policies to Drive the Growth of TCM – but ATM Lags Behind
China has a significant medical presence in Africa, having sent over 40,000 medical practitioners since 1963, and with 46 medical teams currently across the continent. Beijing began to expand these efforts to TCM in 2000 with the China-Africa Forum on Traditional Medicine, and it has since grown popular in Africa for four reasons:
China's long history of medical support has created trust in Chinese medicine.
TCM's methods are similar to traditional African healing.
Africa's weak healthcare systems benefit TCM as an alternative.
China has invested billions into clinical research and TCM exports.
Yet, despite widespread use of traditional medicine across the continent, African governments have instituted varying levels of regulations. The table below highlights different regulatory actions in Africa (not just on TCM, but on traditional medicine in general). The table shows that while African governments surpass the rest of the world in national policy, they lag in regulation and registration of herbal medicines. This lack of regulation further diminishes the credibility of traditional medicines (both TCM and ATM), harms data collection efforts, gives local clinics minimal oversight, and weakens government efforts to research and further develop herbal-based medicines. Because TCM already benefits from Chinese support, it escapes many of these issues, leaving ATM to suffer from the lack of regulation.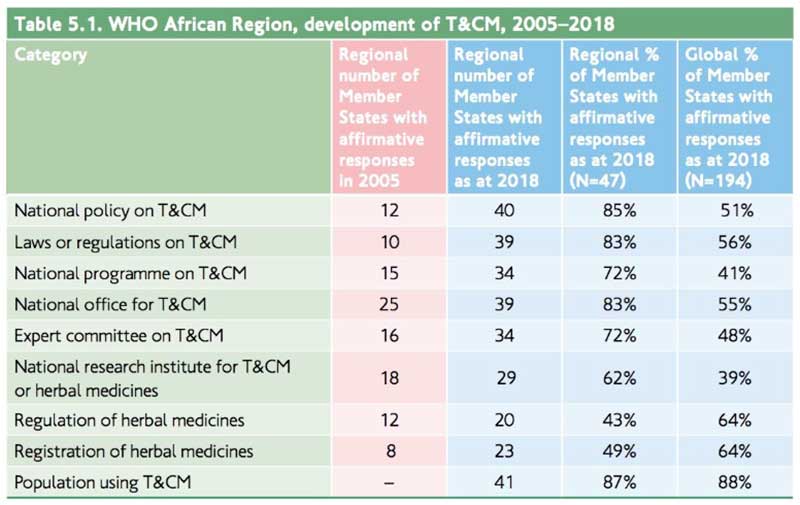 Figure 2. Table showing development of T&CM policies across Africa in 2018, compared to the rest of the globe and compared to Africa in 2005. Sourced from the WHO 2019 Report.
The regulatory disparities across Africa can be seen in the map below as well.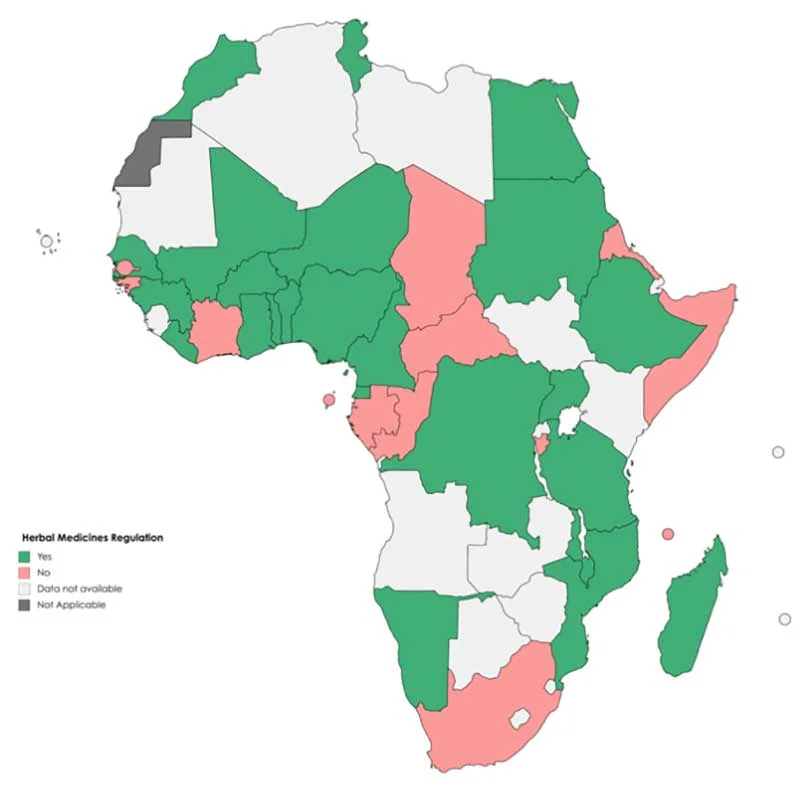 Figure 3. Herbal Medicine Regulations across the African map. Data sourced from the WHO 2019 Report.
What Lessons Can Be Learned From China for the Growth of Africa Traditional Healing?
China's approach to TCM has facilitated its growth and security internationally, and thus, African governments can emulate the Chinese model in three ways:
1. Invest in R&D of ATM:
While Africa has over 5,000 recognized medical plants, lack of R&D spending has prevented their transition to commercial drugs. Conversely, China's support of TCM has fueled testing, even earning recognition from WHO, which addressed TCM treatments in its influential International Classification of Diseases for the first time in 2019. In order to combat the present stigma against African healing, African governments must secure it through regulation and greater research. Without formal research backing Africa's traditional medicine, it will never receive recognition nor spread to greater audiences.
2. Craft legislation and courses to regulate and teach ATM:
Unlike African healing, TCM is taught in medical schools across the world, making it far more accessible. Moreover, Chinese regulation of TCM has enabled improved R&D and data collection efforts. Thus, African governments should take similar steps to standardize African healing education in other African and non-African countries, as well as regulate herbal medicine usage. By taking these steps, governments can legitimize ATM while also facilitating its spread.
3. Push pan-African and global distribution networks for ATM:
Once China supported TCM through research, improved access to education, and supply chains, they were able to leverage it into a major cultural export. Similarly, with proper backing, African governments can reap the same benefits. This research backing is critical for traditional medicine's success internationally. For example, Madagascar has gained popularity throughout the African continent for its promotion of COVID-Organics but has also received much pushback due to concerns about the effectiveness of the product. Thus, once ATM has sufficient research and regulatory backing, as well as accessible and standardized coursework, African governments can similarly push ATM as a cultural export.
COVID-19 Presents an Opportunity to "Reimagine" the Use of Traditional Medicines
While TCM usage is still dwarfed by ATM usage across Africa, China's fervent financial and logistical support of TCM has enabled its growth internationally and presents it as a fierce future competitor. African governments have been taking greater strides to develop National Policies and Regulatory Frameworkstowards traditional medicine, but it will still take a great push to secure African traditional healing's future. This renewed emphasis is critical, especially in light of COVID-19 and the light it has shone on medical systems across Africa.
Author: Chazha Ludo Macheng and Atharv Gupta are policy analysts at Development Reimagined.
This article was originally published on the China-Africa Project website on June 24 2020