As an African-led wholly foreign-owned company in China, Development Reimagined is often asked to support Chinese companies with understanding African markets better. Right now, due to rising cases of people with COVID-19 around the world as well as more recently internally, African countries are facing huge new challenges, often under weak health systems and with very little finance available to pay for health or the required support for their economies and poor populations.
Are the Chinese private companies we work with and others doing business in Africa contributing to mitigating the COVID-19 crisis? To help other clients and public understand what their perspective and contribution has been so far, we interviewed the Deputy Director for the China Africa Business Council (CABC), Mr Bai. He shared the details with us.
First of all, Mr Bai, could you explain what the China Africa Business Council is, for those who don't know?
This is a good question, because it is important context. CABC was first created in 2006, on the suggestion of the then UN Secretary General Kofi Annan and Chinese government. By then the Government-to-Government based Forum on China Africa Cooperation had been in existence for 6 years, and this represented an attempt to engage the private sector into that process as well. Since then, CABC's mission has been to help encourage and guide Chinese companies that want to "go into Africa" to do so in a responsible and sustainable way that will lead to more trade, investment, jobs and ultimately poverty reduction in Africa. You can think of us as a sort of Chamber of Commerce.
Over the 14 years since we started, we have seen the footprint of Chinese companies in Africa rise rapidly – whether by distributing goods or fully investing in factories and real estate in African countries. Currently we have just over 1000 members – over 90% are privately-owned. They are based all over the continent.
OK, so what exactly have these over 1000 Chinese companies in CABC done so far to support African countries to tackle COVID19, if anything?
Now, when China announced its internal measures to tackle COVID19, on January 23rd, the first thing we did as a council was to issue guidance and check on our members to make sure that they did not travel to Africa – to avoid any risk of spreading the virus.
Then, even before the first case of COVID19 was detected on the African continent (In Egypt, on February 14th), we began to get enquiries from our member companies as to what they could and should do if COVID19 begins to affect African countries.
The first thing they have done is to donate medical equipment based on needs from African countries, including COVID-19 portable molecular test kits, nucleic Acid tests, surgical masks and KN95 masks, infrared thermometers, Personal Protective Equipment (PPE), ambulances, etc. Some companies also donated money directly along with medical equipment, or just gave money.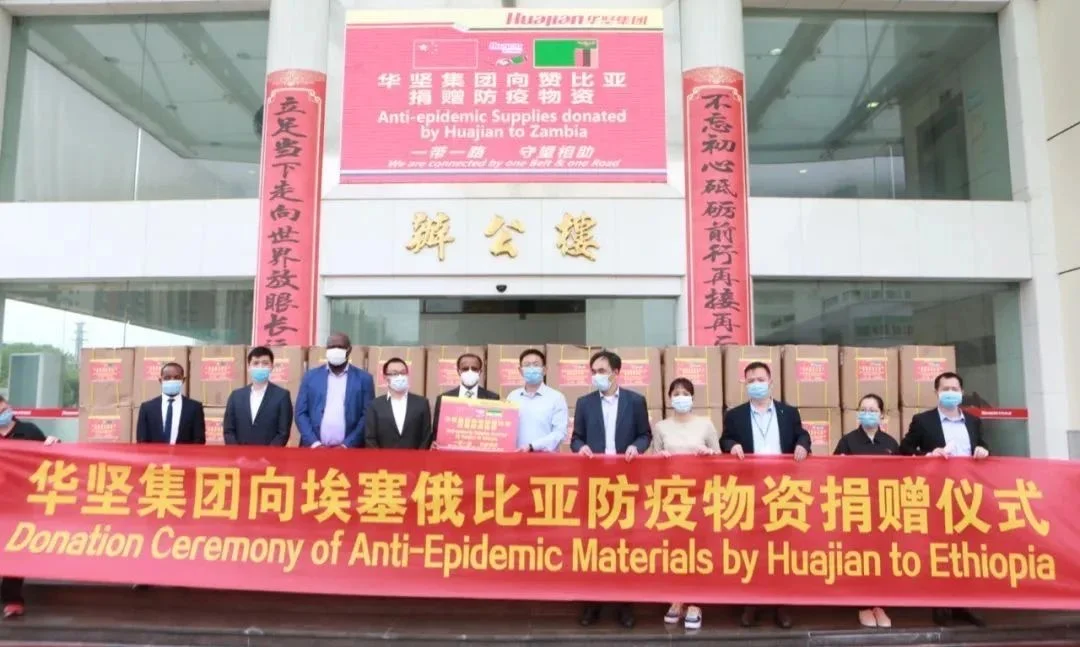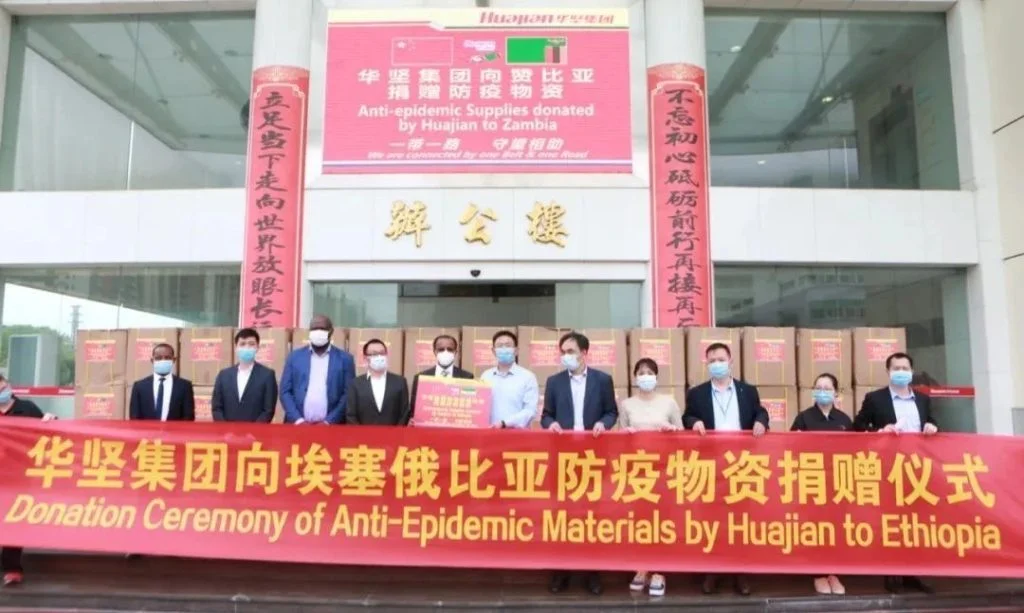 Photo Credit: CABC -Donation by Huajian
Donation is important and can be significant. We have been doing our own number crunching and estimate that the donations that Jack Ma's Alibaba Foundation has provided to African countries are valued at between US$62 and US$152 million, which at this upper scale is already more than the Chinese government provided to support African countries during the Ebola Crisis. Are your members donating the equivalent of such significant sums?
The Alibaba Group is the largest company in China. The resources it and its foundation have are more equivalent to Microsoft and the Bill and Melinda Gates Foundation, which donated $20m directly to African health authorities as well as $50m to global vaccine research. Our members are not this kind of size or reach. But they are doing their best. Including direct donation of money, the total monetary value donated so far is around 11 million RMB, that's about US$1.54 million.
Your members have donated to 15 African Countries, which ones are they?
In order of population size – largest to smallest –, the 15 countries are: Nigeria, Ethiopia, Tanzania, Kenya, Uganda, Ghana, Angola, Burkina Faso, Zambia, Senegal, Zimbabwe, Rwanda, Republic of the Congo, Equatorial Guinea and Djibouti. As you can see, the countries are geographically spread all across Sub-Saharan Africa, and include some of the poorest countries with the weakest health systems in the world. We really hope we can make even a bit of a contribution to saving lives in these places with the donations.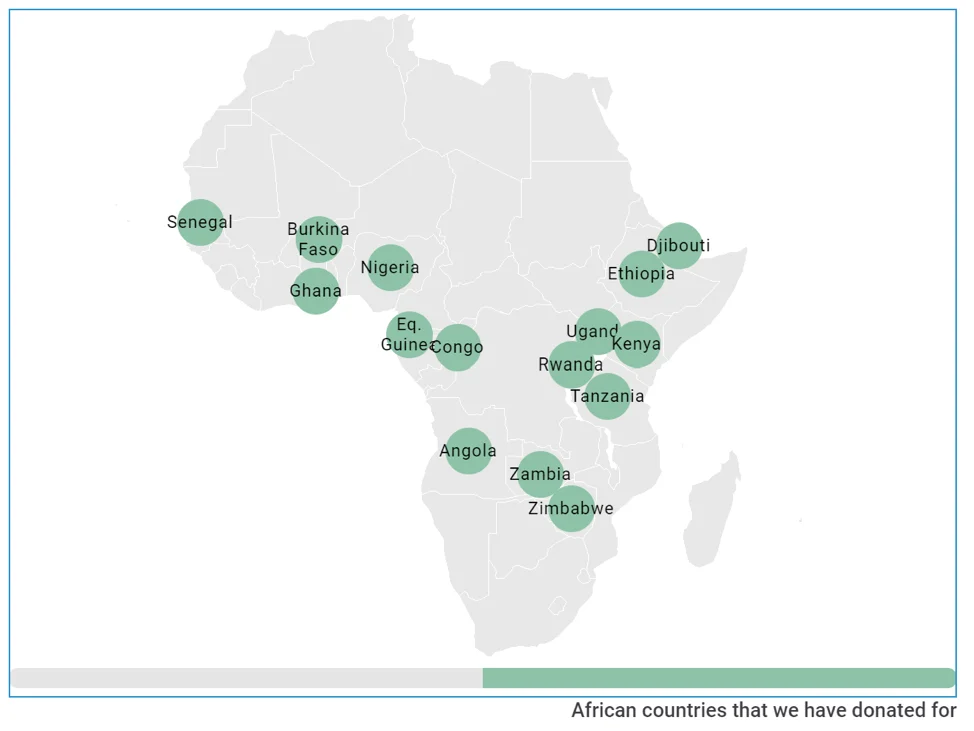 Saving lives is crucial. But why do these companies really care? What is it that motivates them to do so?
We need global solidarity at this moment to fight with COVID-19, no country can be immune from it by worrying only about itself. Our members have been working closely with their African partners for many, many years, and they have developed strong relationships with them. They are very concerned with the public health systems in African countries and want to do their best to help mitigating the situation. And of course, the sooner Africa wins the battle against COVID-19, the sooner their business can be brought back on track, whether that is distributing medicines and health products, electronic products, or running textiles and apparel factories. The longer African countries suffer, they will suffer too. So, the more they can help, the better. It's also why we are very pleased to receive and share the analysis Development Reimagined is doing on African countries challenges and responses to COVID19 with our members. The more our members are informed about what is happening on the ground the more they can respond appropriately.
So how have they determined which countries to send to, and what donations to send?
Well, it's been a mix. For some companies, they have sent the goods to their partners or their local workers and families. For others, some health departments actually directly approached those Chinese private companies asking for help to source specific medical goods and equipment. And for some others, some African Embassies came to us to ask for our support in sourcing donations, so we spoke to our members and helped them to find the right partners. We are all just trying to do our best to help.
Last but not the least question, Mr Bai. While donations are important and welcome, since many Chinese companies have factories there – are they doing anything helpful on the ground?
Yes, it is a very good question. In many ways, ground operations are even more important than one-off donations. Direct investment in factories, real estate and infrastructure provides jobs, sustainable development, so we want to ensure they continue and are not deterred by COVID19 in Africa right now. Hopefully the strong measures African countries have taken will ensure it is more short-lived than it was in China…
Nevertheless, for those companies with factories or other ground operations, we have emphasized that it is crucial that they take good care of their workers, especially to ensure proper social distancing measures and protect their jobs as much as they can, especially in this difficult time. In addition, considering that some workers live far from the factories they work, it is also challenging to maintain basic business while reducing the risk of traveling. So we are thinking about how to resolve these issues. Finally, we are encouraging those factories that can to repurpose their work to provide essential medical goods and supplies. We are working on get a sense of best practice within the membership already, and encouraging our members to do more, and will share them in more detail with you as soon as we can.
Great! Then let's talk again next time on this topic and keep our audience updated. Looking forward to it!
Development Reimagined (DR) is a member and strategic partner of the China Africa Businesses Council (CABC). Together we strive to support both Chinese and Africa business across the continent with job creation and sustainable development. To find out how DR can help your business contact us at clients@developmentreimagined.com