October 2023- A new report by The Advocacy Team and Development Reimagined reveals some of the financing options for reparations and makes recommendations on the most ideal financing mechanisms.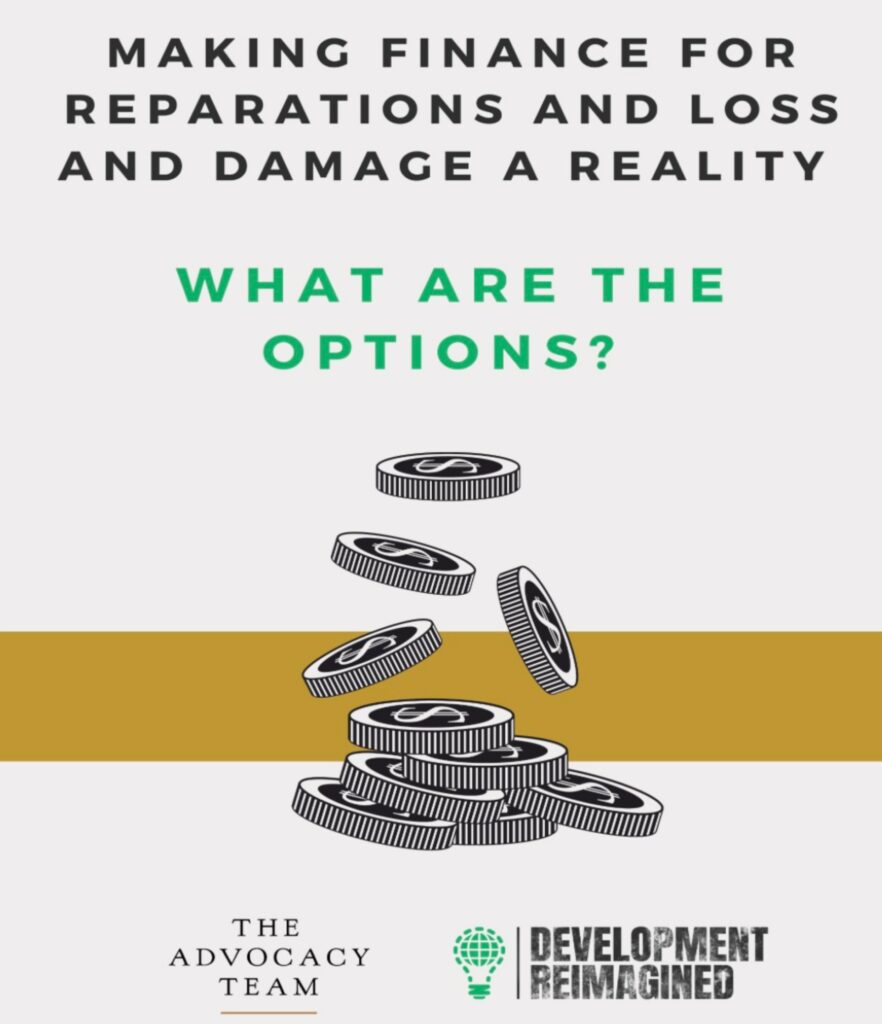 Reparations are meant to acknowledge and repair the causes and consequences of human violations in countries emerging from dictatorships, colonialism or racial injustice. Recently, this has extended to also include an increasing call for reparations in cases of loss and damage owing to climate change issues. The report unpacks the available financing options that have been fronted over time and used in practices such as special funds (funded through a mix of public and international funds and state public budgets but, it also makes a case for some unconsidered options for financing. The report offers a mix of cases studies such as Haiti and the High Indebted Poor Countries (HIPC) initiative, Kazakhstan and the Green Climate Fund, US-Japanese Americans Reparations and the MauMau of Kenya vs the British government. In the case of the MauMau, they were successful in their reparations claim as the British government agreed to pay £19.9 million to the MauMau for human rights violations such as torture and imprisonment that occurred in the 1950s. The monies were paid using the British public budget. The report explores the viability of the existing financial options that have succeeded which include taxation, adaptation fund, green climate fund, debt swaps and individual and organisational reparations. 
In the report, the Advocacy Team and Development Reimagined used a scoring card based on 15 criteria, to rate the existing options and then suggest innovative financing mechanisms. Some of the set criteria include sustainability of both the recipient and payee, effectiveness, value and access. Financial transaction tax (FTT) scored the most at 107 meanwhile options such as multilateral agreements scored the lowest at 70 also because it scored very lowly on factors such as recipient sustainability. 
Overall, the report recommends the financing options should be inclusive – consulting the recipients but most importantly – the financing options should combine a mix of existing and proposed mechanisms for a better outcome.  
The full report is available to download in English here