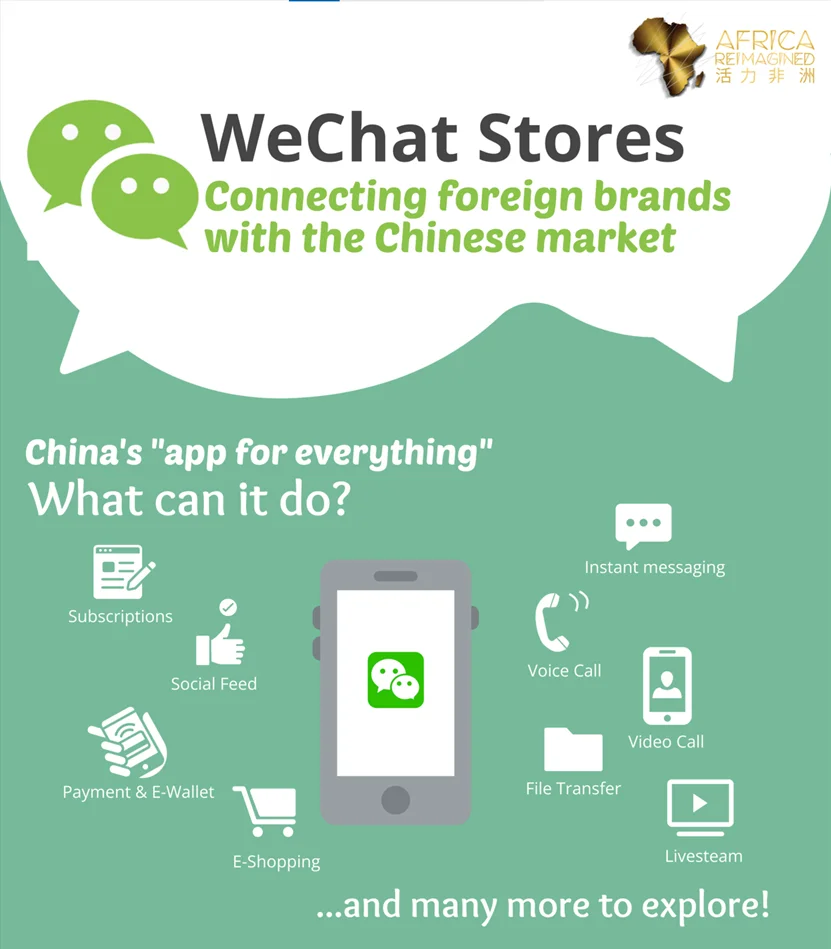 Created by Internet giant Tencent, Wechat is the most popular instant messaging software in China, with 1,200 million users around the world and more than 1,000 million are in China, which means this app exists in almost every mobile phone in China.
Wechat is more than an app for communication, it is an ecosystem. With many functional modules embedded into this app, Wechat has become an irreplaceable part of the daily life of Chinese people: they enable to provide advanced features to users such as e-commerce, virtual store tour, task management, entertainment, and other services.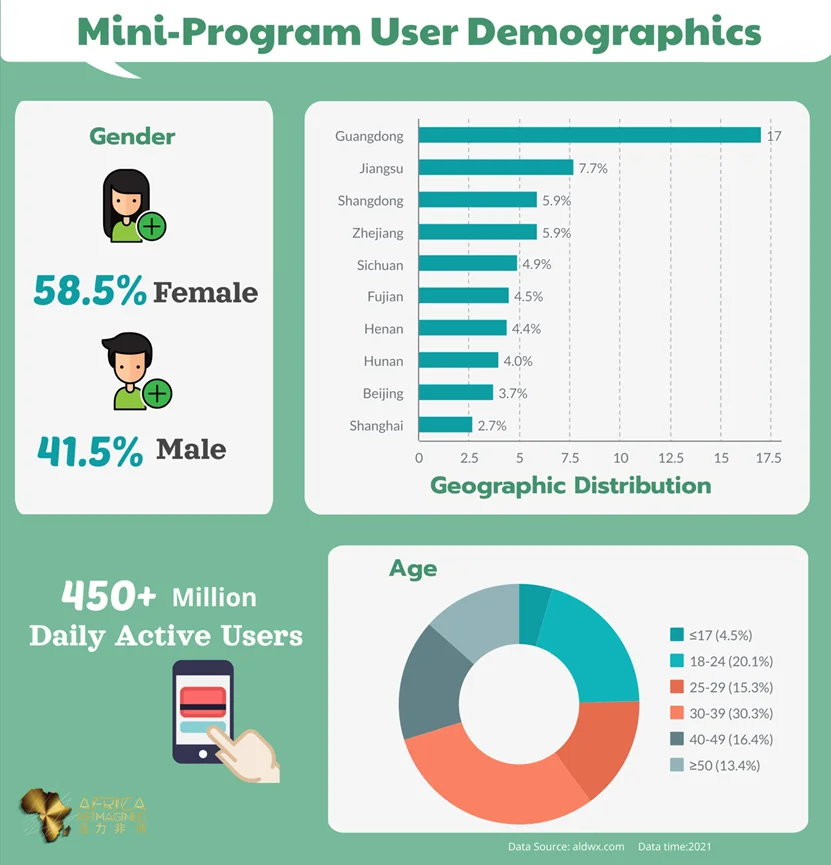 What are mini programs?
The components to achieve these functions are called mini programs. Compared to traditional software, mini programs are "lighter", as they are accessible via Wechat without the need to download them independently. Users can open these mini programs via links or QR codes quickly, and once quit, nothing will remain on their phones.
Unlike public social media like Twitter or TikTok, Wechat focuses on the private sphere, which means users merely receive information with friends they have added, accounts they followed, and mini programs they used. Therefore, mini programs are mainly spread by users' mutual share instead of algorithm-based recommendations, although they can also attract people with advertisements.
Read more about Wechat mini programs here:
https://walkthechat.com/wechat-mini-programs-simple-introduction/
What are the advantages of social media e-commerce in private sphere?
This mode makes a mini program less likely to expand the scale of users as quickly as shops or accounts on other platforms. However, their users are more loyal and more enduring, as Wechat mini programs and accounts can maintain existence in users' sight by sending a message unless they cancel the subscription.
Wechat is not a traditional e-commerce player, but it is an emerging and powerful one. Based on strong traffic in private sphere, Wechat e-commerce experienced unexpected growth. In 2019, Wechat mini programs have achieved a total transaction value of CNY 900 billion, and Wechat announced that the annual increase of gross merchandise volume from 2019 to 2021 was 100%.
What is Weidian?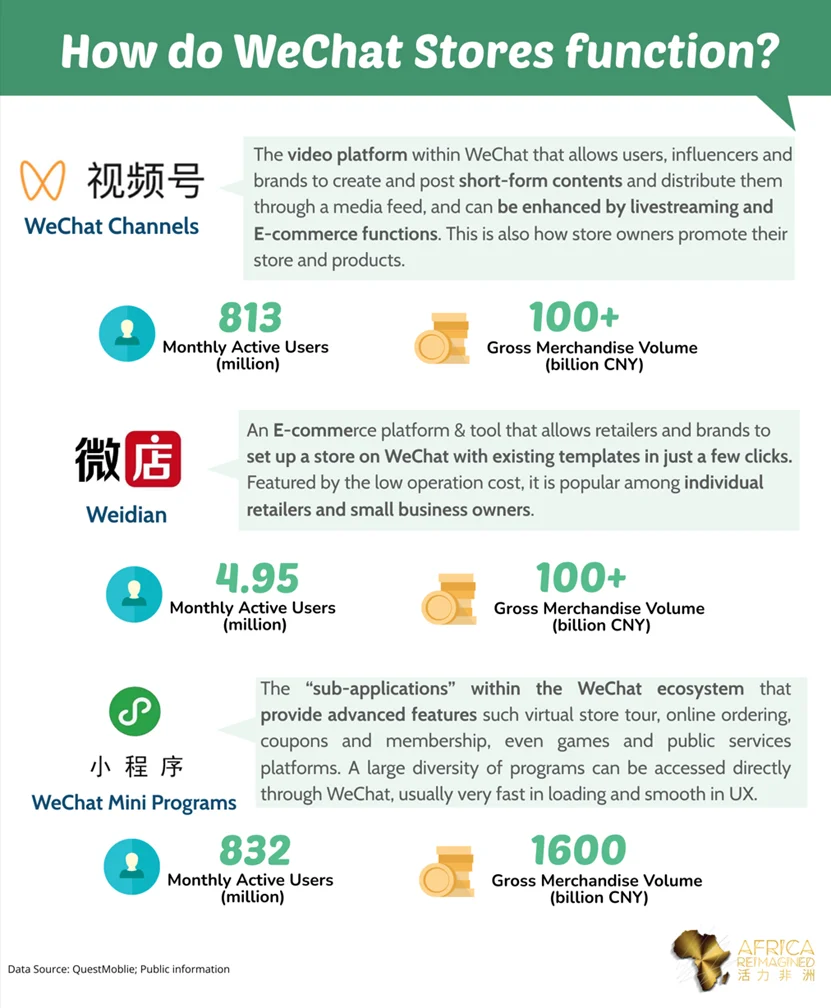 Another important innovation in the Wechat ecosystem is Weidian. In 2012, with the launch of the WeChat group function, "weishang(micro-businesses)", which sell goods to other users through WeChat groups and moments, began to rise. To capture this opportunity, Wedian was founded in 2014. Through Weidian, a person can easily start a shop with a smartphone and a Wechat app.
Weidian is a social e-commerce platform, shop owners can not only keep in touch with customers via Wechat (moments, official accounts, mini programs, as well as video and live-streaming) but also promote via Weidan's own community. Nowadays, Weidian owns over 90 million sellers and more than 3 billion items on sale.
Which stores are selling African products on Wechat?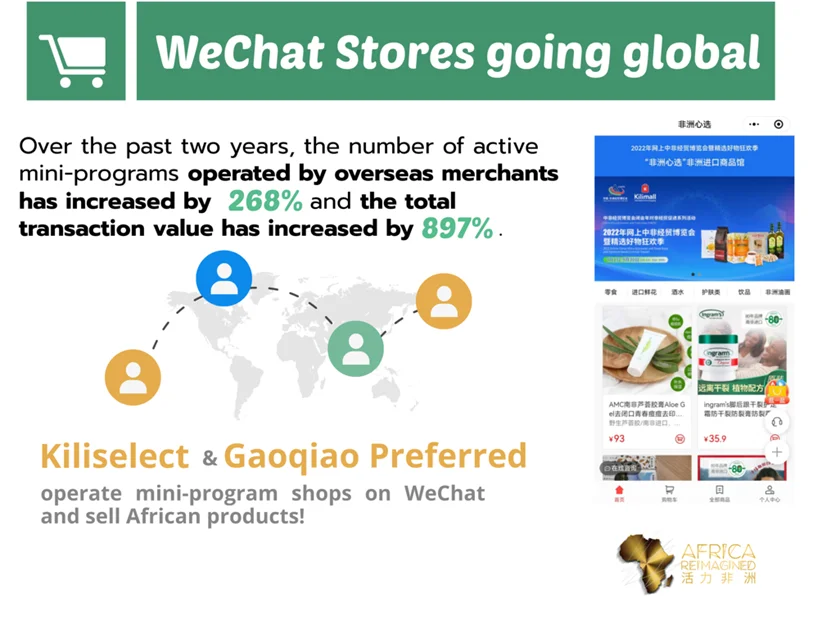 Kiliselect is one of the mini program shops that sell African products on Wechat. As the Chinese version of Kilimall, the rich experience of running cross-border e-commerce is a great asset for Kiliselect. Besides, AR has also established cooperation with "高桥优选(Gaoqiao Preferred)", which is operated by Gaoqiao Grand Market, the third biggest wholesale market in China. It is also an important part of the China-Africa Economic and Trade Cooperation Promotion Innovation Demonstration Park in Hunan's free trade zone for Africa-China trade. Both the platforms are supported by the Chinese Ministry of Foreign Affairs (MOFA) and the Ministry of Commerce (MOFCOM), which gives it a lot of support in terms of promotion and import procedures. Africa Reimagined has a dedicated "Africa Reimagined" section in this store.
Depending on Wechat ecosystem, these shops are accessible via Wechat official accounts, video, live streaming, and paid promotion. For example, Gaoqiao grand market runs an official account that posts articles about African brands. These articles can be shared in Wechat Moments and groups so that some of them has got thousands of page views. Further more, readers can visit the online shops via QR codes and links in those articles. This mode successfully transfer the users of Wechat into clients of e-commerce platforms.
To learn more about Wechat, WeChat stores and how to sell on the Kiliselect store, please book your free consultation on our website: https://www.africareimagined.com/