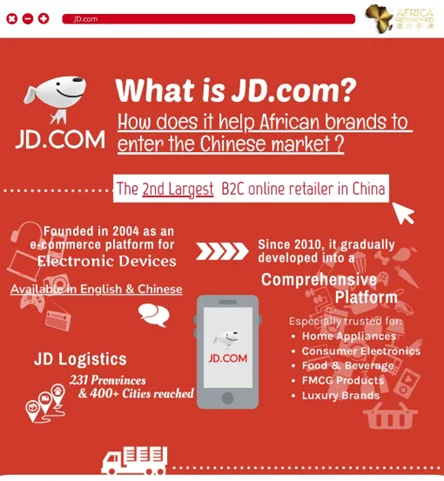 Founded in 2004, JD is now one China's biggest and most trusted e-commerce platforms. It was originally founded as a website but is now accessed through its mobile app, as Chinese consumers almost solely use apps to shop online.
JD started out as an e-commerce platform for primarily digital devices. Since 2010, it has gradually become a comprehensive e-commerce platform by selling Food & Beverage (F&B), fashion, jewelry and accessories, health, and cosmetic products although it is still considered the most popular e-commerce platform for electronics in China. JD has also become known as a foremost platform to purchase luxury items after a wave of international luxury beauty brands opened stores on JD at the end of 2021. Over the past five years since, JD's categories have grown by 83% and the number of brands has increased by 40%, with F&B being the fastest-growing category. Increased diversification has increased its popularity significantly. 11,000 shops saw their average daily sales increase tenfold year-on-year in the first three months of 2022.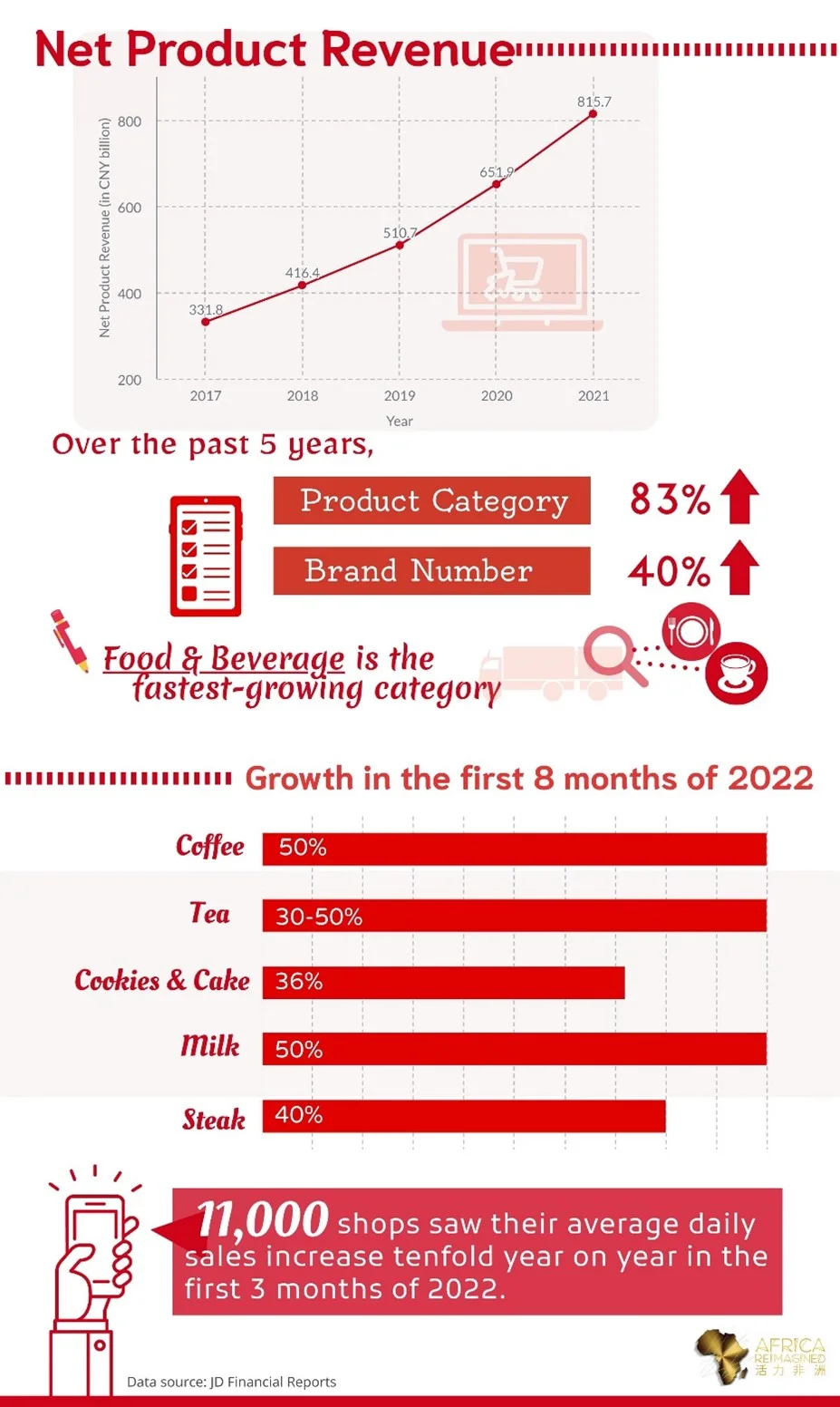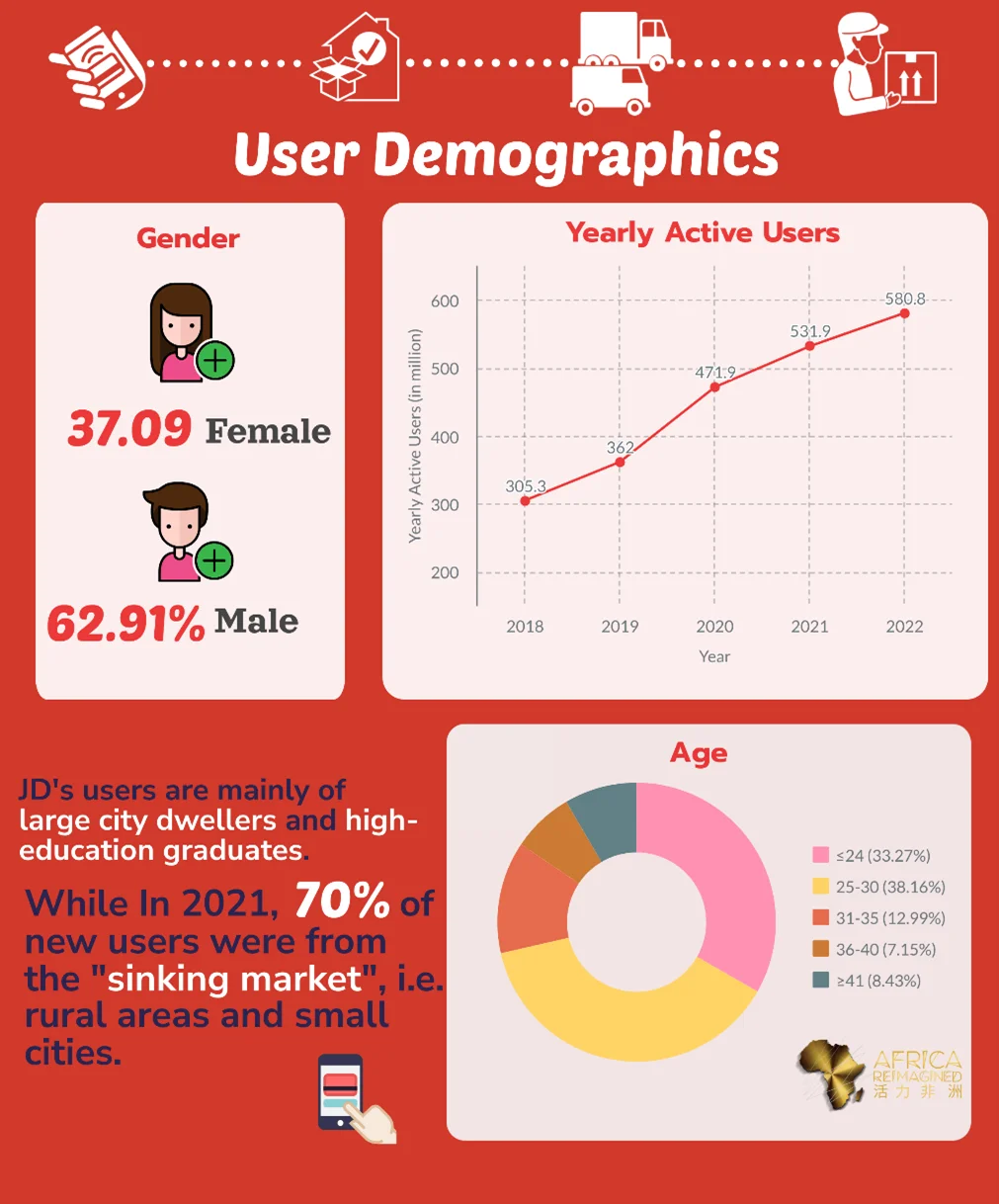 What are the advantages of JD?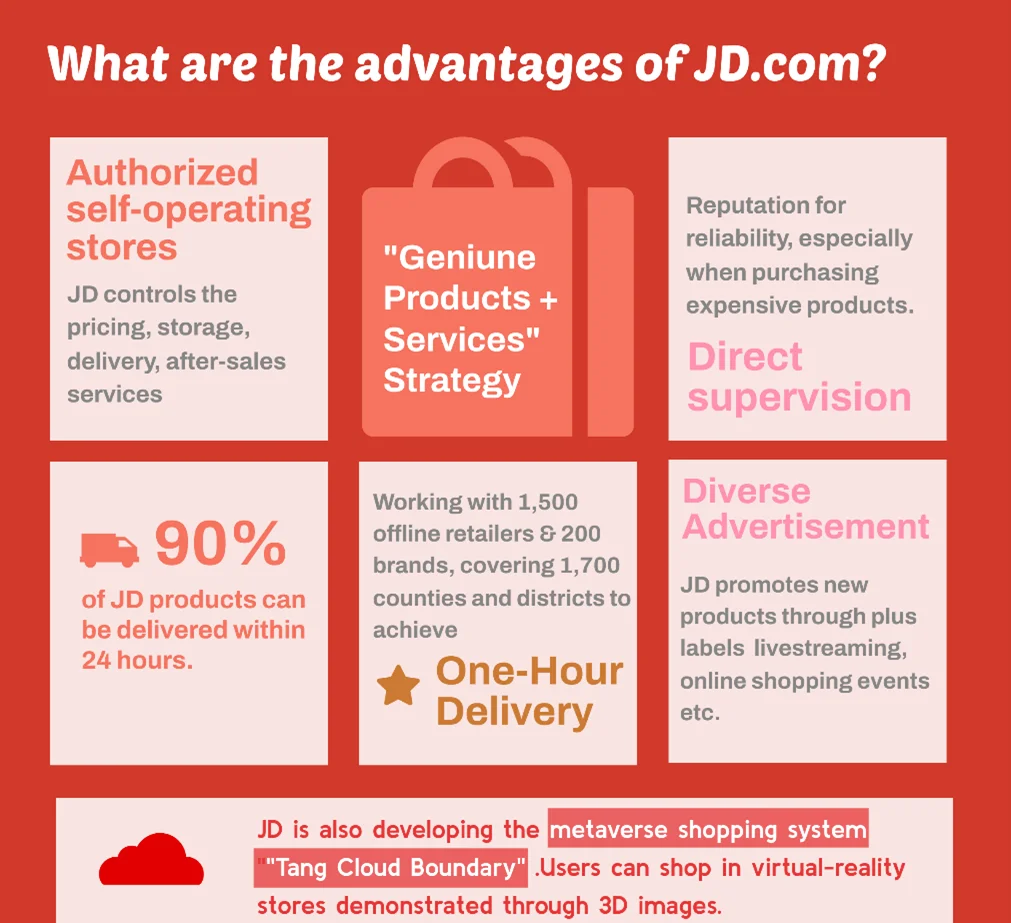 Most trusted for product quality and services: JD is considered the most reliable in terms of product quality and services. This has significantly increased its popularity amongst consumers in China and especially for electronics. This is because JD differs from the B2C and C2C models of Taobao and instead focuses on "self-operating stores." This means that JD controls the whole selling process including pricing, storage, delivery, and after-sales service, which makes the brands and factories suppliers of JD. This gives JD more control over product quality and the after-sales service of their online purchases that is extremely appealing to customers in China. According to SPDB International, self-operating sales accounted for 94% of JD's total revenue in 2021.
Some brands can use a self-operating tag, but they must be authorized by JD to do so which means JD is still responsible for their quality, price, and service. Thus, foreign brands selling on JD will automatically gain the trust of Chinese consumers.
Most efficient and widespread logistics service: Logistics is arguably JD's biggest strength. This is because founded "JD Logistics" in 2007, which has since amassed 1,300 warehouses with a total storage area of 24 million m². This enables JD Logistics to provide efficient delivery services in every county in China no matter how remote. This dispersed warehouse system ensures that 90% of JD products can be sent to customers within 24 hours, which cannot be achieved by any other e-commerce platform in China.
JD's logistics service also expands overseas, which is why JD is such a popular choice with foreign brands. JD's logistic system has covered more than 220 countries and regions and owns 90 warehouses outside China. JD Logistics has officially announced that an international supply chain hub will open in Egypt, South Africa, and Nigeria within the next 2-3 years
Cross-border e-commerce:
One of the most convenient ways for African brands to sell on JD without even entering the Chinese market is by using JD's cross-border e-commerce arm, JD worldwide. JD Worldwide is a platform for brands and companies that are based outside of China, as it allows merchants to ship directly from overseas or from bonded warehouses within China. Through this model, African companies can manage storage and sales directly from outside China, without the need to open a physical shops, use Chinese payment systems or register their company in China.
Innovative marketing and advertising tools: JD is also popular with foreign brands because it has numerous unique and innovative marketing and advertisement tools that help foreign brands convey their brand image effectively to the Chinese market in order to grow their customer base in China.
JD's newest and most unique marketing and advertisement tool is JD's take on the metaverse. JD's "大唐灵境 (Tang Cloud Boundary)" allows users to wander in a Tang dynasty-style virtual reality world and select products ranging from beverages to cars to digital products, which are all viewed in 3D.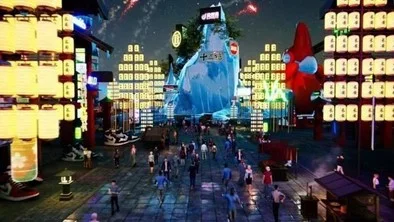 VR has grown in huge importance since the Covid-19 pandemic. In particular, brands have been developing replica virtual stores for customers to view and purchase items whilst in lockdown. JD has invested heavily in continuously offering new virtual ways for its customers to engage with their favourite brands to remain competitive. For example, Gucci launched a cyberspace "Gucci Town" on JD where shoppers could virtually view and purchase products as if in a real-life Gucci town. Customers could even play mini-games, interact with other customers, and purchase NFTs.
JD holds also online concerts to launch and promote products. For example, JD dozens of famous singers performed on the "JD 8 p.m. concert" that was also aired on Beijing TV to attract more customers ahead of the hugely popular e 11.11 shopping festival this year. This was followed up with a live-streamed performance featuring 30 top pop stars on 10th November where customers simultaneously watched the show and purchased discounted products.
African products are becoming popular on JD:
There are an increasing number of African brands that are choosing to sell their products on JD – and they are becoming hugely popular! However, there are still only a few types of high-end African products available on JD, leaving an opening in the market for African brands. Utilising this market opening during its early stages could bring large benefits in market shares and profits to early movers!
The most common value-added, Made in Africa products that were originally found on JD were roasted coffee and South African Wine. The South African National Wine Shop was founded on JD in 2018 and has already amassed around 100,000 followers and launched 24 different South African wine brands. The first African products that were launched on JD's "self-operating" sales channel were Ugandan dried mangoes and Kenyan coffee in January 2019. Nowadays, a variety of African products can be found on JD including tea, skin care products (containing natural ingredients such as baobab oil or cocoa butter), roasted nuts, Rwandan chili oil, snack food, chocolate and jewellery.
JD also participated in the 4th Quality African Products Online Shopping Festival hosted by the Ministry of Commerce in May 2022 to promote African products.
For foreign FMCG and fashion brands, JD is unsurprisingly a popular choice. China market watchers predict that China's 400 million middle-to-upper-class consumers are still projected to purchase foreign products in years come. This group of consumers show a stronger tendency to purchase products with better quality and more unique taste. Also, with the rising national confidence and broadening worldwide sight, "western" products are no longer the first choice for these consumers. In this context, African premium products can expect growing popularity.