China is the world's second-largest market. Therefore, any country looking to increase its export footprint is an important market to enter and gain significant market share. In the last decade, China has seen a rapid increase in coffee consumption. While China's hot beverage consumption has historically been dominated by tea, coffee consumption has grown in the country.
This growth has been spurred mainly by China's Generation Y and Z consumers, who have embraced aspects of the western lifestyle. In 2021, the consumption of coffee in China was mostly by people between 25 to 34 years.
This trend bodes well for African coffee producers because there is an opportunity to sell their produce and earn significant profits. As African countries work to improve and increase their exports, countries like Ethiopia and Uganda are witnessing exponential growth in their coffee exports to China.
As of 2021, Ethiopia, Uganda and Kenya were the top three exporters of coffee in Africa.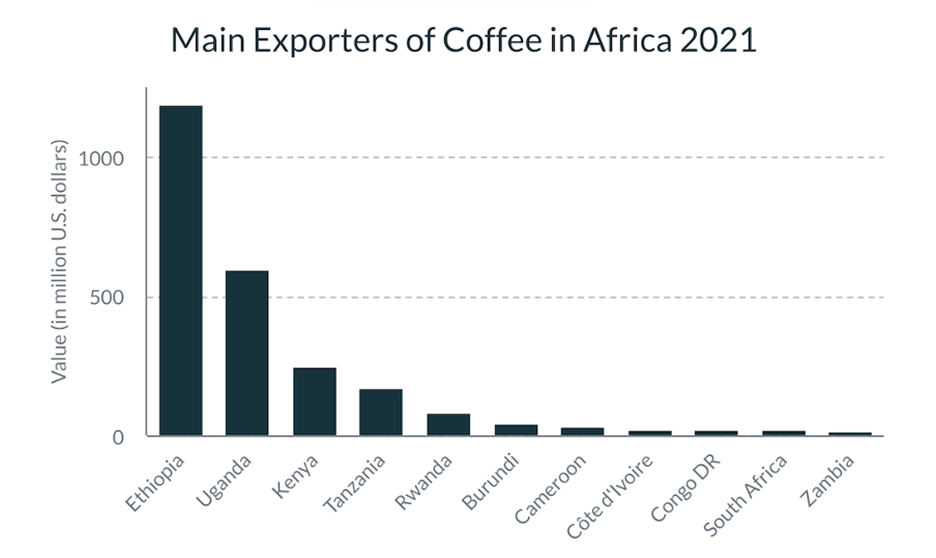 The volume of Ethiopia's coffee exports to China is expected to grow 16% year on year.
While Ugandan coffee exports to China more than doubled from 33,000 in 2018 to 83,000 in 2020.
The value of China's coffee market is expected to increase to about 13.25 billion U.S. dollars in 2025.
There is room for African producers to earn a significant share of this amount yearly. African producers can look to cities like Shanghai, which boasts more coffee shops than any city in the world and Chengdu, the third largest coffee market in china, with a new coffee shop opening every day.
So, how can African coffee producers sell their coffee in China's rapidly expanding market? 88% of Chinese consumers said in a survey that they use e-commerce and social media to learn about coffee products and services, and the majority of people in China purchase using shopping apps, such as JingDong (JD), PinDuoDuo and Alibaba's TaoBao and Tmall.
Thus, any foreign brand looking to sell in the Chinese market should focus on getting to grips with China's different e-commerce and social media platforms. These tools play a significant role in helping domestic and foreign brands sell across China. Read here about China's biggest and best e-commerce sales platforms and social media platforms for foreign brands here.
For African coffee brands in particular, there are three sales channels and strategies to take note of…
1. There are a growing number of e-commerce stores dedicated to selling premium African products (and especially roasted African coffee) on China's biggest e-commerce sales platforms – WeChat Store and Tmall. The first e-commerce store is Kiliselect, which is the Chinese version of Kilimall and can be found on WeChat Store. The second is operated by the China-Africa Economic and Trade Cooperation Promotion Innovation Demonstration Park in Hunan's free trade zone for Africa-China trade. It is commonly known as 高桥优选, roughly translated as 'Gaoqiao Preferred.' Both are supported by the Chinese Ministry of Foreign Affairs (MOFA) and the Ministry of Commerce (MOFCOM), which gives them both a lot of support in terms of promotion and import procedures. Africa Reimagined has a dedicated 'Africa Reimagined' section on both stores. Contact us to find out how your brand can sell on Kiliselect and Gaoqiao Preferred.
Rwandan coffee by Java House sold on Kiliselect's WeChat Store.
2. In order to implement a number of Africa to China trade boosting initiatives announced at the 2021 Forum of China-Africa Cooperation, MOFA and MOFCOM have been hosting African coffee tasting and Chinese business partnership matchmaking events for African coffee producers to find Chinese coffee importers, distributors and agents in partnership with International Construction Bank of China (ICBC) and the International Trade Center (ITC), as well as Gaoqiao Preferred. Africa Reimagined supports African coffee producers with participating in these events. Contact us for more information on how to participate.
An African coffee tasting and business matchmaking event hosted by ICBC, ITC and Gaoqiao Preferred in July 2022.
3. Live-streaming is becoming the ultimate way to promote and sell African coffee to a large number and wide range of Chinese consumers. During a live stream event, the Ethiopian roasting company of Arada Coffee sold more than 11,200 bags of its coffee in one second, which set a record on the Alibaba online shop, Two online live stream sessions were held by Alibaba in China to promote Rwandan coffee have contributed to sales of Rwandan coffee increasing by 400 per cent in 2020, according to information from Alibaba. For example, one brand, the Rwanda Farmers Coffee Company, disclosed that their brand sold over 7.2 tonnes to Chinese online consumers during 2020 after the live stream events.