In the wake of COVID-19 and the Black Lives Matter movement, it has become evident that the global health sector is plagued by problems of racism – both in terms of prejudice and power. Reports of serious harassment and discrimination in some of the world's largest health and humanitarian aid organisations have emerged on various media outlets; the narrative of expected failure in terms of Africa's COVID-19 response has been exposed as racist, as have certain explanatory factors such as Africa being disease-ridden or poverty-stricken as the causal factors for low numbers of cases. Testing and vaccine development and distribution is being politicised. Country ownership remains a major challenge in the sector as development and other agencies continue to tie health projects to their own country's priorities, not the needs of the local poor.
In Global Health in particular, good health and wellbeing – the UN's Sustainable Development Goal 3 – is a priority in Africa and Africa's Agenda 2063 for good reason. The continent has approximately 15% of the global population but is also where over 70% of the world's HIV cases and 90% of deaths due to malaria occur. As COVID-19 has spread across the world, and eventually to the African continent, Development Reimagined has been producing bespoke and regular data and infographics that show that the COVID-19 crisis is both a health crisis and a global economic crisis. We have estimated that African countries have set aside unprecedented budgets for the additional medical requirements and new measures to support over 170 million vulnerable citizens and businesses facing economic difficulties, to the tune of an estimated US $68bn in total, approximately 2.5% of the continent's GDP. As vaccines are being developed, 21 African governments so far, as well as the African Union, have begun to make orders, not just relying on international donations or loans. However, too often these efforts have been downplayed by global organizations and little effort has been made to celebrate the achievements made by developing country governments and their citizens.
At Development Reimagined, we see the dismissal of poorer country's ownership and agency as a major threat to the effectiveness and sustainability of development. For instance, it encourages global health organisations and development agencies to continue to tie health projects to their own country's or majority shareholder's priorities, not the needs of the local poor. It encourages global health organisations and development agencies to direct finance for research and other technology to "developed" country firms and organisations, and undervalue knowledge in poorer countries.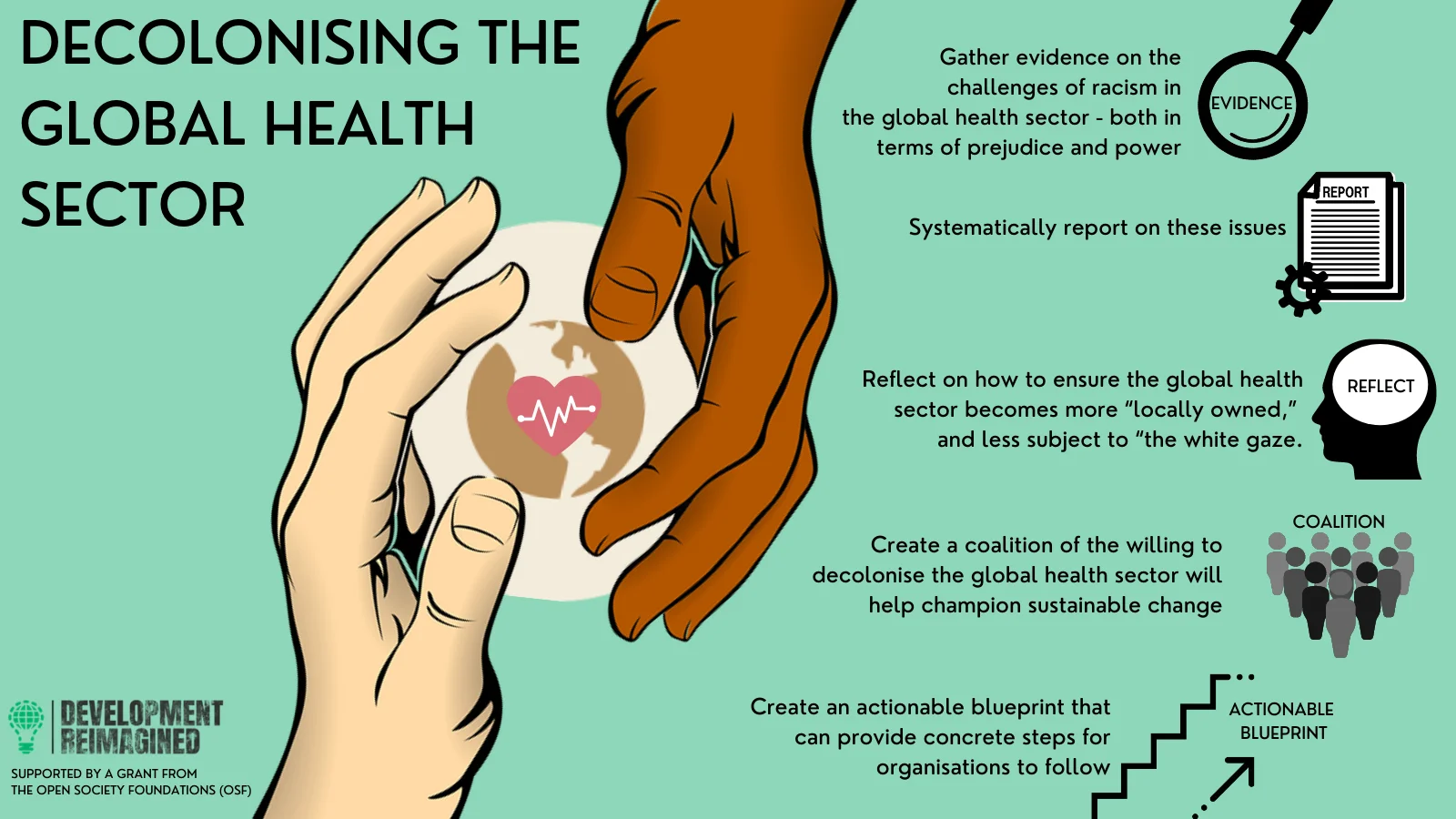 The Black Lives Matter moment offers an opportunity to change course. To do so, global health organisations should reflect on both power structures and prejudice that perpetuates these ineffective and counteractive development models, and adapt lessons from elsewhere to our own challenges. Many other sectors and industries – media, law, sports, the retail industry – have reviewed their own structures, exploring how their policies can help combat racism and 'build back better' in the wake of COVID-19. The global health community can – and must – learn from these efforts.
Development Reimagined, supported by the Open Society Foundation, are therefore pleased to announce the launch of our newest project a "coalition of the willing to decolonise the global health sector".
The aim of this work will be to gather evidence on the challenges of racism in the global health sector – both in terms of prejudice and power – in a more systematic manner, as well as provoke reflection on possible avenues for the global health sector going forwards to become more "locally owned", and less subject to "the white gaze".
In the coming weeks, together with a set of influential global health organisations, we will launch a survey to gauge the challenges in decolonialising the global health sector and present the findings at a series of high- level webinars to find actionable solutions.
If you would like to be involved in our "coalition of the willing to decolonise the global health sector" contact clients@developmentreimagined.com
Photo Credit: https://www.globaldashboard.org/2020/06/29/a-blueprint-for-black-lives-matter-in-the-development-sector/